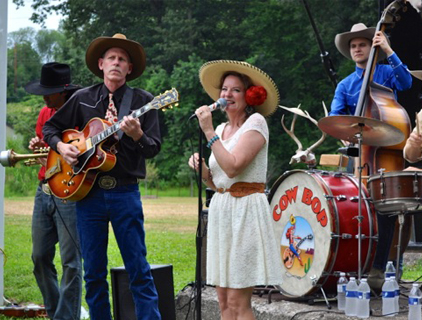 On Route 66, the asphalt and digital highways meet
"I am inspired by my peers' and students' commitment to making our world a better place through music."
This summer, Bruce Forman, jazz guitarist and an assistant professor at the USC Thornton School of Music, will embark upon an extraordinary tour of the United States with his band, Cow Bop. Inspired by a previous excursion where the band traveled along the decommissioned Route 66, Forman and his fellow musicians will retrace the footsteps of the iconic highway while inviting other musicians to participate in the tour either physically or via an online hub created specifically for the journey. Forman wrote the following piece about the project for USC News. 
---
A dozen years ago, while searching for a place to eat during a tour with my band, I ended up at an old Route 66 roadhouse. The bar and restaurant were barely holding on, and the attached motor court was dilapidated, with weeds growing through caved-in roofs.  I thought to myself, I sure would love to see all of Route 66's history before it's gone.
Route 66 reaches deeply into our collective musical experience through the songs and legacy of musicians who traveled west. Somehow, I managed to talk my western bebop band, Cow Bop, into what I called the "Route 66 Challenge." We left Chicago with a full tank of gas and only $100 between us, hoping to play our way across the country with no scheduled gigs, ending at the Santa Monica Pier. Following in the steps of Dust Bowl minstrels, we performed in bars for tips, played in parks and community centers and passed the hat, busked on street corners, sold CDs – whatever it took.
Bear in mind this was just after 9/11, a time when our nation had been terribly shaken. A sense of vulnerability and a tendency towards insular behavior had taken hold. To counteract this, I incorporated a community building aspect to the trip by keeping journals and posted them to the web. (This was before blogs had been invented.) I encouraged readers to pledge per mile to a music-mentoring program for young people. Many did.
Cow Bop made it the whole way to the Pacific Ocean, playing at some mighty unique places: a wigwam motel, beneath the world's largest catsup bottle, by roadside dinosaur and spaceman sculptures, near Cadillacs buried on the Texas prairie. People along the way were generous and we made many fast friends, some of whom we have visited on subsequent trips.
Looking back, I realize how cynical and misguided my first impression of Route 66 was. I had thought the communities on the road were on their way to extinction, but found them vibrant and robust, with local families deeply committed to the road, their roots and their place on the highway. They have endured financially challenging times, and continue to, reinventing themselves in order to thrive. Musicians are no different. We also endure in the face of economic shifts and technological innovations that are stressing our business.  Through ingenuity and dedication we continue to create a life in music.
I can't tell you how many times I have heard from peers and fans: "This is the end." "You can't make any money in the business anymore." "File-sharing and streaming are killing our ability to sell product." Yet, every day, I am inspired by my peers' and students' commitment to making our world a better place through music.
To celebrate, this year we are embarking on a larger Route 66 effort, calling it a Linear Festival. From July 25 through Aug. 9, the entire 2,451-mile road will be a place where bands and artists can join to commemorate our shared past and take responsibility for creating a new musical future. To keep us connected we are using every iteration of social media, as well as a new streaming platform that will serve as a hub. The asphalt highway will meet the digital highway at route66.rifftime.com.
I am acutely aware of the challenge in this — I am no stranger to road challenges —but traveling musicians aren't going away anytime soon. I invite you to experience us on the open road, or pull up your computer and ride along. As we rediscover the small towns and charms of The Mother Road, in person and digitally, we just might be creating a map for our musical future.
Never miss a story
Subscribe to USC Thornton's e-newsletter
Subscribe