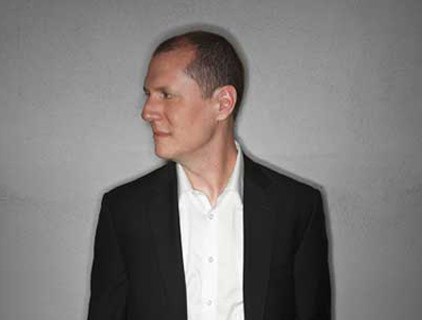 Opera by Mark Weiser to receive professional debut
"For opera, you have to clearly communicate an emotion."
Composition faculty Mark Weiser's opera, Where Angels Fear to Tread, will receive its professional debut during Opera San Jose's upcoming 2014-2015 season.
Based on British writer E.M. Forster's eponymous novel, the drama tells the story of a wealthy English widow who marries a handsome, but destitute, Italian man against the wishes of her family.
Although Opera San Jose will serve as the work's official world premiere, Weiser first developed the idea to adapt Where Angels Fear to Tread into an opera over two decades ago while studying at John Hopkins University's Peabody Institute.
"I was a student when I first started talking about it," Weiser said. "It was just an idea for a while. It took about four years – from libretto to composition to orchestration – and was finally performed at Peabody in 1999."
The performances at Peabody
received positive coverage
, leading Weiser to pitch the opera to companies around the country, but a move to Los Angeles and the financial realities of opera sidelined the project.
"A new opera is a risk. The opera world wants to make sure that they're doing shows that are going to bring in an audience and are financially stable."
In the mid-2000s, Weiser was contacted by the assistant conductor from the Peabody staging, who was now a conductor for Opera San Jose. The conductor expressed interest in presenting Where Angels Fear to Tread to the company – and, eventually, in 2012, Opera San Jose committed to debuting Weiser's adaptation.
"We were very fortunate to get great reviews from the Baltimore press and the Washington, D.C. press," Weiser said of the opera's 1999 production. "That positive feedback gave Opera San Jose the confidence that the opera would be something worth taking on."
According to Weiser, new opera works are often intimidating to even the most seasoned audience members, because an unfamiliar work requires a significant amount of investment and participation on the part of the viewer.
Weiser believes that, when creating new operas, a composer must ensure the dramatic arcs of the work allows audience members to become invested in the story's characters, regardless of genre or style. It is for this reason that Weiser has been drawn to adapting classic literary works.
"For opera, you have to clearly communicate an emotion," Weiser explained. "If your text gets too obscure or opaque, or if the story is too involved, you can lose an audience. The best operas have very straight forward dramatic plots."
A production team for Where Angels Fear to Tread is already in place, and rehearsals for the opera will begin as early as December. Although Weiser acknowledges that the debut of any of his works is cause for excitement, witnessing the production of Angels, a project nearly two decades in the making, will be especially bittersweet.
"I'm coming back to a piece that I wrote as a much younger person during a totally different part of my life," Weiser said. "If I wrote the opera today, I don't think it would sound like it does now, but I'm not going change anything. I feel like it should stand on its own."
Mark Weiser's Where Angels Fear to Tread will premiere at Opera San Jose on February 7, 2015, and run until February 22, 2015.
Never miss a story
Subscribe to USC Thornton's e-newsletter
Subscribe