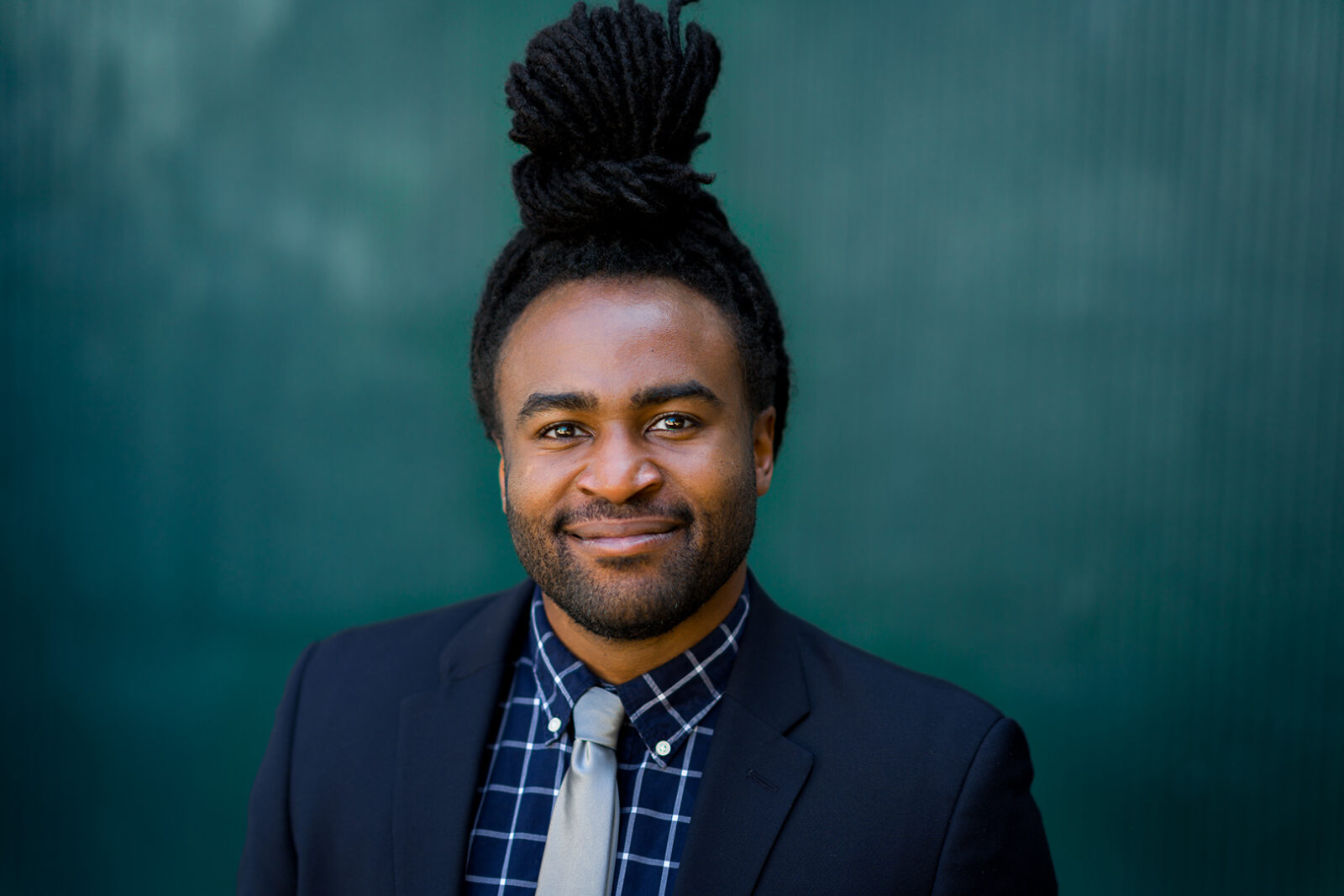 Opportunity Knocks
Alexander Lloyd Blake assembled a career doing what he loves most, choral music, while he was a student.
---
Doors kept opening, and he kept walking through them. That's how Alexander Lloyd Blake (DMA '19) describes his five years as a doctoral student in the Choral and Sacred Music program at USC Thornton, during which he picked up five jobs.
Blake founded his own choral ensemble with an emphasis on social justice, leads choirs and works as a session musician. It's called a portfolio career, multiple sources of income, and it has become the norm for professional musicians.
"Through the vast network that Thornton provides, that I'm now a part of, so many connections have opened up and continue to open up because musicians are working and thriving in this community," Blake said. "Being a part of that family has given me some opportunities to be mentored and supported by people I admire."
But these jobs have meant more than a paycheck to Blake. They keep him doing what he loves most, choral music, and growing as a musician.
"I've been doing a bunch of things, but they're all music, which I never thought was possible, or maybe only for a select few," Blake said.
Of course, not everyone can juggle so many jobs, but Blake did — at the same time that he had responsibilities at Thornton, including being a teaching assistant and working with the Apollo Chorus.
"I would say that was challenging," Blake said. "Through various opportunities," he said, "I learned how to deal with some of these non-musical skills that allow you to do the music you want to do."
Founder and Artistic Director, Tonality
During his years of coursework, Blake only had one job on his plate: founder and artistic director of Tonality, a choral group focused on social justice issues who open their concert season on Sunday, Oct. 27. Their first concert, a free event, packed the house at St. John's Cathedral in June 2015. "Actually, they had to add more seats," Blake said. "So that was a really cool experience." They were asked to repeat the concert, and then the church offered to host the choir.

Blake grew up in North Carolina, singing in gospel choirs in the Baptist Church. Starting in middle school, he sang in classical choirs, where he noticed he was one of the few African Americans.
While earning a BA in vocal performance at Wake Forest University, he attended a concert that gave him a vision of his future. "I saw a black baritone sing a Bach solo, and it clicked with me: I can do that, I can conduct things like that and be involved in that world."
But it wasn't a dreamy-eyed vision; it was one that faced reality head-on. "I realized that I was becoming kind of frustrated with the way that music of black culture was treated and taught and engaged with," he said. "I think the issue was that there wasn't a lot of representation from those traditions on the podium.
"Talking to other singers of color about other music, of different cultures and styles, I was hearing the same thing: there were few opportunities to feel like their culture and musical styles were honored in an authentic way."
The idea for Tonality was already starting to germinate.
Blake pursued an MA in choral conducting at UCLA, but had his eyes on USC the whole time. "USC at that time was a reach," he said. Because he wanted to be there for his DMA, he attended rehearsals and concerts at Thornton and became a part of the community. "By the time I applied to the DMA program, I knew all the students, they were friends of mine, and I'd talked with many of the professors," he said. "They were really supportive of my application."
Blake started at USC in 2014. In 2016, he found further inspiration for Tonality when he attended an American Choral Directors Association concert. They sang a work about the life and murder of Matthew Shepherd. Blake remembered seeing a movie about Shepherd as a kid.
"As a closeted gay kid in North Carolina, it was like the first representative of anyone gay on TV, and it kind of hit me right before the concert," he said. "The performance was so powerful, and what really got me was the conversations that happened after the performance, how people were talking about Matthew's story and LGBTQ issues.
"And I thought, how do I create a musical environment that allows conversations like this to start?"
Tonality started partnering with organizations with social causes and telling stories before the concerts. "Singers in the group, unfortunately, have some personal relations to these issues," he said. "For instance, our concert on gun violence happened to fall six days after the Las Vegas shooting. One of our singers lost a friend in Las Vegas; he told a story about that. Another woman told a story about a best friend who was shot. Another woman talked about her nephew who was killed by police."
"It turned out to be a way for us to inspire empathy," Blake said. "As you can imagine, the usual classical concert-goer does not really have a lot of close connection to police brutality stories. In this way, the story then followed by music allowed emotionally for people to really invest in a way that was not possible without the arts and without choral music specifically."
"You can feel the community supporting the story tellers at our concerts," he added. "It's really magical."
Director of Classical Choirs, LA County High School for the Arts
When Los Angeles County High School for the Arts (LACHSA) needed a new director of classical choirs, Blake got a call from Zanaida Robles (DMA '14), an alumna who Blake reached out to before applying to USC. She had been a LACHSA student and choir director.
"They were also very interested in social justice," Blake said. "After I found that out, I said, 'OK we can talk.'" The choir meets two days a week, allowing flexibility for his other roles.
Principal Associate Conductor, National Children's Chorus
Blake said his participation in USC Thornton's Board of Directors Mentorship Program has probably been the most life-changing. He applied in his second year and was matched with Michael Tenzer, who is a life trustee of the LA Opera Board.
"He isn't a musician, so I wasn't sure how that mentorship would work," Blake said. "But it turned out to be one of the most glorious things."
One day Blake got an email "out of the blue" from Tenzer, telling him he had a meeting with the National Children's Chorus (NCC).
"They were looking to start a possible intern program with Thornton," Blake said. "As fate would have it, I was supposed to audition, but there became a need for me to substitute for the conductor, so my audition was my first rehearsal."
He'd never worked with kids before, but Blake got the gig. He conducted for them a couple more times, and then they asked him to be assistant conductor. His second year, the NCC invited him to conduct at Carnegie Hall. "I had never even been there before," Blake said. "That was an amazing experience." After that, they asked him to co-conduct another choir in L.A. and New York. "I'll be flying every two weeks. It's such an amazing organization to work with."
One of the NCC choirs pairs high school singers with young professionals, and Blake had a perfect source for professionals: Tonality. The NCC and Tonality gave a concert together last spring. "It was such a success," he said. "The kids really loved it, and the parents were really excited about their children being able to sing with a professional chorus."
Freelance Musician for Session Work
A pianist who was coming to LA to participate in the March for Our Lives contacted Blake because she needed some high school students to sing with her. Since Tonality also had a concert coming up focused on women's rights and women's voices, he invited her to join them. She brought a friend, Michael Abels, who composed music for both of Jordan Peele's films, Get Out and Us. Abels and Blake ended up making plans to meet for coffee.
"We met the day I finished my oral exams," Blake said. Abels needed a group of singers to perform at the ASCAP Screen Music Awards where he was getting an award. "Tonality sang with a couple of the original singers of 'Get Out' at the ceremony."
Then another door opened.
Abels brought a friend to a Tonality concert, a vocal contractor named Edie Lehmann Boddicker. She invited Blake for coffee after the concert and talked about session work for movies. A short time later, Blake was invited to New York to conduct an opera for Prototype, and while he was there, he got an email from Boddicker asking if he was available to sing for the movie Us. After that first job, Boddicker brought him in for another: The Lion King. So during his final semester as a DMA student, he got to work as a session choral singer with one of the world's most famous composers, Hans Zimmer, on the Disney film that was released in July.
It was an opportunity that was never on his radar, especially since he had channeled all of his energies into being a choral conductor.
"That was amazing. I'd never done that, nor had I even imagined that I would be singing. I told myself I'm a conductor first and I'll leave the singing to the singers. Even though I had this degree and sing at church, I never put myself out there," he said. "But Edie is amazing. Luckily, sometimes I feel like people enter your life who see past the labels you put on yourself, and she's one of those people."
It turns out Blake loves sight reading — a critical skill for session work — and he fell in love with the work. He wants to continue to make it a part of his portfolio.
"I had dreams of singing, and I had shut that door," he said. "I told Edie, 'You opened doors I assumed were closed.' Now I'm reinvested in taking voice lessons and working on that side of things. I can no longer tell people I am not a singer. I'm taking singing engagements, very momentous singing engagements. It's been quite a validating experience."
Chorus Master, Opera Camp at LA Opera
This summer, Blake became chorus master for LA Opera's summer camp. "It was the funniest thing," he said. "It's all interconnected is what I'm finding."
Rewind a bit: Tenzer had introduced Blake to Grant Gershon '85, USC Thornton alum, artistic director of the Los Angeles Master Chorale (LAMC), resident conductor of LA Opera and member of the USC Thornton Board of Councilors. Gershon became another "absolutely amazing" mentor, who also invited Blake to LAMC rehearsals.
At a rehearsal after the NCC concert Gershon had attended, Blake and Gershon got into a conversation. "He congratulated me on the concert and my dissertation on music and social justice," Blake said. "A singer overheard us and told me, 'LA Opera has a summer camp, and they're doing stories on social justice. You'd be great for the job.'"
"2019 has been this whole slew of things that I did not think would happen, things that were not on my purview," Blake said. "You do work, you respect people, you try to stay invested in what's happening, and people think of you. And you try to make yourself open. It's been really exciting."
Never miss a story
Subscribe to USC Thornton's e-newsletter
Subscribe