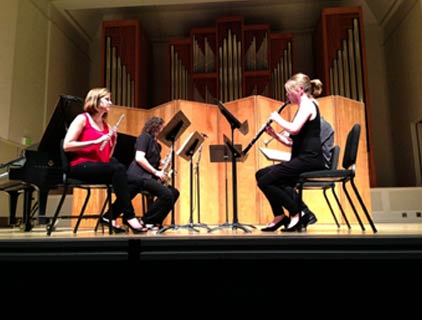 Oregon Bach Festival Composers Symposium
I took the train back a few weeks ago from the Oregon Bach Festival Composers Symposium, where I had the opportunity to play in the premiere of a new work of mine with members of the fantastic ensemble Beta Collide! I also was fortunate enough to participate in two other premieres of composers at the festival. The symposium was a fantastic experience, and so much happened in a week and a half!
The symposium was held at the University of Oregon campus in Eugene, the beautiful college town that was the setting for the majority of the Oregon Bach Festival concerts. It was run by Dr. Robert Kyr, chair of the composition department at the UO. Composers brought either instrumental or choral pieces, some of them written for the symposium and some previously composed. Craig Hella Johnson, founder and director of the Austin ensemble Conspirare, directed a chorus which rehearsed the choral pieces over a period of a few days. He selected several of the pieces for a concert.
An ensemble of composers performed and recorded some of the instrumental pieces in the Virgin Ears Workshops. After a couple of prior rehearsals, the performers would play through the piece, and Dr. Kyr would make suggestions about dynamics, balance, phrasing and technique. Dr. Kyr would also ask the composer questions about his or her intentions. Then, once the performers had sufficiently honed their interpretation, they would make another recording. One of the pieces that I played in this workshop was Zach Gulaboff Davis's Elegie for Oboe and Piano. It was a beautiful piece, and Zach was a joy to work with! After my first run-through of the piece Dr. Kyr asked me for my thoughts and feedback. I talked briefly about parts of the piece that were easier and parts that were more difficult, and about what is and isn't idiomatic in general on the oboe. (No slurred 32nd note passages above high Eb, please!)
My own piece was premiered in the July 5th Living Music Now concert, which featured a few other premieres as well as performances of Takemitsu, Cage, and Feldman. I had only two weeks to write, from when I was assigned the instrumentation to the start of the festival, so I had to stick to what I know how to do stylistically and what I can write relatively fast. My instrumentation (flute, oboe, trumpet and alto sax) was set based on the players I was writing for – Brian McWhorter and Idit Shner of Beta Collide, as well as the amazing flutist Rachel Beetz from UC San Diego. This combination of instruments seemed to lend itself to something fast and boisterous, and what ended up resulting was a sort of march in ABA form with a contrasting, slower B section. I was happy when, after the performance, my piece got compared to three of my favorite composers – Prokofiev, Holst, and Stravinsky.
In rehearsing Miniature March (Sorry for this title. It is growing on me, but is still subject to change!), I discovered that playing my own music in an ensemble, which I had never done before, is a lot different from sitting on the sidelines! I found myself sometimes using most of my attention to concentrate on my own part, and then not quite being prepared to respond to "Well, is that how you wanted it?" I was forced to make a greater effort to listen, and as a not very experienced chamber player, this challenge was invaluable. I feel certain that continuing to play my own music will improve my musicianship in this way!
Another new experience for me was talking about my piece in front of an audience at a performance (which was terrifying, but only while I considered what to say in the five minutes prior to the concert). I was very happy with the performance (besides a few minor mistakes of my own that I'm kicking myself for), and the entire process was an informative, fun and rewarding experience! An interesting discovery I made was that my harmonies sounded a lot more dissonant scored for this ensemble than they had on the piano!
As well as watching and participating in these new music performances at the symposium, we had the opportunity to see some of the great performers who were featured at the Bach Festival. Midori was one of these performers, and I saw her give a masterclass with four high school violinists from the area. She also gave an outstanding performance of Bach's sonatas and partitas! (She played the A minor and C major sonatas, and the B minor and E major partitas.) I also saw Helmuth Rilling conduct the OBF orchestra and chorus for a performance of Beethoven's Missa Solemnis.
Other events at the symposium included two masterclasses by Dr. Hartke, the composer in residence. He talked about text-setting and discussed some of his choral and instrumental pieces. There were also seminars with Dr. Kyr and Craig Hella Johnson. The two visiting new music ensembles, Beta Collide (based in Oregon) and Fireworks Ensemble (from New York), also gave a seminar, in which flutist Molly Barth, a founding member of eighth blackbird, told us about how the ensemble got started. These musicians all stressed the value of hard work; networking and making connections with people (and even going out of your way to do this); and figuring out what kind of career and lifestyle is going to make you happy and then not compromising. We also learned a lot about the rise of the composer-performer career as a growing and increasingly important alternative to a career only in academia.
One of the greatest aspects of the symposium, I think, was getting to meet composers from all around the country! I really got to see how small the music world is – it was fun repeatedly finding out a little about a person's background, and where they lived and went to school, and then asking "Do you know _____?" and chances were we both knew that person! (And people would do the same thing to me.) I made some great friends and feel a lot more well-connected.
OBF was such a great first festival experience, and I'm so glad I got to go. I'm looking forward to participating in more things like this in the future!
Never miss a story
Subscribe to USC Thornton's e-newsletter
Subscribe