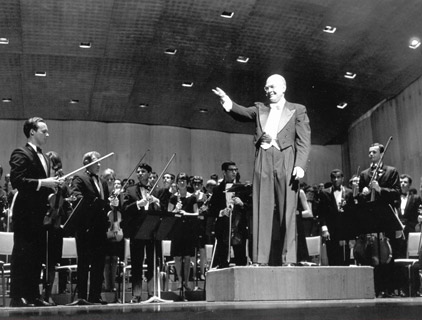 Performance celebrates USC Thornton Composition department
"Thornton has been, and continues to be, a great place for composers."
For generations, many of America's most beloved contemporary composers have developed and honed their talents at USC as students and faculty of the USC Thornton Composition program. The USC Thornton Wind Ensemble will celebrate this rich history in the world of composition with an event titled "USC Composers Past and Present."
Part of USC's Visions and Voices initiative, the evening will include works by past faculty Ingolf Dahl, Robert Linn and Halsey Stevens, current faculty Donald Crockett and Frank Ticheli, as well as current graduate student Bryan Kostors, winner of the 2013 USC New Music for Wind Ensemble Competition. H. Robert Reynolds and Sharon Lavery will lead the ensemble.
"The Composition program and the Thornton school strongly support the performance of brand new music by our students and faculty," said Composition chair Donald Crockett. "This concert highlights the nurturing environment at the school. Thornton has been, and continues to be, a great place for composers."
Halsey Stevens, a professor of composition at USC Thornton for over 30 years, will be recognized with a performance of "Ukrainian Folk Songs" in an arrangement for wind ensemble by longtime former faculty William Schaeffer. Stevens served as a mentor to USC Distinguished Professor Morten Lauridsen, current Composition chair Donald Crockett, Houston Bright and other composers. His works have been performed across the globe, and he was frequently commissioned by academic and professional organizations such as the San Francisco Symphony and the National Endowment for the Arts. He passed away after a long illness in 1989.
German-born composer Ingolf Dahl's "Sinfonietta," a well-known staple in the wind ensemble repertoire, will also be included in the evening's lineup. Dahl immigrated to the United States in 1939, settling in Southern California. There he came to know many other European composers living in the area, including pillar figures Stravinsky and Schoenberg. In 1945, he was hired to USC's music faculty, a position he held until his death. He was influential in the education of many noted American musicians, including Michael Tilson Thomas, William Hall, and Morten Lauridsen. Beyond teaching composition, Dahl also conducted the school's symphony orchestra and taught theory, conducting and music history. USC's Doheny Memorial Library holds the Ingolf Dahl Archive, which holds many of his scores, manuscripts and diaries. Dahl died while in Switzerland in 1970.

The event will also serve as the first premiere of a new version of Composition chair Donald Crockett's "Dance Concerto" written specifically for wind ensemble. Originally composed for solo clarinet and bass clarinet, this new version of "Dance Concerto" will continue to premiere in 21 additional schools throughout the country.
"I am grateful to the legendary H. Robert Reynolds for his support of this consortium project," said Crockett. "I look forward to the premiere with both him and the outstanding student soloist, Stefan Van Zandt."
In addition to his work as a composer, Crockett has conducted well over a hundred orchestral works by outstanding Thornton student composers through his appearances as conductor of USC Thornton Symphony's annual New Music for Orchestra concert.
Composition faculty Frank Ticheli will be on hand to discuss "Angels in the Architecture," a 2009 work also scheduled to be performed during the event. The former Composer in Residence of the Pacific Symphony, Ticheli's orchestral and choral works have been performed across both the United States and Europe. As a member of the USC Thornton faculty, Ticheli has received the Virginia Ramo Award for excellence in teaching, and the Dean's Award for Professional Achievement.
The program will conclude with a performance of Robert Linn's celebrated "Propagula" for large wind ensemble. Lynn was a member of the Composition faculty for over thirty years, and served as chair for nearly two decades before retiring in 1990. He passed away after a battle with cancer in 1999.
"USC Composers Past and Present" will take place on Sunday, February 9 at 4:00 p.m. and is open to the public. The event is free, and RSVPs are encouraged.
Never miss a story
Subscribe to USC Thornton's e-newsletter
Subscribe