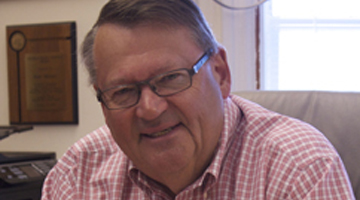 Peter Webster receives music education's highest honor
The National Association for Music Education Senior Researcher award honors significant scholarship in the field of music education.
Peter Webster, Vice Dean of the Division of Scholarly and Professional Studies and Scholar-in-Residence of Music Education, was recently named the 2014 National Association for Music Education (NAfME) Senior Researcher for the Society for Research in Music Education (SRME).
The award, which highlights significant scholarship in music education, recognizes Webster's lifelong contributions to the field through his research and advocacy. He is perhaps best know for his work on creative thinking in music based on evidence within psychology and the arts, and for his work on applications of music technology for music teaching and learning.
"It's a complete shock to me, I'm still trying to process it all," said Webster, who considers the award as the top honor of his career.
Webster is the first USC Thornton representative to receive the bi-annual award — the highest honor in the music education field.
"The ceremony for this award is the one event at the NAfME conference that everybody wants to attend," said Susan Helfter, chair of USC Thornton's Music Education program and director of Outreach programs. "The fact that the most prominent thinkers, writers and researchers in music education take the award so seriously points to its prominence in the field."
Webster has supervised countless doctoral dissertations in music education, and has also been the recipient of many grants — including a landmark award from the National Association of Music Merchants to study the influence of music on adult creativity in non-music related fields. His published work includes over 80 articles and book chapters on technology, music education practice and creative thinking in music.
Webster is an Emeritus Professor at the Northwestern University's Bienen School of Music, where he led the Ph.D. Program in Music Education and served as an Academic Studies Department Chair and as Associate Dean for Academics before joining Thornton. His teachings include courses in philosophy of music education, creative thinking in music, graduate research in music education, music technology and assessment of music learning.
Webster credits his high school band school band director and his early conducting experiences as his motivation for pursuing a career in music education.
"I did some private teaching in high school and I liked it a lot," Webster said. "I felt I had a gift for helping people play their instruments better. So, the idea that I could pass these experiences along was a big part in shaping my desire to teach."
Despite all that Webster has accomplished in higher education, he admits that he misses his earlier days as an educator in the public school system. But, Webster continues to receive his greatest thrill when he knows he's made an impact on his students.
"I miss teaching in the trenches with the kids who are in the elementary and secondary schools," he said. "When I hear I've been able to excite a person's interest in successfully trying something new in the world of music, that's very enjoyable to me."
The award has also reminded Webster about the challenges currently affecting the music education field.
"We're in a difficult time in music education now," he said. "Schools spend a lot of resources on subjects like math, science and English — and the arts suffer because of it. They suffer not only from the lack of funding, but they also suffer from the lack of respect from parents and administrators who don't understand the extraordinary contributions that the arts make to the lives of children."
"For this award to go to such a generous, skilled person in our field," said Helfter, "It just seems like it's the right thing to do. It just further points to what the award is all about — bringing awareness to the impact of great music educators."
Despite the accomplishments Webster has gained throughout his career, he believes his work as an educator and advocate for arts instruction is far from finished.
"My hope is to continue to do the same kind of work I've always done — teach these classes that I teach, continue to advise doctoral students and continue to write," he said.
Peter Webster will officially receive the award this April at the NAfME Music Research and Teacher Education National Conference in St. Louis.
Never miss a story
Subscribe to USC Thornton's e-newsletter
Subscribe