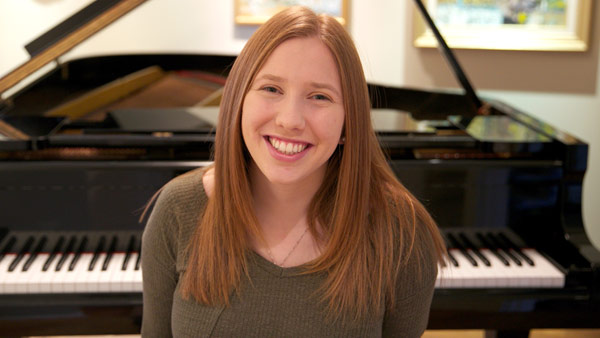 Pursuing a Life in the Pit
Life in the orchestra pit can be challenging. Just ask the USC Thornton School of Music student who will work there for this weekend's performances of Evita.
Undergraduate Sasha Bartol will serve as assistant music director for the spring musical from the USC School of Dramatic Arts. Bartol, a Composition student with a minor in musical theater, will add the credit to more than a dozen other USC productions for which she has been a music director over the past three years. Parmer Fuller, a faculty member in both schools, is the music director for the production.
Thornton's innovative Composition curriculum encourages experimentation and allows students to pursue interests outside of the program. After adding a musical theatre minor, Bartol became music director for USC Musical Theatre Repertory (MTR), a student-run organization that puts on two to three productions every year.
Along the way, Bartol recruited a handful of Thornton students to perform in her MTR pit orchestras. Jazz Studies and Studio/Jazz Guitar majors Ian Hubbell, Jeff Frantom and Cyrus Elia are a few of the many musicians who keep returning to play in MTR shows. For most of them, it was their first experience participating in a completely student-run musical.
"It was a great experience because it required everyone involved to invest their trust into each other to make it happen," said guitarist Frantom. "Sasha does a great job putting together the music with such limited time, space and other resources. Anyone can tell she is driven by her passion for musical theatre."
Early Beginnings
"For years, all of my theatrical experience was performance-based," Bartol said. "I was a featured dancer in countless productions throughout middle and high school, and I even had a few named parts here and there."
In addition to performances and rehearsals, she was also taking piano lessons, which proved to be a difficult schedule to balance. "For the longest time, my music training and my theatrical training were entirely separate entities," she said.
In her junior year of high school, Bartol learned that she could combine her two interests in musical direction. "I asked the choir director at my high school if I could be the assistant music director on my school's production of Ragtime," she said. "Through these various experiences, I started to realize that musical direction was something I was very interested in as a career path. That only intensified when I came to USC."
Finding Musical Direction at USC
Bartol has worked on 15 productions at USC, and each has come with unique challenges. Stephen Sondheim's musical, Company, is the most recent show that she directed with MTR, and the most complex. "I worked with my largest pit orchestra yet, featuring 11 instrumentalists playing 15 instruments in a tiny blackbox theatre," explained Bartol. The Massman Theatre, where the musical premiered, works well for student theatre, but presented quite a few acoustic challenges for musicians. "I had to figure out how to balance the large pit that the director specifically wanted with the un-mic'd voices of the singers in a space that used to be a squash court," Bartol said.
For Composition student and saxophonist Robert Alexander, the sense of community within the ensemble was a definitive part of the experience: "It was such a cool, tightknit group within the pit and within the show itself," he said. "I'm in a sax quartet and wind ensemble, and [Company] was very different than a lot of other ensembles—it definitely changed our playing far more than what I've experienced with music concerts."
Bartol plans on moving to New York this summer and working as an accompanist and arranger. She eventually wants to direct and compose her own musicals on Broadway, but knows it won't be an easy journey. "I know it will take a while to get there," she said. "In the meantime, I plan on taking the skills I've learned in Thornton in combination with my musical theatre experience to create my own sort of career. If anyone needs something accomplished in the music sector of the musical theatre world, I'm the one to do it."
---

The USC School of Dramatic Arts production of Evita runs through April 9 at USC's Bing Theatre.
Never miss a story
Subscribe to USC Thornton's e-newsletter
Subscribe