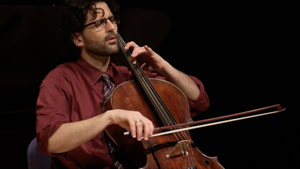 PICF '16: Q&A with Amit Peled
In the second installment of our Festival artist Q&A series, we spoke with Israeli-American cellist Amit Peled. From a rural upbringing in Israel to performing at Carnegie Hall, Peled is a strong personality and an engaging performer known for breaking down the audience/performer barrier by explaining the pieces or telling stories.
Peled studied with Laurence Lesser at the New England Conservatory and also with Bernard Greenhouse, a former student of the legendary Pablo Casals. In 2012 he was given the honor of playing Pablo Casals' 1733 Gofriller cello. Currently, he is on tour with the instrument giving recitals of Bach, Schumann and a piece composed for him by Lera Auerbach; this work — La Suite dels Ocells — was premiered by Peled in November of this past year at the John F. Kennedy Center for the Performing Arts in Washington D.C. Peled, a professor of cello at the Peabody Institute of the Johns Hopkins University, now calls Baltimore home.
---
What inspired you first to begin playing the cello?
I grew up on a kibbutz, which is a social environment in Israel, and was as far as one can imagine from classical music. My parents aren't musicians but luckily, in fourth grade, we all had to pick an instrument. Just turning ten years old I picked up the cello just because of a girl who played cello. It was as simple as that. She was, and is, four years older than me and so I didn't dare talk to her. I used to hear her practice and so I formed a plan in my fantasy world. I thought, if I play the cello I'll have to practice with her, then go to lessons with her and then we'll probably get married.
My parents were shocked that I wanted to play the cello. They didn't know where it came from because at the time I was really into sports and basketball, but it became clear to me then that playing cello was what I wanted to do and so basketball became secondary. I just watch it now, I don't play.
Who's your favorite team?
The Cavaliers. But secondly the Lakers. I have a former student who lives in Los Angeles now and he promised me when I come in May we would go to a game together. He's working on getting me courtside seats. The problem would be if the festival made me play on a night when I got courtside seats. I think Ralph [Kirshbaum, the Festival's artistic director] will just have to be upset with me because I'll be at the game!
How do you like Baltimore?
I love Baltimore. We live in an isolated area that's peaceful and quiet, but I can get in the car and be at Johns Hopkins in a half an hour. There's a big Jewish community here too and so it's nice to feel sort of at home even though it's a different language.
Home is Israel and it will always be, but I have a wife and three kids, all born here, and I love the university. If you love what you do, then you find ways to love where you live because you come home happy.
We will have a lot of students coming to the festival. Do you have practical advice that you would offer a student of classical music performance?
Laurence Lesser told me after my last lesson with him at New England Conservatory, "You know Amit, you are very talented and you have a place in this musical world, but don't forget that nobody needs you. So go and find it yourself." It was a little hurtful to hear it because I thought it was there for me already. But the more life confronted me I realized that he was right. If you aren't going to create your own opportunities and be creative, not just musically, but with how to get to the stage, nobody is going to give it to you, because nobody needs you.
You have an active social media presence. How important is it for you as a performer to be a self-promoter?
I think there's a fine line with social media. As artists we should be careful about doing too much selling ourselves and not enough of really being sincerely good musicians and servants of the composers. You can put up a photo that will attract attention, but then you'd have to ask, "How do you play Brahms?"
We need social media because we live in that kind of environment. I use it, because after all, I am also part of this generation. But we should remember that what we do is something that has been done for hundreds of years and it's our responsibility to carry on that tradition with integrity.
Tell us the story of how you came to play Pablo Casals' cello.
A friend of mine arranged for me to meet and play for his widow, Marta Casals Istomin. She lives in Washington D.C., so it was natural for me to meet her and play for her. It turned out to be a very tough lesson, but when I left the room I had Casals' cello.
It was like a dream because I grew up listening to Casals and would dream about his sound. I never imagined I would see that cello let alone have it next to me on a daily basis. And there's a responsibility of having this cello, and what it means to be an educator, sharing Casals' legacy with my students and with my audiences.
We're all looking forward to your performance of Lera Auerbach's new piece. What was it like working with her in regards to the Casals project? I know she spent a lot of time getting inside of Casals' head. Did you feel like collaborating on her piece helped you bring out any nuances of his instrument or music?
Interestingly, I've never met Lera, but we both envisioned the same result for this piece. She really did her research and she knew it would be played on this cello. But she picked the two themes that were most strongly associated with Casals: The Song of the Birds, a Catalan folk song, and the Bach Suites that he championed and recorded on this cello. This, too, is what I dreamed about. Although I didn't expect the piece to be so difficult!
The next concert I have with it will be in January because I wanted to have time off to let it sink in and get into my system. I really look forward to the next few months where I will start playing it a couple of times every month, culminating in the performance at the Piatigorsky Festival in May. Hopefully by then I will have put it in a place in my fingers and soul where it is my voice, and not just Lera's.
With the Auerbach premier and the Casals cello performances, this has been a busy year. What's next for you in 2016?
I will continue playing on the cello, and I'm embarking on some concerts playing the Bach Suites. I thought it would only be natural since I grew up hearing the Bach Suites on this cello, that I should record it myself. It will be interesting to see how my voice becomes alive through this cello and how different it will be in comparison to Casals'. And it should be different! Hopefully by December of 2016 I will record them.
And then I'm doing a cool program that I just started which is called "The Journey With My Jewishness," and it's basically a concert and conversation. I don't really plan what to say but I play significant Jewish pieces or Jewish-oriented pieces that have followed me through my development starting with a folk tune that my mother used to sing to me when I was a child.
The Bach Suites and this program are two things that I have always wanted to do. Now I have the opportunity to do so and I'm really enjoying it.
---
Amit Peled will be featured in a Lunch Concert at the Piatigorsky International Cello Festival on Saturday, May 21st at 1:00 PM at USC's Alfred Newman Recital Hall.
Never miss a story
Subscribe to USC Thornton's e-newsletter
Subscribe