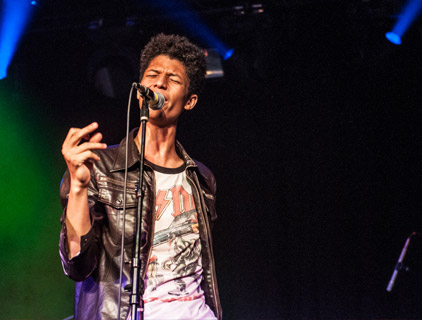 Remix: Aaron Childs finds his voice
"I never really delved into the thought of being anything other than a guitarist."
When senior Aaron Childs arrived at USC to begin his studies in the Popular Music program, he never envisioned himself as a lead singer or frontman. A lifelong musician, Childs assumed that his place on stage was as a lead guitarist – and nothing more.
"I never really delved into the thought of being anything other than a guitarist," said Childs. "I didn't really write much, I sang background vocals – but I wasn't out of my shell enough to do anything else."
That changed in Childs' freshman year at Thornton as he began to explore songwriting and performing his own material.
"When I started writing, I found my own voice as an artist," he explained.
"I developed a clear vision of what I thought I should be doing with my art, and I began zoning in on my own sound."
To become more comfortable with his newfound artistic identity and role as a performer, Childs began recording covers of popular songs and uploading videos of his renditions online. Now, with several videos under his belt, Childs finds cover videos an integral part of creating interest in his on-stage persona.
"With each cover, I want to find a unique way of going about it," he said. "A way where my voice and who I am really shines through to an audience."
Childs' cover videos, which often are edited to showcase Childs' instrumental prowess in addition to his vocal skills, have amassed a loyal following on YouTube. Many of his videos have logged tens of thousands of views.
But Childs' most popular video, a rendition of Bill Withers' 1971 chart-topping single "Ain't No Sunshine," is also his most stripped-down. Filmed in Childs' hometown of Pasadena, CA, the acoustic performance allows Childs to showcase his talents in a spontaneous, no-frills setting.
https://www.youtube.com/watch?v=VN4CTv72KCg
"A lot of the songs I cover, they're songs I've loved my entire life," said Childs, explaining what initially drew him to covering Withers' iconic tune. "'Ain't No Sunshine' is one of my favorite songs, and it resonates with me in a way that lets me really dig into the music."
Childs is currently working on his debut EP – an experience that he says has forced him to further reflect upon the sound and aesthetic he wishes to promote as an artist.
"Now more than ever is the time for live instruments to come back into play," he shared. "That's something I've really been conscious about – how am I going to have this balance between music that feels very real, and music that is also very clean?"
While Childs is still working on his record, he acknowledges that he wouldn't be at this stage had he not been inspired to try songwriting back in his first semester at Thornton.
"The Popular Music program is amazing," Childs said. "I've seen people go from being a guitarist or a bassist to being a producer, a singer-songwriter, an arranger. That's how I've been able to develop and sustain a sound for myself."
– Kat Bouza
Never miss a story
Subscribe to USC Thornton's e-newsletter
Subscribe