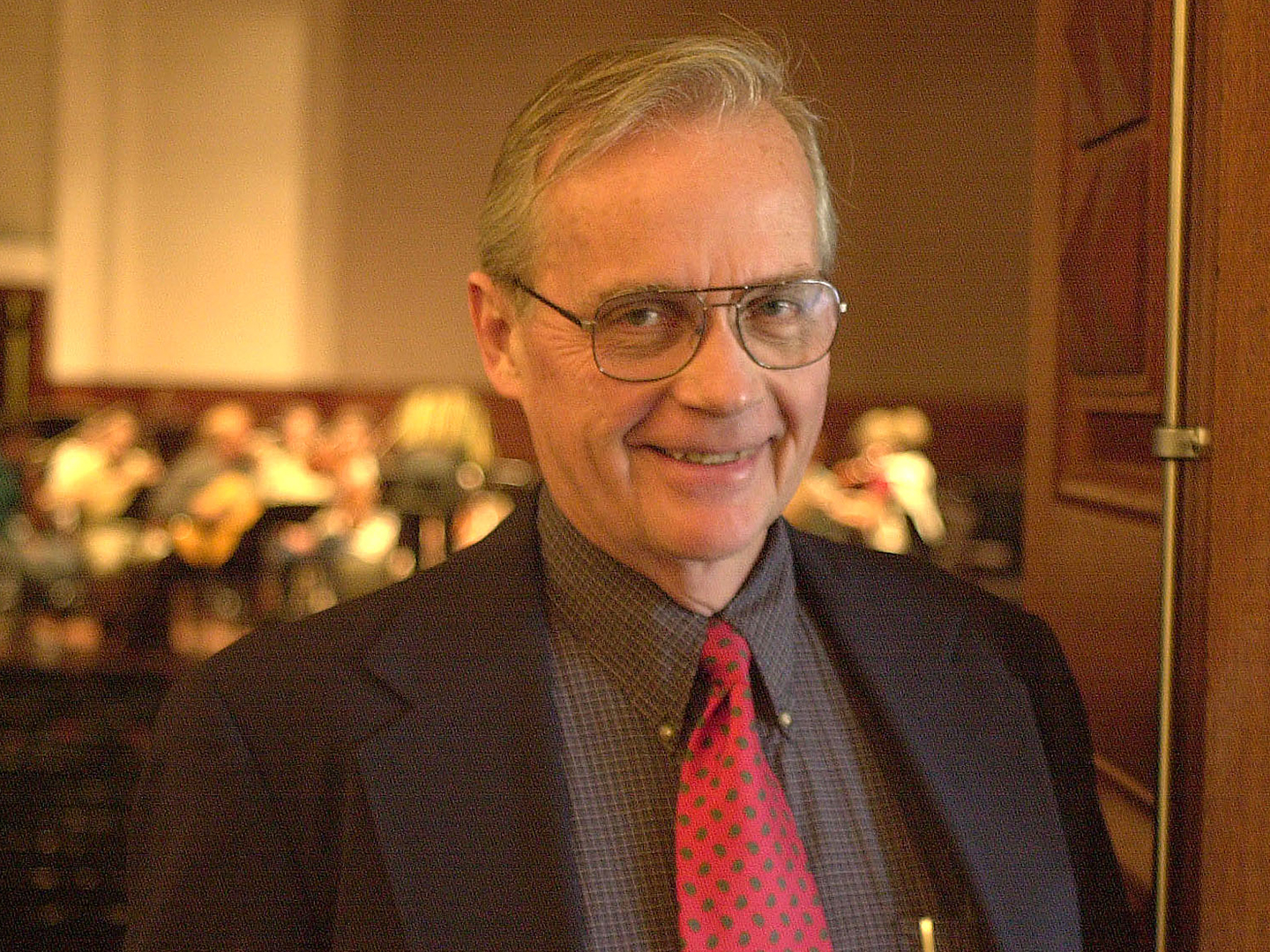 Rick Lesemann: A Remembrance
The beloved USC Thornton faculty member is remembered by friends, colleagues, and former students.
---
A faculty member in USC Thornton's Composition department for over 40 years, Rick Lesemann died last year after a long illness. Celebrated for his electronic compositions, he was a mainstay for generations of young composers at USC, and a leader in electronic music and new music in Los Angeles. He joined the USC faculty in 1971, and, a year later, outfitted the school's first electronic music studio with a Moog modular synthesizer. He continued to add new technology and would continue teaching this original course until 1992. He remained a faculty member until his retirement in 2014, and even then kept in close contact with colleagues at Thornton and former students.
In what follows, Thornton colleagues, former students, and longtime friends pay tribute to a beloved composer and faculty member, someone whose legacy at the School of Music will continue for years to come.
A Musical Celebration of Rick Lesemann
On Thursday, Sept. 28, family and friends will celebrate Lesemann with a concert at USC's Newman Hall that features Thornton Edge led by Donald Crockett, electronic music of the longtime faculty member, pianists from the celebrated Piano Spheres series, and more.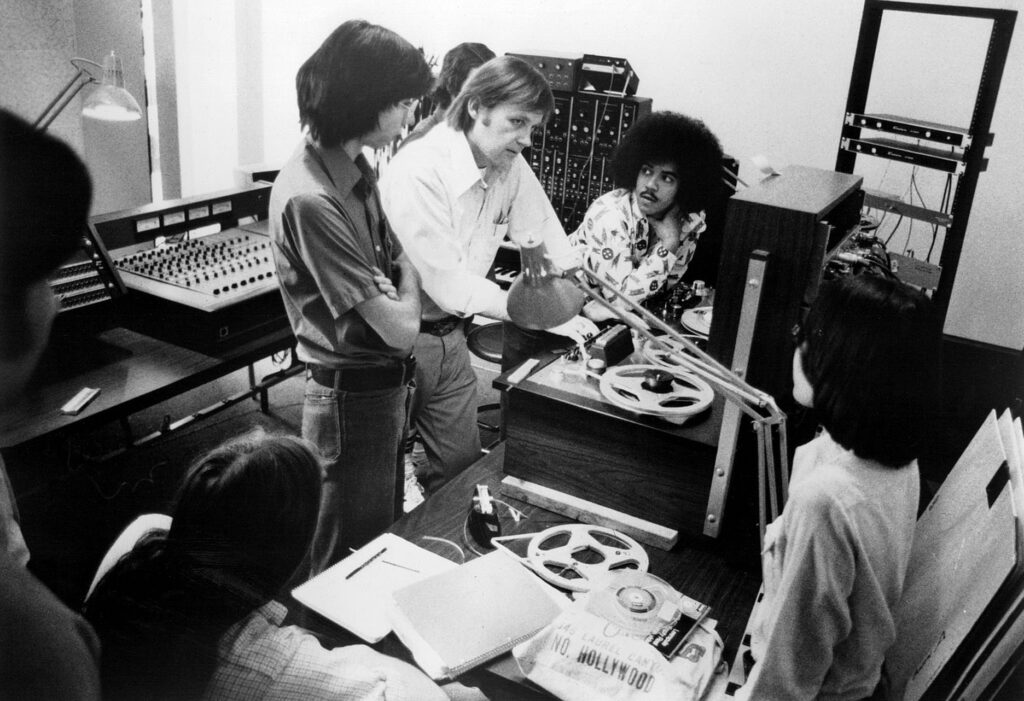 In Memoriam
Frederick "Rick" Lesemann was born in 1936 and grew up in an artistic household in southern California. His father was a poet with connections to artistic communities in Santa Fe, New Mexico, where the family often traveled. These stark, vast landscapes would later influence several of Lesemann's compositions, including Mesita Dreams (1985) and Shotsona (1986), the latter an electronic work based on indigenous mythology of the region.
Lesemann studied with Schoenberg's assistant Richard Hoffmann at Oberlin Conservatory in Ohio before returning to southern California to study with Ingolf Dahl at USC. He absorbed rigorous craft from these composers and was known for his bookish interests in poetry, art, and medieval history. However, he also created minor scandals through his experiments in chance, graphic notation, and other emblems of the 1960s avant garde. When the USC faculty refused to authorize a student recital of such experiments, Lesemann and fellow student Michael Tilson Thomas organized one anyway. He had his beatnik side, spending many afternoons playing street chess with West Coast cool musicians such as Dave Brubeck and Paul Beaver.
Read the full obituary here.
Bill Alves
Composer and Professor of Music, Harvey Mudd College
Remembrances from the USC Community
I was a colleague of Rick's for more than fifty years at the Thornton School. During several of them we shared an office and kept chess games ongoing.
I considered him to be a significant part of the school's backbone. His insights and suggestions regarding the Composition Department and the school were invaluable.
His compositions were first-rate, and I especially admired his piano work composed for Ralph Grierson [which] premiered at the Ojai Festival, "Nataraja."
He was a splendid man and friend, and will be missed.
Morten Lauridsen
USC Distinguished Professor Emeritus of Composition
Recipient, National Medal of Arts
---
Back in the 70's, we had established an impressive Electronic Music Studio in MUS 319. Those were the days of Moog and E-mu Modular synthesizers, reel to reel tape recorders, and Composition Majors who appreciated Karlheinz Stockhausen. Rick wanted to do an outdoor concert of tape projects, so we ran cables out the 319 window and tossed them to the roof of RAMO where I had set up the custom Cerwin Vega speakers I borrowed from my rock band. The audience lounged on the lawn, and some enjoyed the echoes in the courtyard between the Norris and Bing Theaters. Rick's "Hammer Phase," which had been composed to take advantage of that echoey space, received an ecstatic ovation.
Bill Biersach
Former USC Thornton faculty member and founder of the popular seminar on The Beatles at USC
---
A Nexus of Lives

There are those among us who, in the nexus of time and place, change lives. As I have experienced, the word teacher tends, more often than not, to be the person any given one of us will look back upon and say, from the depth of our being, that person was my teacher, and changed the course of my life. That person, for me, was Rick Lesemann. Was that Rick's character? Were we simply two people who, at a particular point in time, needed to form a mentor-student bond that went far beyond a classroom, far beyond a subject, and reached into the foundations of what was important for a life?
1966-67. Rick was a doctoral student (Middle English, as I recall, was his outside exam topic), a lecturer in theory, and a composer ready to absorb the uneasy currents of mid-century musical discipline. Expected practices bumped up against the new, the avant-garde, an age of new approaches, and something that was a medium with potential: "electronic" music. Rick took it all in. Music was a chess game. He could solve the "Knight's Tour."
Read more for the full remembrance.
Dan Wyman, DMus
Emeritus Professor, Composition, Director, Studio Arts
School of Music, San Jose State University
Past City Councilman, Mayor, City of Monte Sereno, CA
---
Rick Lesemann embodied the idea that being a great teacher goes far beyond what happens in the classroom. Like all good teachers, he also taught by introducing students to new ways of thinking and problem solving. He provided students with the resources to apply what they learned in the classroom through hands on application and trial and error. Rick created a safe and open environment where those who chose, could explore music making without constraints on style or technique. He provided the means and the freedom for students to find their own voice.
Rick Lesemann was an integral part of my experience at USC and my music career beyond. Rick made it possible for students, like myself, to get hands on experience and real world knowledge of the different types of synthesis, audio sampling techniques and, the then brand new, technology of MIDI. He put together the electronic music studio, which was in room 319 during my time at USC. Rick was also the driving force behind USC obtaining a Synclavier, which at the time was cutting edge technology. The impact of his forward-looking vision to provide this technology to students at USC cannot be understated. At least, not for me. Working in the 319 studio and on the Synclavier gave me the tools to succeed in a 30-year career as a composer and music producer in a wide range of styles and techniques. My first professional venture into the music industry would not have happened without the knowledge of Synclavier programing I gained at USC.
As a person, I found Rick to be gentle and patient. I never felt boxed in or judged, regardless of the projects I was working on. While I was never sure if he believed in what I was doing, or just tolerated my youthful enthusiasm, I am eternally grateful for his support and encouragement.
Scott August
Award winning recording artist, producer, educator, and author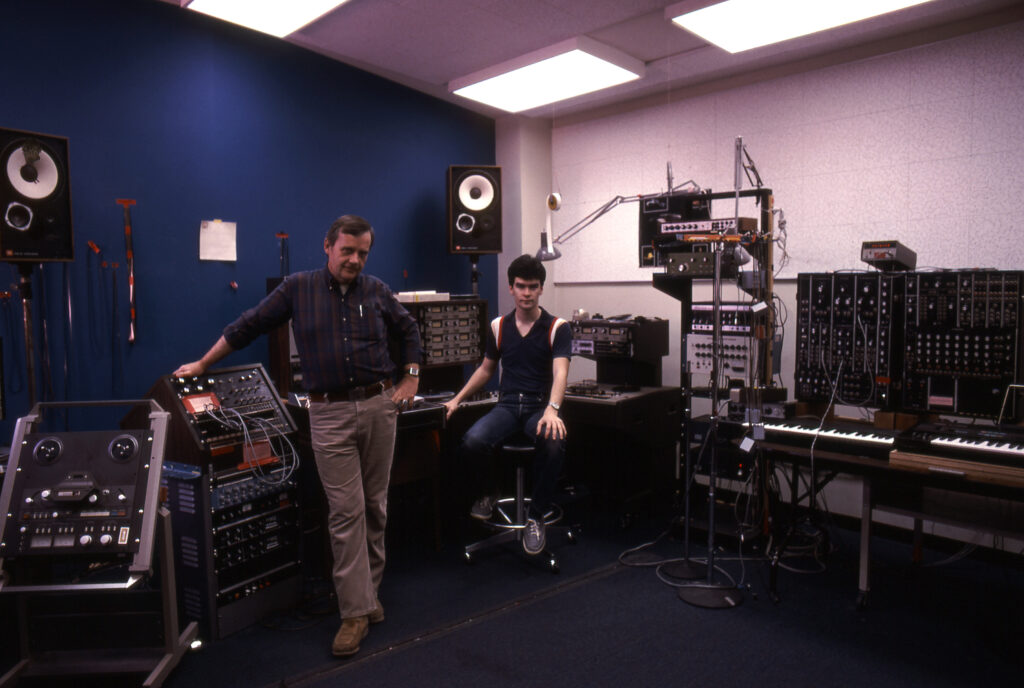 Rick – a remembrance…
1967. Widney Hall. I walked into my first class in Analytical Techniques and Counterpoint, and sat down. Eventually the teacher arrived. Suit and tie. Longish hair flopping over his glasses. Wild energy pouring out of him. Mr. Lesemann. I was a piano major, not one of his best students. Besides, I was an older student…been married and divorced, had a child, picked up a teaching credential and taught for a most difficult year up in Salinas. A relief to get back to music.
When the year was over, Rick and I started dating. Under his influence, I went to Monday Evening Concerts to hear music the likes of which were quite different from the piano repertoire most of us were learning at the time. Over time, it stopped being so different. We went to composition recitals at the school of course, and I knew he was completing his DMA with Ingolf Dahl. Most importantly, I liked his music! I met his two best friends, Allan and Maitland, brilliant conversationalists and thinkers. He drew me into his world. About a year later we were married. Rick became a tenure track Assistant Professor and, as is well documented here, created the electronic music studio.
A few years before, Rick had worked with Dahl at the Ojai Festival when Dahl was Music Director. In 1973, Michael Tilson Thomas asked Rick to work with him on the 1974 festival. At the time, he was with the Boston Symphony, so there were letters flying back and forth. In early 1974 the pressure from teaching, running the EMS, AND running Ojai proved to be too much. He asked me to take over for him with Michael's and Lawrence Morton's approval. Because of our discussions about Music, his talk about Ojai, and obviously his huge influence on me musically and intellectually, I agreed to take it on. I didn't know this would set the rest of my professional life in Music. I have always been deeply grateful to Rick for the way he brought me into his life and shared his musical thoughts. We remained good friends and colleagues, and his marriage to Susan Svrcek, an extraordinary pianist deeply committed to his music, gave him a true companion in his life. For that, especially, I am grateful.
Heidi Lesemann
Emeritus Executive Director, Piano Spheres
General Manager, Hear Now Music Festival
---
A Non-Musical, or at Least Partially Non-Musical, Remembrance of Rick Lesemann
My name is Allan Kotin, and I am a partially retired real estate consultant and a fully retired adjunct professor of real estate after 41 years of teaching, 36 at the USC Price School of Public Policy.
I met Rick Lesemann in 1952 when we both attended Glendale High School. Rick, and another friend, Maitland Hardyman, became very quickly close friends and, quite remarkably, remained very close friends for seven decades—almost family—as long as they lived (Maitland died in 2017). Rick and I were only children and as such each of us was for the other as close as we had to a brother. Rick was married three times, and I am the only person besides Rick who attended all three of his weddings, the last of which was to Susan Svrcek and was about the best thing that Rick ever did.
Rick's multiple marriages created a humorous situation when, several years ago, a composition of his was premiered at Bovard Auditorium. I attended that concert along with a fellow faculty member from the Price School. At the intermission I saw Heidi Lesemann and Susan Svrcek chatting in the lobby. I then, with some difficulty, introduced my colleague to Heidi who was the ex-wife of Rick, and to Susan who was Rick's wife. He seemed only mildly puzzled.
I titled this document as a "non-musical—or at least partially non- musical—remembrance" because it is impossible to describe Rick without reference to music. When I met him in high school, he had been for some time a trombone player in the Peter Merenblum California Youth Orchestra which was an early precursor to the many classical music youth orchestras we have today. There was much classical music in the Lesemann household. His mother played the baby grand piano in their living room and was a sometime church organist. His father was a poet and writer, with a day job as a copy writer for an ad agency.
Read more for the full remembrance.
Allan Kotin
Former faculty member at USC Price School of Public Policy
Longtime friend
Never miss a story
Subscribe to USC Thornton's e-newsletter
Subscribe