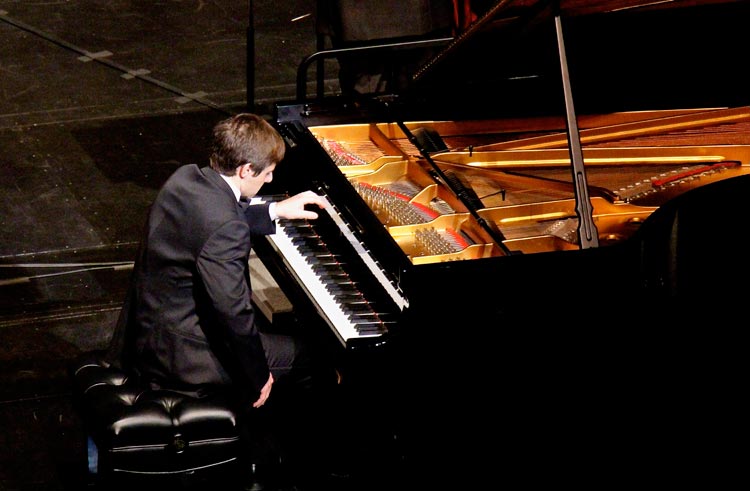 Sam Kinsey wins concerto competition with one hand
For USC Thornton junior Sam Kinsey, playing the piano has always come naturally. What hasn't come so easily, however, is the ability to play it with just one hand.
The Keyboard Studies major and Southern California native broke his right wrist while playing basketball in August of 2013 and had to face the challenge of learning to play his chosen instrument in an entirely new way.
"It was, in some ways, a blessing in disguise," said Kinsey.
After an initial consultation with a doctor, Kinsey began a careful recovery process that eventually led him to focus largely on his left hand's ability to play. His right hand would not touch a piano for another two months. Kinsey went to his professor, USC Thornton keyboard studies faculty member Antoinette Perry, with pieces for the left hand alone that he was interested in playing: a Scriabin nocturne, a Brahms transcription of the Chaconne from Bach's Partita in D minor for solo violin, and, in particular, Ravel's Piano Concerto for the Left Hand in D major.
"One of the things I really like about studying with Professor Perry is that she's open to discussing my new repertoire," said Kinsey. "She guides my decisions based on what pieces she believes will be best for my musical development, but also wants her students to be studying pieces that really interest them."
Hosted by the Young Musicians Foundation, the 2014 Debut Concerto Competition provided Kinsey with the opportunity to showcase his months of recovery, hard work, and one-handed repertoire. He went on to take the Grand Prize and was invited to perform at their 60th Annual Gala and Concert. Held at the Wallis Annenberg Center for the Performing Arts in Beverly Hills on February 2, 2015, the gala was dedicated to the late David Weiss, former chairman of the YMF Music Advisory Board and beloved oboist and member of USC Thornton's faculty for nearly 30 years. The event also honored USC Thornton faculty violinist Glenn Dicterow with the "Living the Legacy Award."
Kinsey's win and performance with the YMF can be added to a growing list of accomplishments for the versatile musician. In 2013, he was awarded First Prize in the college division of the statewide Music Teachers' Association of California Solo Competition. Last summer, he was invited to work with USC Thornton faculty Daniel Pollack in Ochsenhausen, Germany at the International Summer Academy. There, he took Third Prize in the Siegfried Weishaupt International Piano Competition.
"Sam is relentless in his pursuit of musical excellence," Perry said. "There's no holding him back. What a joy it is to work with him!"
As for what's next, Kinsey says he's eager to continue learning and competing with one and both hands on the keys. He continues to play the left-handed concerto despite a fully recovered right hand.
"I'm definitely keeping the Ravel Concerto. That's a big part of my repertoire now."
In terms of that fledgling basketball career, he seems to have other plans.
"I'm not quite tall enough to go into the NBA," Kinsey said. "So I think I'm going to stick with piano instead."
Never miss a story
Subscribe to USC Thornton's e-newsletter
Subscribe