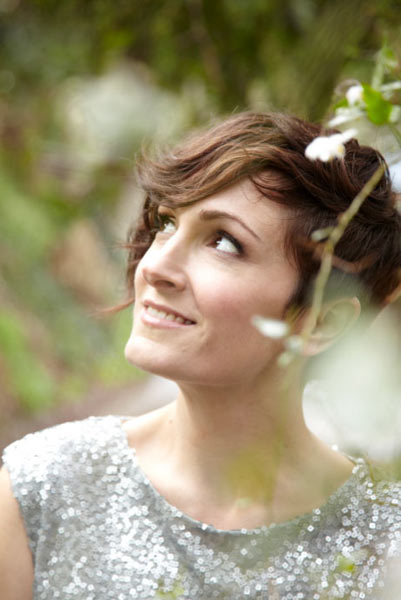 Sara Gazarek
Gazarek values her time spent at USC both on and off campus. "The most valuable thing I got at USC was outside the classroom. My first band was a group that I had for four years. I met two of the three people the first day of school.
Alumnus Sara Gazarek, '04, is an American jazz singer and current faculty member at Thornton. She was born in Seattle, Washington and moved to the LA area in 2000 to attend USC. This talented young lady has been working hard to establish herself on the music scene. "I'm a bandleader. I have my own group with piano (Josh Nelson), bass (Sam Minaie) and drums (Zach Harmon). They are some of the most talented musicians that I've met. One of them, Zach Harmon, was a student at USC. He enrolled in the undergraduate Jazz studies program and also spent two years studying at the Thelonius Monk Institute while it was on the USC campus. We're called the Sara Gazarek Band. We do a lot of national and international touring. We do all of the major clubs and we've been all over Asia. We have a big fan base in Japan. We've made six trips to Japan and we've also traveled to Jakarta and to Manila. We've also played on the East Coast – clubs like the Blue Note and Dizzy's Club Coca Cola. The Club Coca Cola is located in Lincoln Center in New York City and it's owned by Wynton Marsalis. He was there the last night we were there performing. We do a lot of Jazz standards. We also do more contemporary songs like those covered by Joni Mitchell and Paul McCartney. Our arrangements reflect that we are young and hear many different styles of music."
Gazarek also enjoys working with young people and she is passionate about giving back to the community. "I'm really big on education. We do lots of clinics in schools and colleges. We try to teach students about the beauty and passion of Jazz. The Jazz program at my High School was very strong. I joined the choir and I fell in love with Jazz. Our teacher was great and he also taught us the history and the theory behind the songs. This wasn't show choir – this was real Jazz. He would even have us transcribe the instrumental solos. We always wore black for our concerts."
While she loves performing, Gazarek is also interested in writing. "I'm doing a project with a group from Germany for Song/BMG. The group is called Triosence. I'm writing lyrics for some of the songs and helping them with some translations. In some of their songs I'm helping re-write lyrics they have already written. Triosence is a very good group and I've been driving between Silver Lake and Cerritos for rehearsals. We've had shows at the Los Angeles Music Academy, Café Metripol and the Barklay Theatre in Irvine. The new songs we are writing are going to come out on the Sony Label in Europe most likely in the Fall of 2010. Then it might come out later in the US. It may be on a different label then – a smaller one might pick it up and distribute it in America. It's fun to be part of something where I get to be creative and expressive."
Gazarek values her time spent at USC both on and off campus. "The most valuable thing I got at USC was outside the classroom. My first band was a group that I had for four years. I met two of the three people the first day of school. Since then – they've moved on to other projects and I have new people. My relationship with John Clayton is so important. He is a huge mentor of mine. I still call him with questions. Two years ago, I performed with the Dallas Symphony Orchestra and it was my first time performing with a Symphony. I called John and he was able to give me the names of people to go to for the arrangements. He produced both of our CDs. He calls me and I call him; we even go on hikes together. He's very special. History and theory are important in a music school, but the most important part is the relationships you build." Gazarek found more than just professional contacts at USC, she also found her fiancée. "My fiancée also came from the USC film school. I met him there. Then a few years later, I ran into him. We talked and then started dating and we'll be getting married next May."
Sara has already recorded two solo Albums. Her first album, "Yours" (2005), placed in the top ten on the Billboard Traditional Jazz Charts and was also the top album download in iTunes in both Germany and in France. She has since released her second album "Return to You" (2007). Jazztimes readers voted her the 3rd best new artist. Her first opportunities to perform were in the LA area with other USC students from her department. "My first job, I played for a 25th anniversary party for a couple in Whittier. I performed with Eric Curtis (a freshman) and Gerald Clayton (a high school junior). It was my freshman year and we each made fifty dollars. I did a little bit of gigging while I was at USC. My first club date was at the Pasadena Jazz Institute. I was a sophomore and it was my first time putting together arrangements and speaking. Then, when I was a junior, I won a competition held by Down Beat Magazine. I won Best Collegiate Jazz Vocalist. I was then discovered by a management company (Stiletto Entertainment) and I was sent on tour. I was actually sent out twice, once in my junior year and then again in my senior year. I toured with Diane Schur, Karrin Allyson and Olita Adams." USC alumni can keep up with her here.
By Elaine Murphy '96, DMA '07
Never miss a story
Subscribe to USC Thornton's e-newsletter
Subscribe