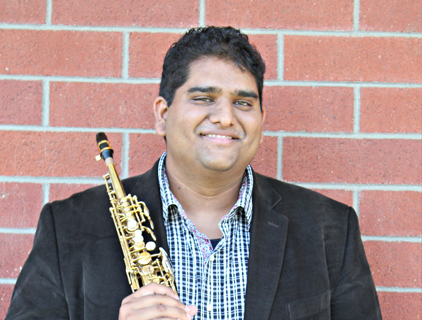 Saxophone student turns class project into performing ensemble
"My ARTL classes offered me a bunch of skills I didn't have as a musician."
Fiero – a new saxophone quartet comprised of USC Thornton doctoral students Andrew Harrison, Isaac Lopez and John Hallberg, and Emma Reinhart (BM, '17) – formed, as many student ensembles do, as a result of a class project. However, the group might never have met if Harrison, Fiero's founder, didn't fall in love with the saxophone.
"My parents groomed me to enter the medical field," he explained. "I started college as a pre-med major, and I took saxophone lessons for fun because I had a small music scholarship. Saxophone really didn't enter my life until I was 15, and I knew I wanted to be a doctor since I was about 6 years old. But, I realized I enjoyed music so much more than my science classes, and everything blossomed from there."
With the help of his professors at Riverside's La Sierra University, Harrison began applying to conservatory programs and music departments at top universities across the country. He eventually enrolled at the University of Texas, where he earned both a Bachelor's and Master's in Saxophone Performance. Harrison began his doctoral work at USC Thornton in 2012.
During his second year at USC Thornton, Harrison decided to augment his musical studies with courses from the school's groundbreaking Arts Leadership (ARTL) program, directed by USC Thornton faculty member Ken Foster. Designed for individuals engaged in any of the arts disciplines, the ARTL program is designed for artists, arts administrators and cultural workers who want to further develop the skills necessary to become successful leaders in the arts. Courses are highly individualized, with emphases on research, discovery, theory and current practice. Harrison points to this holistic approach to teaching the "business" of the arts as a major motivating factor to enrolling in the courses.
"I know how to play, I know how to perform – but what I don't know is how to manage an ensemble," he explained. "Things like booking gigs, how to market, how to create an aesthetic that appeals to an audience – I didn't know any of that before taking the Arts Leadership classes."
From these courses, Fiero was born.
"All of the ARTL students have projects they try to accomplish throughout the year," Harrison said. "For me, the saxophone quartet was the only project that stuck out of several ensembles I tried to form."
Although a relatively new ensemble, Fiero has an impressive lineup of concerts scheduled through the end of the year – including a performance with the USC Thornton Wind Ensemble at Bovard Auditorium on September 28. According to Harrison, the group wants to break away from traditional, classical-oriented performance venues in hopes of exposing a wider audience to the rich history of the saxophone.
"Our goal is to play for general audiences," he said. "Saxophone is heavily involved in the contemporary music scenes, but some people don't know that classical saxophone exists. We're trying to take the music wherever we can and play new works in hopes that people in our generation, and those younger, get interested in classical music again."
Harrison credits two Arts Leadership courses, Issues in the Arts and the Contemporary World (ARTL 502) and the Arts Leadership Practicum (ARTL 510), with providing him the insight he needed as a performing musician to approach his career in a more professional and business-minded manner.
"My ARTL classes offered me a bunch of skills I didn't have as a musician," he said. "It essentially turned me into a businessman.  Those tools are more valuable in the performing world than knowing how to play ones instrument."'
For now, Harrison hopes to use the knowledge from his ARTL courses to further establish Fiero as an exciting, new local presence in the Los Angeles music scene.
"Ken Foster has been mentoring us on the business side of running an ensemble," he said. "We want to be an LA-based ensemble, and this is a great place to do so. When you're a grassroots organization, it's important to build a fanbase where you live and branch out from there."
Never miss a story
Subscribe to USC Thornton's e-newsletter
Subscribe