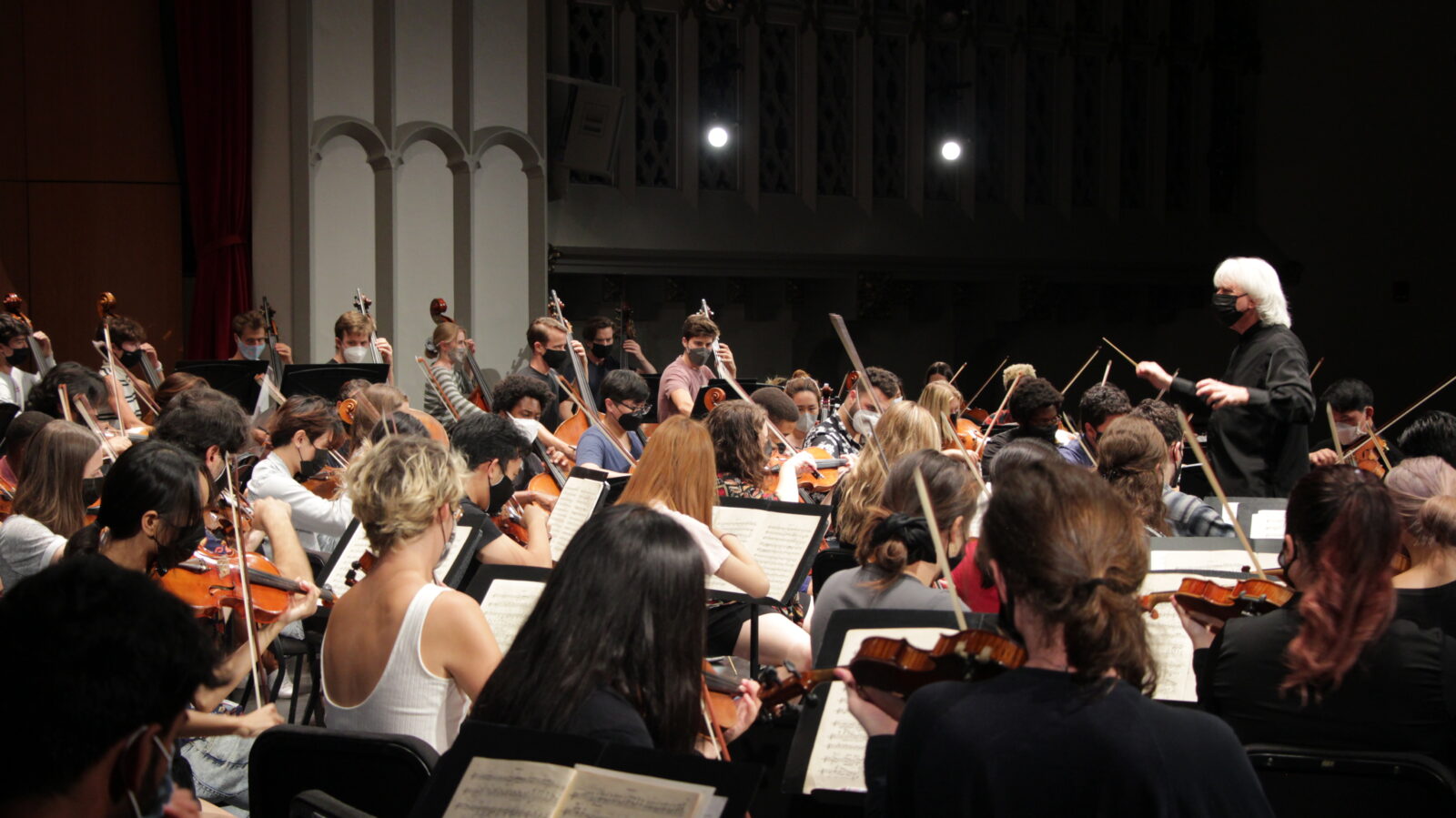 Sharing the Moment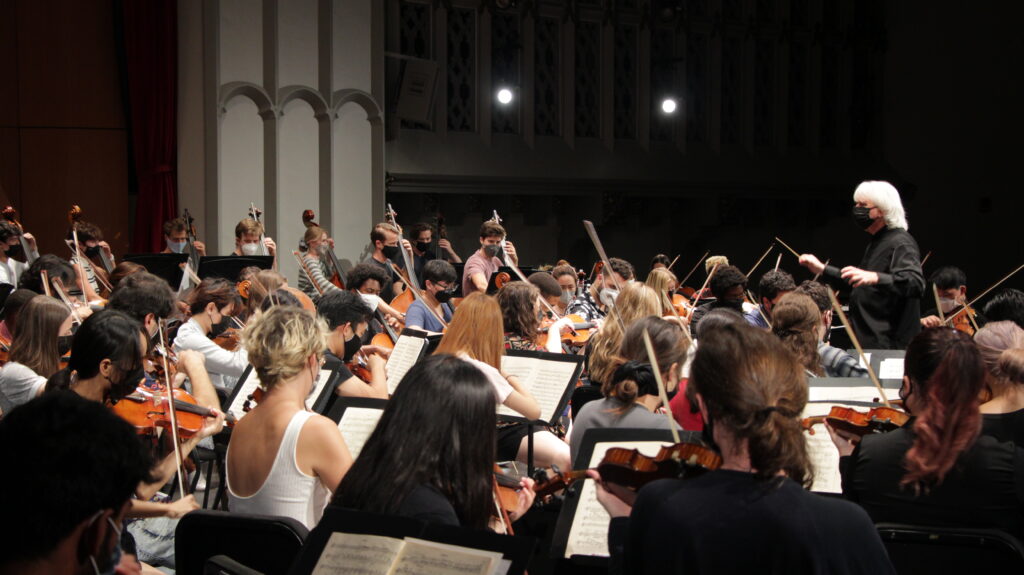 The USC Thornton Symphony returns to the stage to perform together again.
---
On the stage of Bovard Auditorium, chatter and scattered melodies give way to the clear tone of an oboe. Slowly, each instrument joins until the sound of the tuning note fills the concert hall. A few adjustments are made, conductor Carl St.Clair lifts his baton and all instruments rise. It has begun.
The USC Thornton Symphony kicked off Thornton's fall semester of events on September 10 with a live performance, which was recorded using a private test run of the school's livestreaming technology. The ensemble performed three pieces: Liberty Fanfare by John Williams, John Wineglass's Alone Together and Brahms's Symphony No. 1.
Violinist Albert Yamamoto, a second-year graduate certificate student and concertmaster for the symphony, says the bombastic nature of the Williams composition mirrored the intensity of energy felt by each musician in the ensemble.
"After not playing with others for a full year and a half, it feels very new and exciting," Yamamoto says. "From the first rehearsal, we were all hyper-aware of each other, and there was a focus in the orchestra I have never felt. The energy in the room was fresh and electric. We were eager to create music together."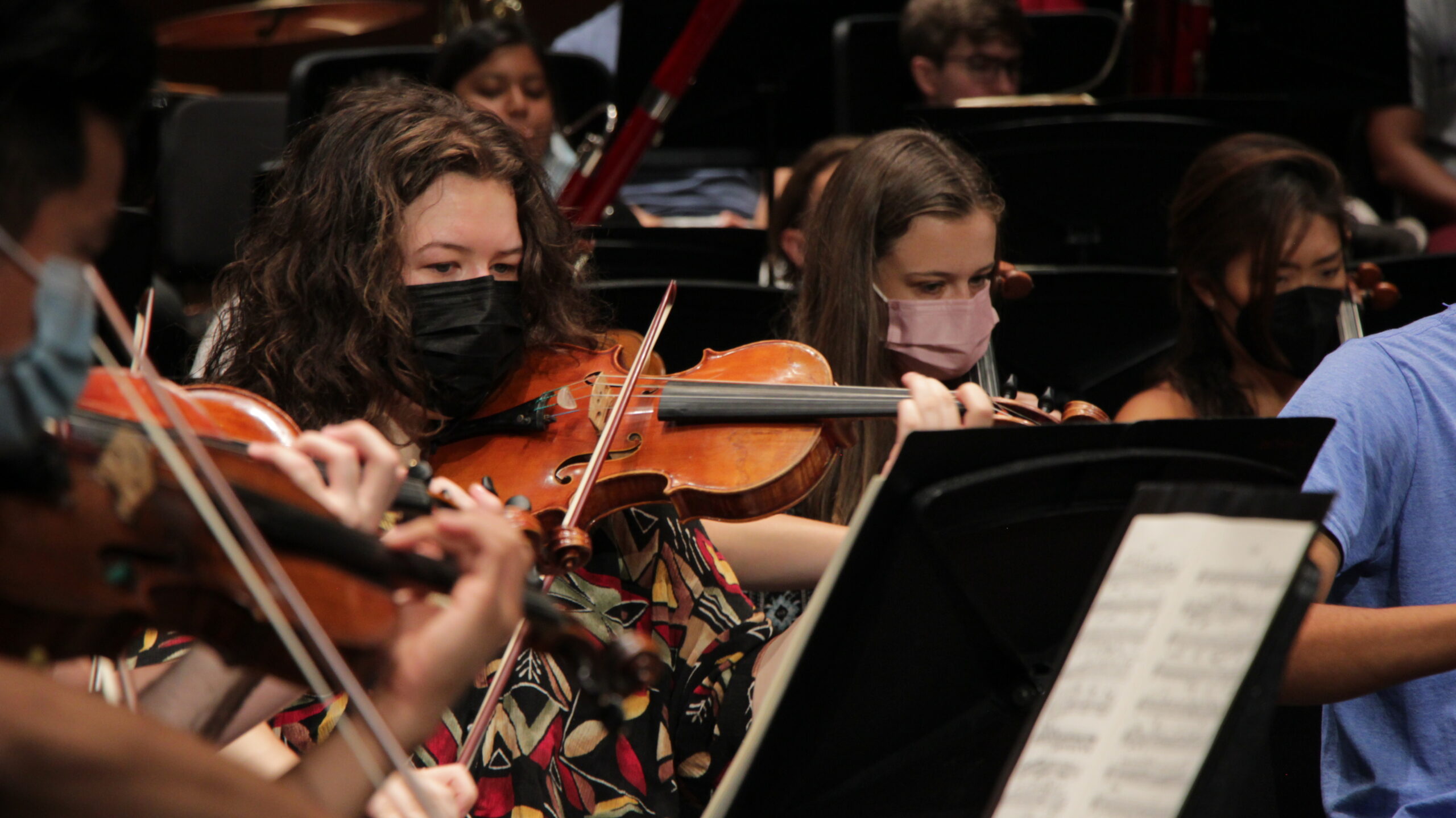 Principal viola player for the USC Thornton Symphony David Kang, a first-year master's student, says though he and his Thornton colleagues continued working together virtually when USC campus closed its doors in March 2020, including performing romantic masterworks from Tchaikovsky and Mahler in an ensemble of 100 instruments, there is still no substitute for the real thing: live collaboration in real time.
"I play the viola. That's only one unique voice. Put together a group of strings, and the sound gets a bit more complex. Add winds and percussion, and you get all these different colors and sounds, all these characters that you portray through the music. It's something you can't explain, but you can experience it," Kang says. "That's what I missed the most last year: the depth and profundity of the music we're able to play together."
Second-year graduate certificate student Sierra Schmeltzer, who played principal flute during the symphony's performance of Brahms's Symphony No. 1, says playing under the baton of Carl St.Clair, artistic director of the USC Thornton orchestral program, is an experience best served live and an example of how collaboration benefits every party involved.
"Maestro St.Clair really pulls everything you have out of you as a musician. He makes you work hard, but in the best kind of way," Schmeltzer says. "He encourages us to commit to every phrase and every note."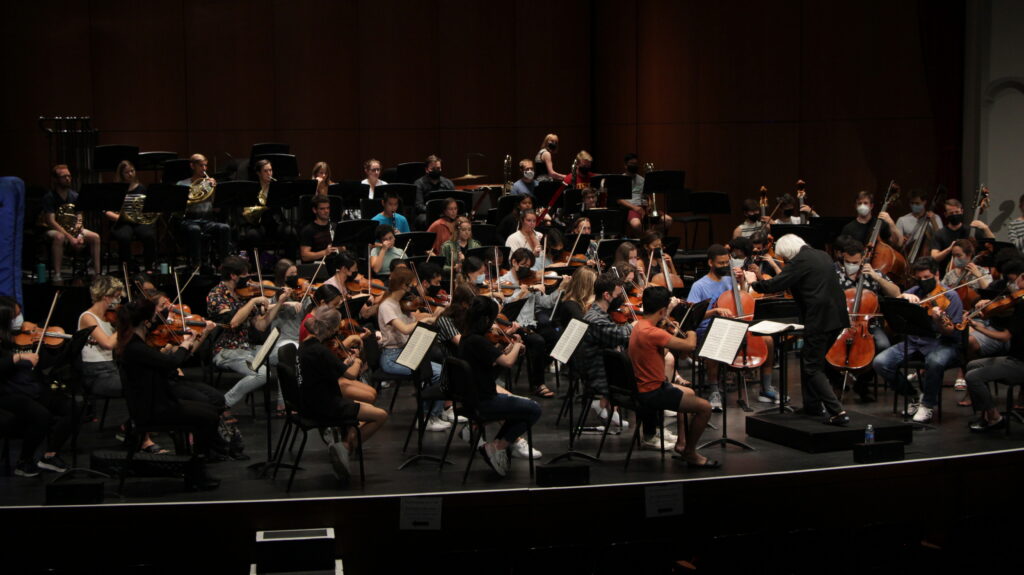 Last fall, St.Clair, along with Thornton resident conductor Sharon Lavery, pulled together a 14-week Zoom series of star-studded seminars with a particular emphasis on BIPOC and women composers and performers, in addition to in-depth analyses of major symphonies and mock professional auditions for Thornton student-musicians. He says the series allowed Thornton faculty and students to address timely issues and perspectives, and he's eager to not only continue his work with Thornton students this fall, but present all they have accomplished over the last year to audiences during this series of signature live performances.
"We lived in a virtual world last year. But there is nothing virtual about music-making. It is a personal, intimate, communal experience," St.Clair says. "Music is at its most potent when it's shared in a moment, in the same ambient space. We need one another – we need our audience and we need our colleagues in the ensemble. Having had music taken away from audiences, we now realize that we can't do without it in our lives."
---
For more information on events, including the Signature Series and other events for the Fall '21 semester, go to Thornton's events hub, Thornton/LIVE.
Never miss a story
Subscribe to USC Thornton's e-newsletter
Subscribe