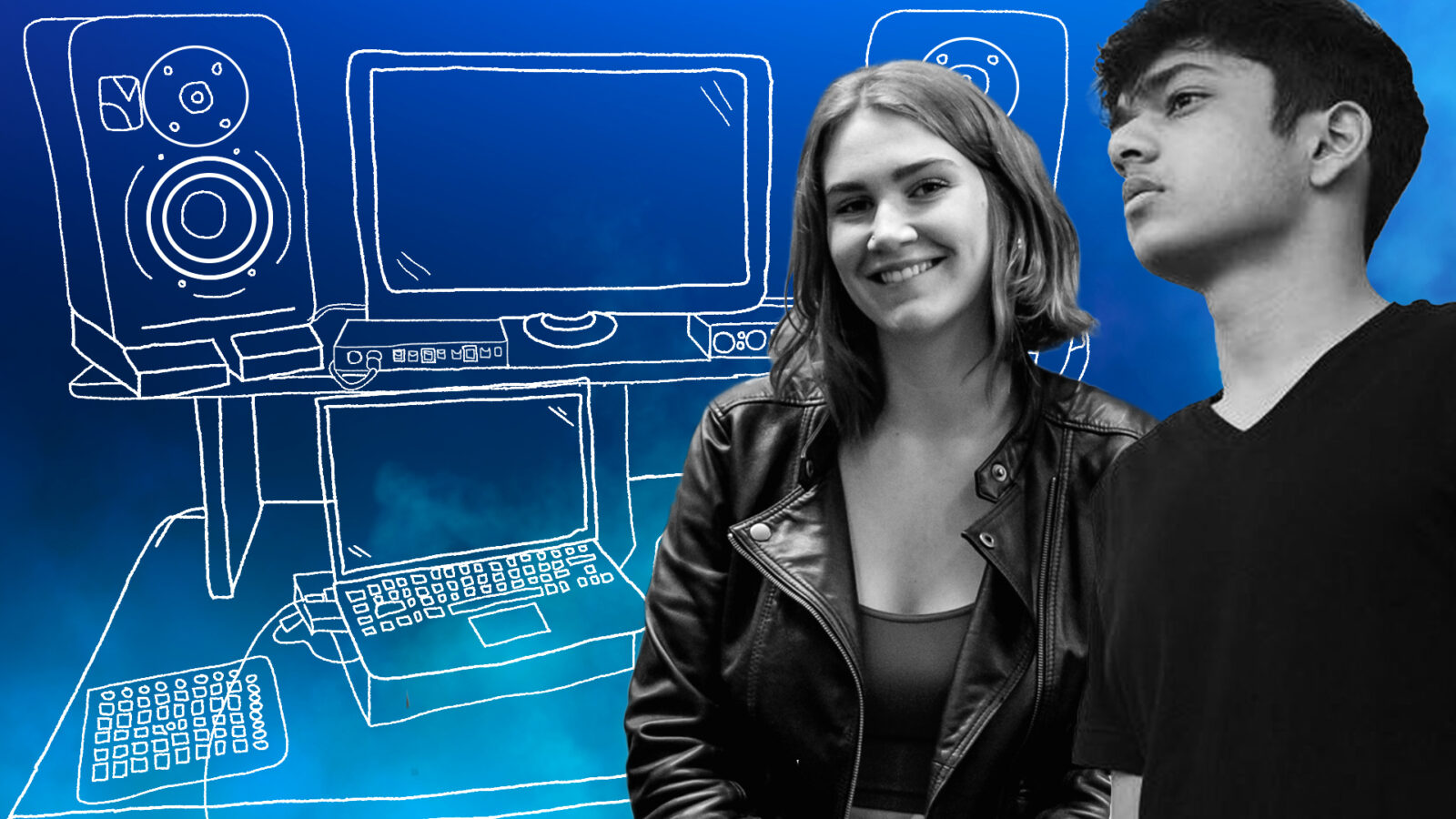 Songwriting at Home, Around the World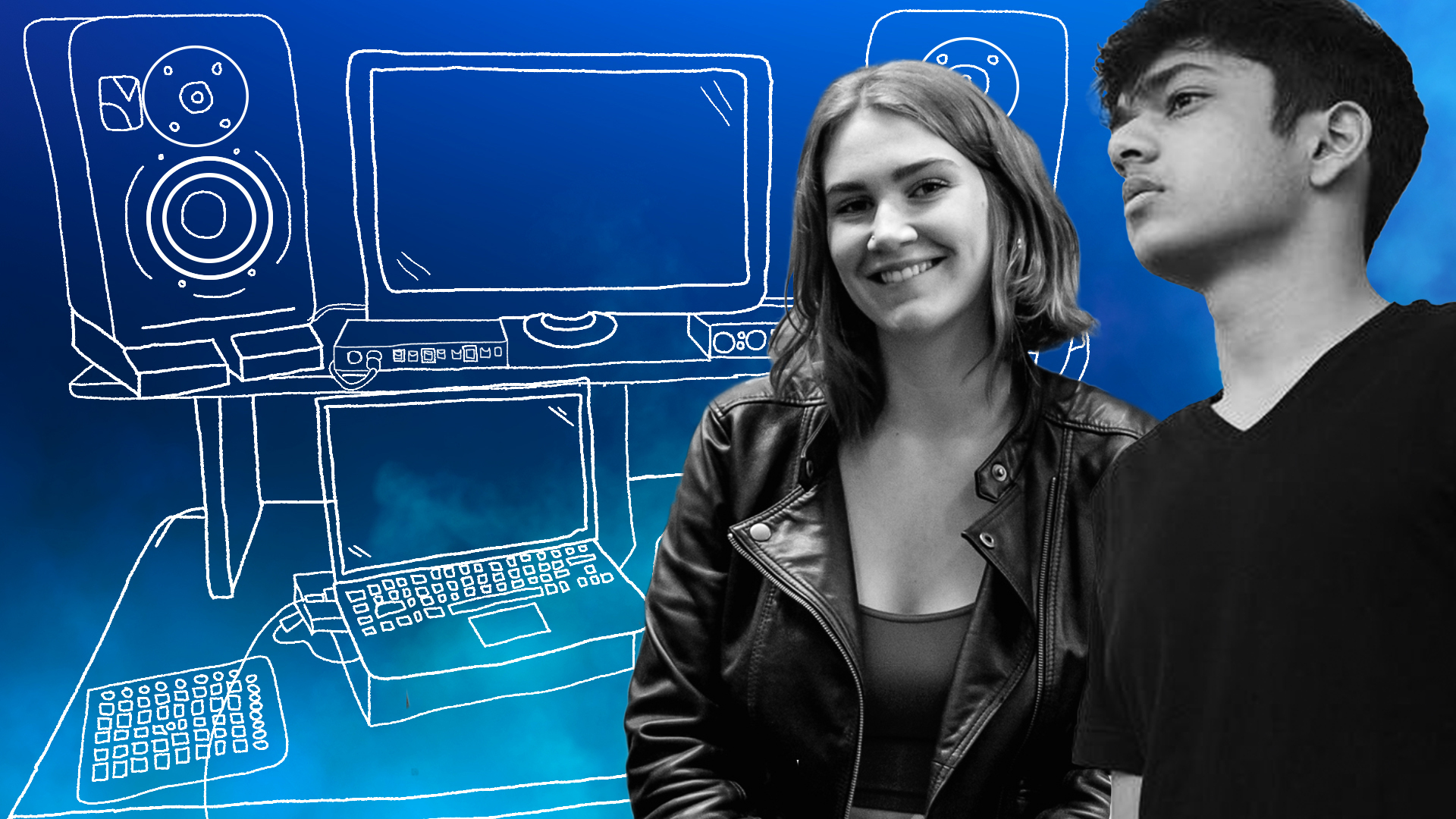 USC Thornton students make the finals in the Quarantunes Student Music Competition and reflect on how the pandemic has offered new ways to stay creative.
---
The Quarantunes Student Music Competition asked students to inspire each other during these uncertain and unprecedented times. It sought songs to bring people together in a time of social distancing, and anthems for a more hopeful future.
USC Thornton students chose two very different approaches to the challenge.
Music Production major Yashvardhan Vaid '23 took a house beat and created an upbeat tune about relationships called "Think About It." It's impossible not to come away singing this one.
Jazz Studies major Lila Forde '21 crafted a moody song about a "Little Girl" who feels insignificant but is loved. You'll be hooked by the first notes, soft and siren.
These two songs are among 40 finalists for the Quarantunes Student Music Competition, organized by the Association of Pacific Rim Universities (APRU), a network of leading universities linking the Americas, Asia and Australasia.
In addition to these two Thornton entries, three more songs by USC students were also selected as finalists. (See the complete list of USC finalists below)
Quarantunes drew over 100 entries from across the Pacific Rim. The shortlisted entries were chosen based on five criteria: musical arrangement, technical proficiency, originality, video and/or audio quality, and concept and message.
Voting is open until Monday, July 27, and votes can be cast by Facebook or by Form. The winning song will be awarded $5,000. Second and third place will receive $3,000 and $2,000.
Catchy Tunes
Whether or not he wins, Vaid sees a future in his song. "This is one of my favorite songs I've been a part of and I plan on releasing it officially soon."
"Think About It" is about a couple separated by quarantine and missing each other. "We didn't want to make it emotional. We wanted to keep it fun and upbeat and moving," said Vaid, who worked on the song with his roommate, USC Thornton student Andrew DeFerrari '23.
The hook is catchy, and the lyrics are simple, repeating lines such as "Please don't you go. … I think about it all night long."
"It has a house kind of beat, but at the same time it has a vintage analog sound," Vaid said. "I think that's what makes it unique."
The video image shows a couple made of stone; one of them is starting to fall apart. "I love that one of them is fading away; parts of her body are literally flying away in the sky and away from the other person," Vaid said.
Though the pandemic sent Vaid home to Mumbai, India, in March, the interruption did nothing to dampen his creativity or Trojan spirit. "My first year at Thornton has been one of the best years of my life, with so many creative minds under a single roof, so much exposure and foundation. All of my professors have been super helpful, and I am already building a network. I fell in love with the place."
Forde's "Little Girl" exudes a cool jazz vibe with a contemporary feel. Forde sings, "I see you little girl with your heart on a string," as the listener sees a sketch of a barefoot girl cradling something tiny and fragile in her hands. "I wrote this song from the perspective of someone looking down on a little girl, telling her that she is seen, even though she may not feel it," Forde said.
The song came about when Forde combined two composition assignments from two professors after instruction moved online. "One asked me to write a song from the perspective of someone up high, and the other asked me to write a tune with classical harmony," she said. "I didn't initially mean to write one song that adhered to both guidelines; it just happened naturally."
The song features drums by Jazz Studies student Niko Embry '21. "At the time, Niko and I were watching the third season of Westworld, and the incredible score of the show influenced the song, particularly the piano interlude," Forde explained. "I knew I wanted drums on the song but not until the very end, when the vibe shifts. Niko recorded the drums, then messed around with the audio to make them sound distant and vague, almost like a gunshot you'd hear in the Wild West."
Forde said the quarantine forced her to develop new skills. She recorded this song using a midi keyboard and a mic, while simultaneously learning how to navigate LogicPro. "I grew tremendously throughout the quarantine period," she said. "This song is indicative of a very specific time in my artistic journey, and I'll always remember it because of the music I made."
Forde and Embry were featured performers in the virtual graduation ceremonies of both Thornton and USC. They recorded a standard, "I'll Be Seeing You," and their performance is available on YouTube.
International Partners
The alliance with APRU is part of USC's global footprint and fits well with Thornton's push to create international partnerships, a project led by Mist Thorkelsdottir, head of International Programs in the Performing Arts in the Office of Strategic and Global Initiatives.
The goal of these partnerships is helping students build a professional international network and prepare for an active professional life globally. Just a few months ago, those kinds of connections were made and opportunities experienced in person as students traveled and collaborated abroad. The pandemic has changed that.
"We have discovered that internationalization is a mindset," Thorkelsdottir said. "Our young musicians have been quick to embrace that mindset in this new reality and are being incredibly creative and thoughtful and an inspiration for us older folks as well as coming generations. The new virtual reality will be part of our lives and part of all conversations of internationalization."
Thorkelsdottir was thoroughly impressed with the Thornton students' creativity and fearlessness about trying something new. She said the music schools at the APRU universities are some of the strongest in the world, and Thornton students were up against worthy peers in the competition.
"It's almost absurd that musicians are coping in our new virtual reality, let alone creating, performing, recording and producing all from their bedrooms. And, not in the least, daring to reach out and present their productions on all kinds of platforms for who knows how big an audience," she said. "Taking part in this competition demonstrates that kind of courage, and obviously a huge talent and musical direction and high level of artistry."
---
Check out the other USC finalists below — and vote here: Quarantunes Student Music Competition
"Hold On"
By JaJa Tong, Brendan Carroll, Christy Moon, Tristan Elma, Hayley Feinstein, Arnav Rashid, Jazmin Polido
"Golden Girl"
By Ben Ragasa and Maddie Wu
"Together"
By Patrick Gil, Emily Kuo, Aaron Sha, Grace Trang, Tiffany Wong
Never miss a story
Subscribe to USC Thornton's e-newsletter
Subscribe