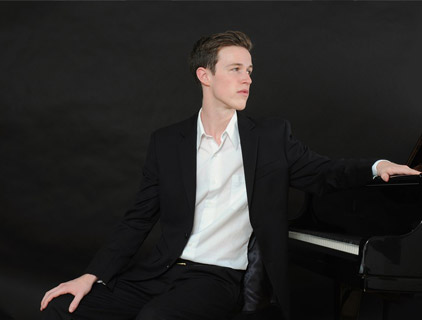 Sophomore Evan Pensis wins international piano competition
"I think musicianship is something that is ageless."
When sophomore Evan Pensis, a piano performance major, began his preparations for the Siegfried Weishaupt International Piano Competition in Baden-Württemberg, Germany, he found himself facing a problem that would make most pianists cringe.
As a part of the competition, Pensis was required to compile a repertoire of several works totaling 45 minutes — including a piece by a composer personally selected by the event staff. However, the required composer wasn't announced until shortly before the competition.
"For the month over summer before I left for Germany, I basically had to work and learn the piece all on my own," Pensis recalled. "The competition was after the week of lessons and concerts, so I didn't have any guidance on about 15 minutes worth of performance music. It was a challenge and intimidating at the same time."
Pensis was able to overcome the challenge in a big way: He won both Grand Prize and the Audience Award at the internationally acclaimed festival — just one of the many achievements already amassed by the young pianist. In the past year alone, Pensis also won first place at the Redlands Bowl Young Artist Competition as well as first prize in the instrumental division of the VSA-Kennedy Center California Young Artist Competition.
"It didn't really set in at the time they announced the award," Pensis said of his Siegfried Weishaupt win. "And it still hasn't."

Listen to a selection from Pensis' award-winning performance.
Pensis isn't the first USC Thornton student to take the competition's top honor; in 2008, current DMA student Vladimir Khomyakov also won first prize at Siegfried Weishaupt. The annual event, part of the International Summer Academy of Music (ISAM), invites a select group of pianists and organists from across the globe to participate in masterclasses taught by acclaimed performers in the field.
Pensis' professor at Thornton, Keyboard Studies faculty Daniel Pollack, was among the pianists invited to teach at ISAM.
One aspect of the competition that Pensis found particularly appealing was the diversity in age amongst his fellow performers. Unlike other competitions, ISAM does not group participants by age.
"There was a kid from Moscow who was 9 years old," Pensis recalled. "He competed in both the piano and organ competitions. I think musicianship is something that is ageless. Just the skill and the amount of time he's already put into his craft — it's pretty exciting to see that."
Participating in competitions like ISAM has helped Pensis better understand how he wishes for his career as a pianist to evolve and grow — and how he hopes to use his remaining years at USC to become not only a world-class musician, but a well-rounded individual as well.
"I'm very passionate about teaching," he said when asked to describe his future ambitions. "Students need a teacher who can perform, someone who really is at the peak of their art or craft to help mentor and show and coach young talent."
Pensis' ambitions do not lie solely in the world of music; in addition to his music education, he is also pursuing a minor in linguistics and involved with gender violence activism groups on campus. As to how he hopes to combine these passions with his piano studies, Pensis isn't entirely certain but is grateful that USC allows him opportunities to grow as both a musician and an individual.
"I have a toolbox," he laughed. "But I don't know what I'm building yet."
Luckily for Pensis, he's still just halfway through his college career. Given the young student's undeniable ambition, it's unlikely he'll have any troubles deciding what his future will hold.
– Katrina Bouza
Never miss a story
Subscribe to USC Thornton's e-newsletter
Subscribe