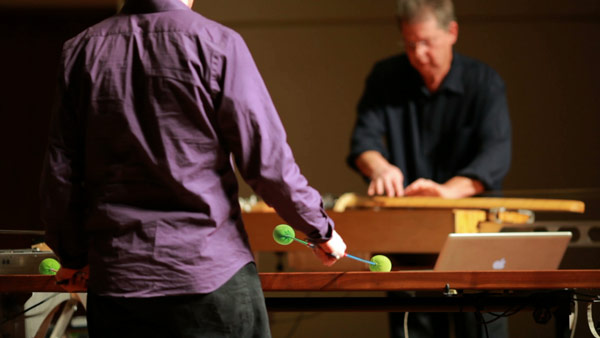 Sound Art at USC
This past March, the Dresher/Davel Duo visited USC for a performance of truly original music. Paul Dresher, a celebrated instrument inventor and composer, brought his sculptural creations to campus for a performance at Newman Hall and a corresponding exhibit at the Fisher Gallery.
Both events resulted from a collaboration between the USC Thornton School of Music, USC Roski School of Art and Design, and USC Visions and Voices: The Arts and Humanities Initiative.
"Coming here in this context, with Visions & Voices, was actually realizing a long-held dream of mine, which was to present an exhibition of my invented instruments," said Dresher. "Those instruments are really bridging the world of music and visual art."
Part of a longstanding collaboration between the two arts schools organized by Composition faculty member Veronika Krausas and Roski's Karen Koblitz, Sound Art features a simple concept: Roski students create instruments, and Thornton students play them.
Krausas and Koblitz view the course as the perfect cross-disciplinary subject, bringing together the compositional, aesthetic and structural expertise of the two schools' students. Throughout the experience, students research other sound artists to impart historical context and current developments for the genre.
"USC has such amazing music and art schools," Krausas said. "With courses and events like this, it helps get students out of their usual boxes. The students all do such different and unique things in class. I find it inspiring."
Never miss a story
Subscribe to USC Thornton's e-newsletter
Subscribe