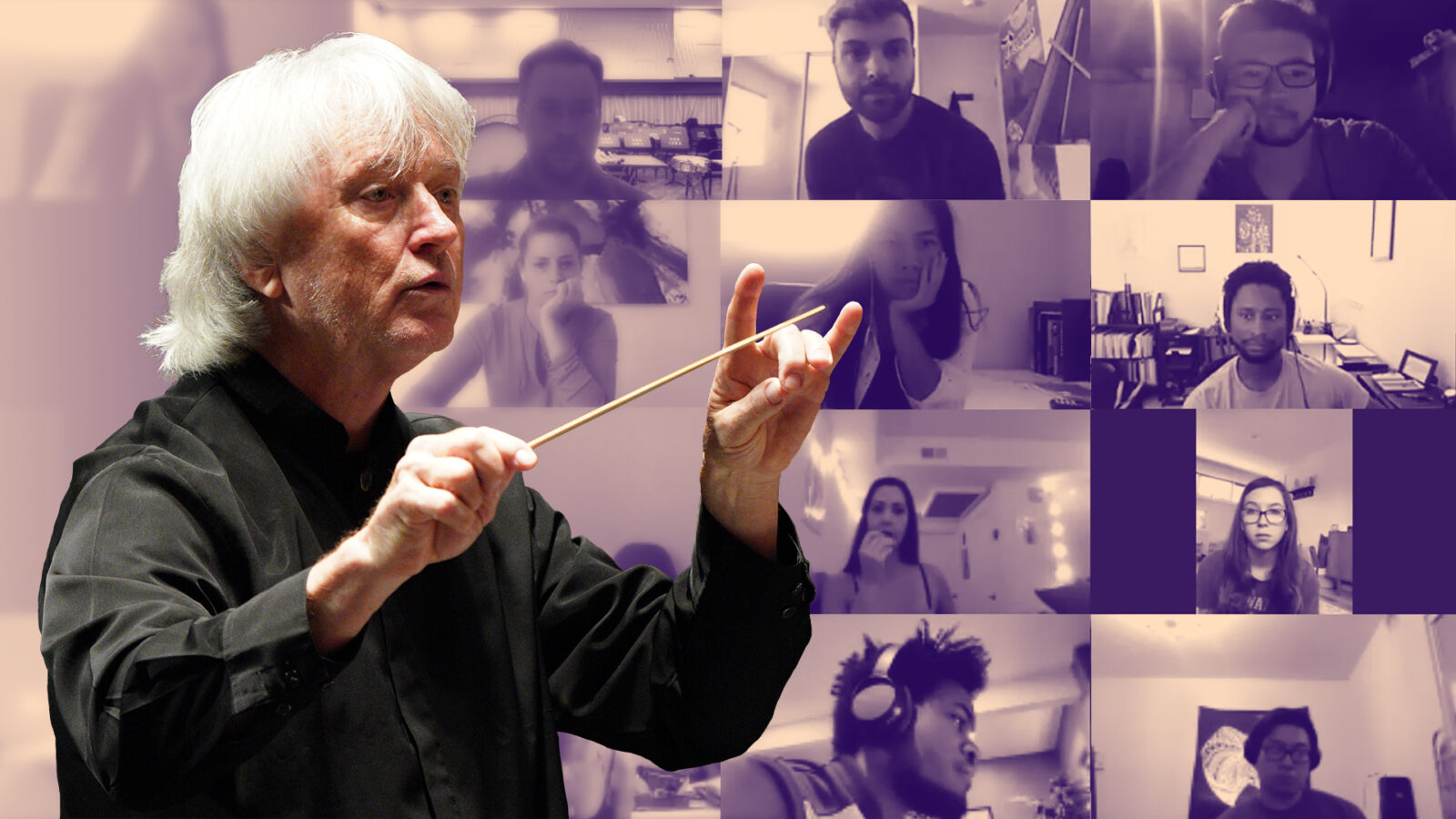 Sounding the Call of Change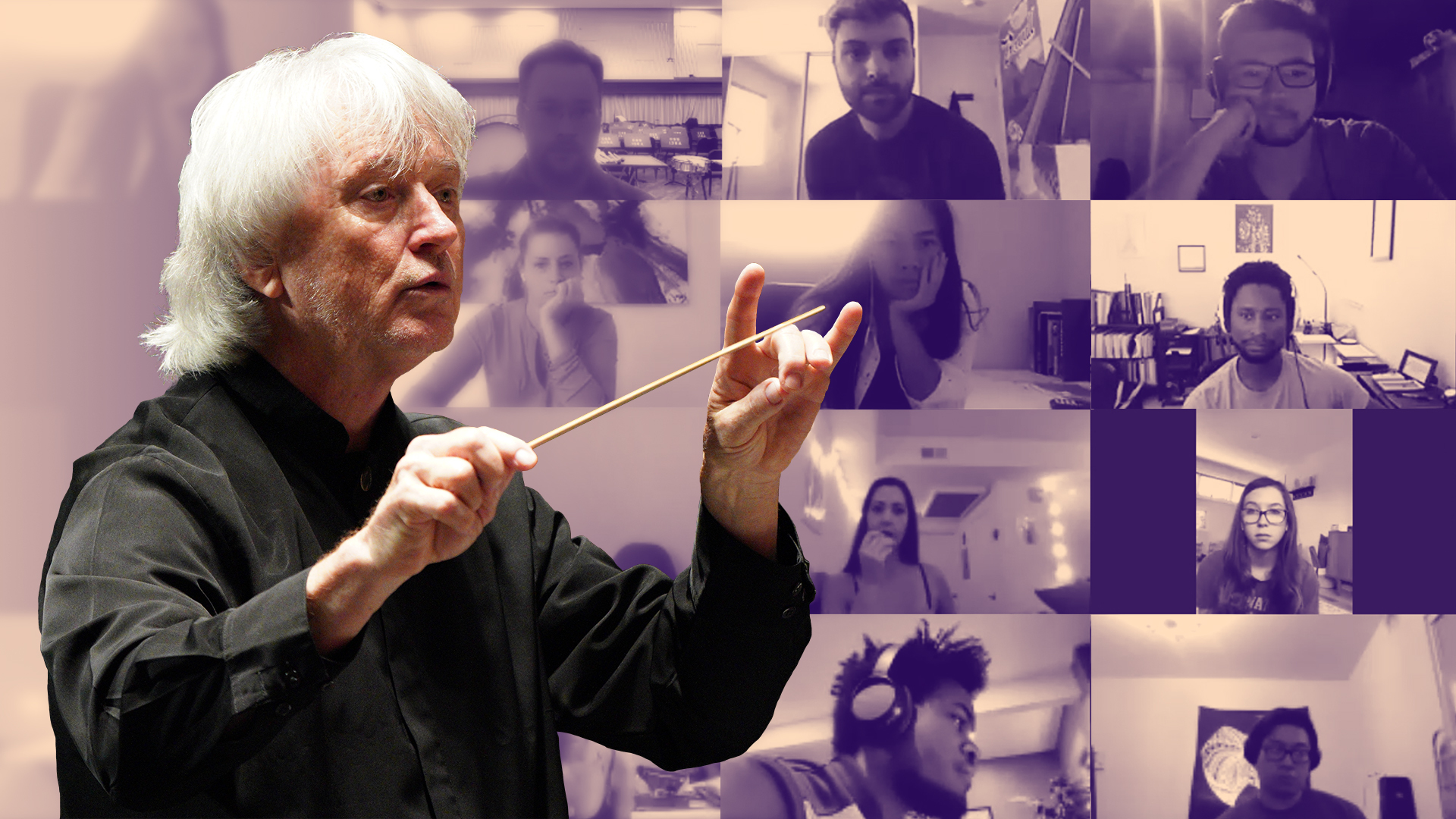 Carl St.Clair, artistic leader of the USC Thornton Orchestra program, organized a series of discussions this fall that featured a lineup of celebrated artists.
---
When an orchestra can't perform, or even rehearse, what's a conductor to do?
If you are Carl St.Clair, the principal conductor of the USC Thornton orchestral program, you quickly pivot, drawing on your abundant professional relationships in the classical music world to create an innovative online series of discussions for your students.
This fall, along with resident conductor Sharon Lavery, St.Clair pulled together a 14-week Zoom series of star-studded seminars, in-depth analyses of major symphonies and mock professional auditions for Thornton student musicians. There was a particular emphasis on BIPOC and women composers and performers, starting with compelling advice to students from composer, violinist, educator and activist Daniel Bernard Roumain in a discussion titled "Sounding the Call of Change."


"As a result of the many town hall meetings we had with our students, we heard their voices, we heard their cries and we needed to respond to them appropriately," said St.Clair. "And then with Covid, when we've all worldwide literally been knocked to the same two knees, that's where we started from. How do we pick ourselves up? What we do is going to help redefine music's role in our lives in the future."
So St.Clair put together a series much like he would organize a season as music director of Pacific Symphony, where he is in his 31st year conducting the orchestra. Each week of the series had a theme, taking students on a unique journey. For the week titled "Crossing Borders," for example, he invited conductor Mei-Ann Chen, the music director of the Chicago Sinfonietta and conductor laureate of the Memphis Symphony Orchestra. "She's crossed just about as many borders as one could possibly cross," said St.Clair. "She's Taiwanese American, a female conductor, a teacher, educator, music director – she's done it all. She works a lot in Asia and throughout America. She was an incredible model for our students."
For the week titled "Exploding With Life," the students Zoomed with composer, violinist, chamber musician and educator Jessie Montgomery. She received the Leonard Bernstein Award from ASCAP and since 1999 has been affiliated with the Sphinx Organization, which supports young African-American and Latin string players. Her recent commissions for orchestras include the National Symphony and the New York Philharmonic. "There's a bustling energy that comes from her and her music. She talked about the importance of outreach and working with kids and going into communities and schools, which is part of what our students need to do," said St.Clair.
"Basically, what I'm doing is calling upon friends," admitted St.Clair. A prime example is his invitation to Russian American Philippe Quint, a violinist, chamber musician, producer and artistic director who appeared on the week titled "Out in Front." Quint and St.Clair have known each other and performed together for almost 30 years.
"'Out in Front' is like a triple entendre," said St.Clair. "It means he's a soloist and out in front of an orchestra, which what many of our students aspire to do. All these questions came up: What's life like when you are working with an orchestra? With a new conductor or an old friend like me? How do you choose repertoire? How to choose an appropriate encore following a concerto performance. How do you keep it fresh when you play 35 performances of the Tchaikovsky or the Brahms concerto in the same season?"
But Quint is also out in front, said St.Clair, because he was an early adopter of media platforms to help him network.
Quint has collaborated with dancers, with theaters, with movies and has directed and produced videos, including a whole show on music written by Charlie Chaplin.
"This is what it takes to be a successful professional musician today," said St.Clair. "It is not enough to say 'I play the cello.' What we have been offering students wasn't wrong, but it was slightly incomplete. This whole semester has been to define what it means to be complete."
Other guests included more nationally known musicians with multi-hyphenate careers: prolific film composer, conductor and music producer James Newton Howard; violinist James Ehnes; composer and Thornton faculty member Frank Ticheli, who spoke with composer, arranger and educator Omar Thomas; composer Jonathan Bailey Holland, talking about his large orchestral work "Halycyon Sun;" and John Wineglass, composer of "Big Sur: The Night Sun," a piece which St.Clair describes as "a symphonic tone poem inspired by the poetry of Robinson Jeffers, nature, and ancient musical traditions of the Native American Costanoan Ohlone and Chumash Tribes."
For some sessions, Thornton student composers and film scoring students were invited to join. On any given week, there has been 75 to 100 students in the Zoom sessions. All the sessions were taped and could be viewed later, a necessity as students were watching from across the globe: Taiwan, Korea, Spain, France, South America and elsewhere. "We had students who had just finished dinner and some of them were just waking up still too early to eat breakfast," said St.Clair.
Interspersed among the weeks with guest musicians were sessions deeply analyzing the scores of four classic symphonies: Tchaikovsky Symphony No. 6 Pathetique, Strauss' An Alpine Symphony, Mozart's Jupiter Symphony No. 41 and Beethoven Symphony No. 9. Pathetique —the piece the group would have been performing had it been meeting in person. Beethoven's Ninth, the last one studied, was chosen for its message that all mankind should become brothers, said St.Clair. "This brings full circle the idea of sounding a call to change, of righting the social injustice wrongs."
Mock auditions were done over three days during a week in mid-October, with a six-person jury listening blind, similar to a professional audition. "Every slot filled up," said St.Clair. "We needed to allow students to play and stop talking for a week" – an impulse he said he understands. "I spent my whole career as a conductor learning how to say the maximum amount about music with the fewest amount of words, and now I find myself only speaking about music."
Thornton students have responded enthusiastically to the series.
"It's been a really interesting mixture of things," said Andrew Grishaw, who is hoping to finish a DMA in viola performance in 2022. "Obviously the pandemic is really difficult on everybody, but one of the positive outcomes is these possibilities to meet remotely people who don't necessarily have to travel to L.A."
Grishaw said he particularly was pleased to virtually meet violinist Ehnes, who appeared with James Newton Howard in a session titled "Screen to Stage." Ehnes is "a really incredible artist who is performing actively now," said Grishaw. "I've seen him perform a number of times but to meet him, although virtually, to ask him questions and hear his story was really cool."
Ehnes was in Houston on Oct. 16, the day of the seminar, appearing with the Houston Symphony that evening. "That never would have happened if it wasn't for the online setting," said Grishaw. "He's pretty busy, he's traveling, but he could just open his computer and offer words of wisdom which are going to have a lot of impact on us."
Also, said Grishaw, "it was very interesting to hear about someone performing live, today, in October 2020." In Houston, Ehnes told them, the musicians are on stage, spread out, everyone wearing masks, performing in front of a limited audience socially distanced in the hall. "It's promising to see orchestras around the U.S. get to do some performances," said Grishaw.
Bradley Bascon (BM '21), a senior in violin performance, called the opportunity to have discussions with faraway professionals "a silver lining of online learning. The fact that they (St.Clair and Lavery) did this quickly is surprising in a good way. No question it was really good fast thinking.
"Since the lectures are themed, with a different focus for each, it is very helpful for making the sessions more rounded," he said.
Bascon said that each guest musician in the series might have a common classical music education, but each has developed a creative way of making a unique career out of their instrument. "It puts me at ease that there are so many possibilities on how to use your skills in different ways, like the fact that you are not limited to violin or even classical music," he said. "I knew this was a possibility before, but I had never seen an example of how it worked. It was very enlightening to hear that from a professional."
Bascon said that even when USC goes back to in-person classes, it would be "amazing" to continue such sessions. "I think we've learned through this process that being online makes you very flexible and very accessible. My colleagues and I have really enjoyed listening and asking questions. Sometimes it's just like, 'wow, to be able to talk to these people.' It's a very rare opportunity that not everyone gets to have."
Never miss a story
Subscribe to USC Thornton's e-newsletter
Subscribe