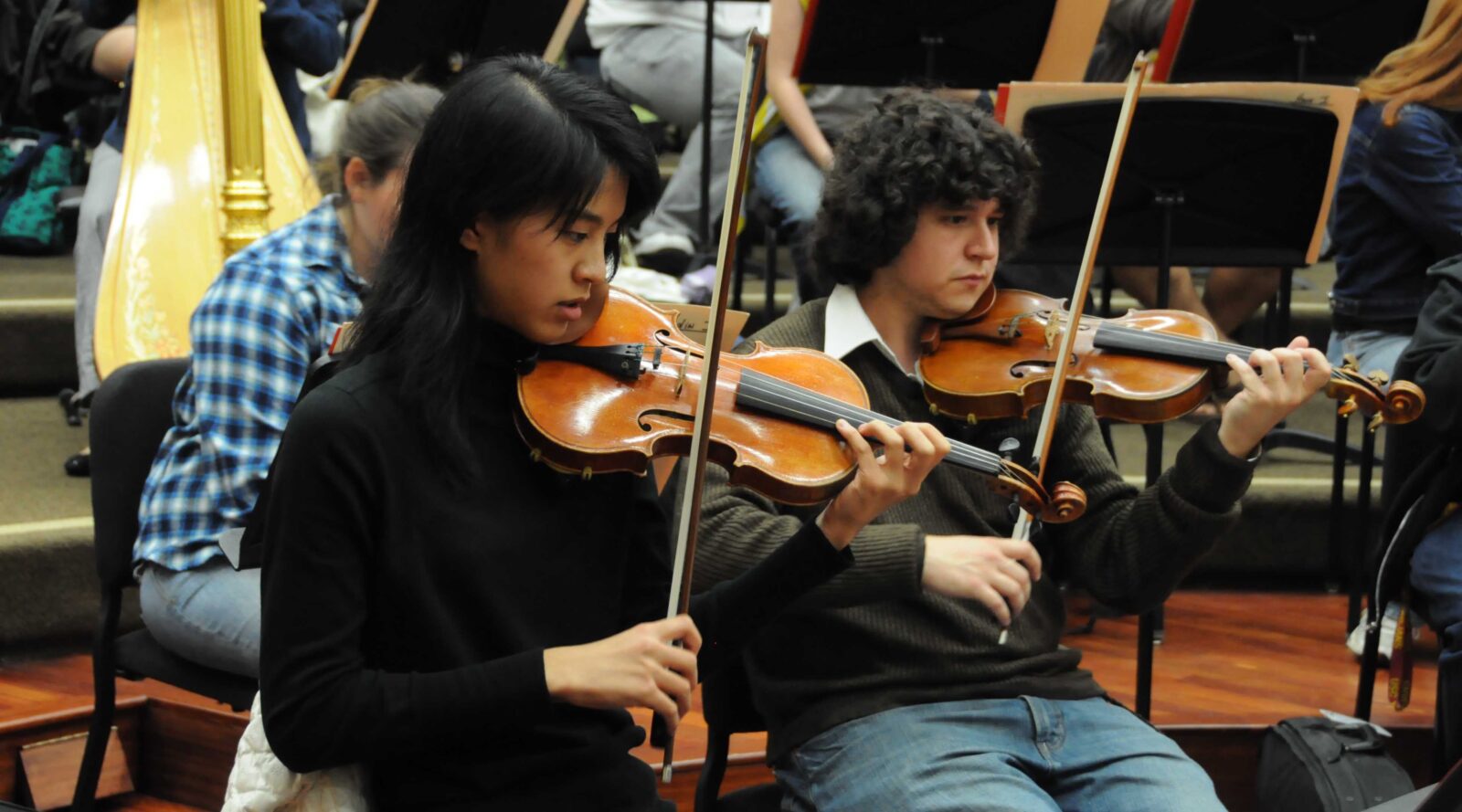 Standing Out From the Crowd
At a violin audition for the LA Phil, alumna Michelle Tseng was one of the winners. The other? Classmate Tianyun Jia. Strings students at USC Thornton are winning at an impressive rate. So what does it take?
Auditions have changed a lot since violinist Glenn Dicterow, an L.A. native, landed his first orchestra job in 1971. The former Los Angeles Philharmonic concertmaster calls them "the bad old days"—back when orchestras were overwhelmingly insular, white and male.
The concert stage has greatly diversified and globalized since then. Today when a spot opens up with a top ensemble, talented women and men flock from around the world to take auditions, says Dicterow, holder of the Robert Mann Chair in Strings and Chamber Music at USC Thornton.
Which makes it all the more striking when home-towners win these coveted perches.
Yet at the end of a recent LA Phil violin audition, two USC Thornton students found themselves on the Walt Disney Concert Hall stage receiving the congratulations of artistic director Gustavo Dudamel.
"Welcome. This is your family," the maestro had greeted them, applauding along with the rest of the string audition committee.
Recent Announcements
Dicterow's student Michelle Tseng (BM '13, GCRT '17) was one of the Trojan winners that night. Tianyun Jia (GCRT '18), a student of Midori Goto, was the other.
It's the first orchestral job for both women. They'd been picked from 400 candidates to fill just three LA Phil violin vacancies. The third seat went to a mid-career hire from the Dallas Symphony Orchestra.
In April 2017, Dongfang Ouyang (GCRT '18), another Dicterow student, landed one of four violin openings at LA Opera. Three months before, Peter Myers (MM '10, GCRT '13) won San Francisco Opera's assistant principal cello chair. The runner-up was Thornton classmate Yoshika Masuda (DMA '16). Both studied under Ralph Kirshbaum, the Chair of the Strings program and holder of the Piatigorsky Chair in Violoncello at USC Thornton.
More recently, another duo of USC Thornton violinists, both students of faculty member Bing Wang, won positions with a symphony in the Pacific Northwest. At the time of publication, the ink on their contracts is literally drying, and Thornton will soon announce their success.
These positions in orchestras are matched by alumni earning positions in high-profile chamber ensembles including Sunny Yang, cellist with the Kronos Quartet, Jonathan Dorman, cellist with the prize-winning Verona Quartet, and more.
Home Runs on the First At-Bat
For Myers and Ouyang, their wins came on the first try. Beginner's luck? Hardly. "We worked a tremendous amount of time preparing for Dongfang's audition," says Dicterow.
It helped that weeks before his LA Opera audition, the Thornton orchestra rotation fortuitously had Ouyang playing first violin in the USC Thornton Opera Program production of Berlioz's Béatrice et Bénédict.
"I used that rehearsal time to prepare for the audition," he recalls. "I wasn't just playing. I was really thinking about how the process applies to other operas."
If not beginner's luck, had inside connections perhaps pushed these Thornton string players over the top? Their world-famous mentors certainly have deep ties to LA's cultural establishment.
But no, it wasn't that either. Unlike the "bad old days," orchestra auditions today take place behind a fabric screen. Candidates are completely hidden from view; they even walk on carpeted runners to muffle any tell-tale tapping of ladies' heels or men's dress shoes. It isn't until the "super-final" round that jurors see the handful of musicians they've pulled from the faceless herd.
So what does it take to win the audition lottery? Orchestras want well-rounded musicians, says Dicterow. Agility, adaptability, artistry—the whole package. He should know, having served on more audition committees than he can count over his 40 years with the Los Angeles and New York Philharmonic.
"Basically, what we want is a great soloist who can also sit down and be a great ensemble player. And that's hard to find," Dicterow says.
The Art of Auditioning
Unlike Myers and Ouyang, Tseng's success came on the 10th try. She came close in fall 2016, reaching the finals for an assistant concertmaster opening with the LA Phil. That placement automatically leapfrogged her into the semifinals when she again auditioned for the orchestra the following year.
Bit by bit, Tseng has mastered the subtle art of auditioning.
"It's a pretty unnatural experience," she says. In the "excerpts" portion of the contest, the candidate must wade through a dozen thorny orchestral passages, each presenting a different technical challenge. She plays alone but must accommodate all the unheard instruments on the page, knowing when to take the lead and when to shrink in the background.
In later rounds, audition committees throw out surprises. Shortly before her LA Phil finals, the panel told Tseng to be ready to play a Mozart quartet. Luckily, it was one she knew. A few days later, she held her breath as three strangers joined her on the stage.  
"They had their instruments ready," she recalls, "and we basically read through two movements without rehearsal." At one point the other violinist threw a curveball, suddenly playing much slower than Tseng expected. In a heartbeat, she adjusted.
 Orchestras are looking for flexibility, explains Dicterow. "As a stand partner, if you don't have that give and take, it's not going to work."
Looking back, Tseng realizes these audition drills simulate what it's like to play in a top-tier orchestra. Short rehearsal times, sudden program changes, and a punishing pace.
The Orange County native first attended USC Thornton as an undergraduate studying under Alice Schoenfeld. She started dipping her toe in the audition world the last year of her Master's program at Juilliard. By the time she returned to Thornton for advanced coaching with Dicterow, Tseng was focused on winning a job in the LA Phil.
"I really love my job. I don't think it can get any more exciting, and then it does," says Tseng, reached after a long day of rehearsals and meetings. "It's a constant marathon of programs."
Singspiel
Opera orchestra jobs are less all-consuming—usually just six or seven performances a month, with a long break in the summer. The lighter schedule means Ouyang and Myers can continue to pursue other musical passions.
In Myers' case, that's Sakura, the ambitious cello quintet he cofounded with fellow Thornton students. (In a hat-tip to their shared USC mentor, Ralph Kirshbaum, the ensemble's name is Japanese for "cherry tree," playing on kirschbaum, which means "cherry tree" in German.)
Myers shuttles between San Francisco and Los Angeles regularly for Sakura rehearsals and concerts. "That's actually the reason I wanted to take the San Francisco Opera audition," he says. "So I wouldn't have to give up my quintet." While chamber music remains a passion, he's come to love his job. "Mozart operas," he says, "I mean, it doesn't get any better than that."
You Feel Like They're Your Children
Tseng credits the Thornton faculty, and particularly Dicterow, with her ultimate success in the orchestra lottery.
"I'm really grateful to have had Glenn there to guide me and teach me all that he knows," she says. "He really changed things for me, helped me put my foot in the door and succeed. I probably wouldn't be where I am without him."
Nothing pleases Dicterow more than launching his students' careers and watching them rise. He was thrilled to see another student, non-degreed alumnus Philip Marten, appointed first assistant concertmaster with the Cincinnati Symphony Orchestra. Two years ago, Dicterow had prepped Marten for the audition that landed him a position with the Kansas City Symphony. 
"You feel like they're your children, basically," he says. "If I'm needed, I'm there for them."
Never miss a story
Subscribe to USC Thornton's e-newsletter
Subscribe