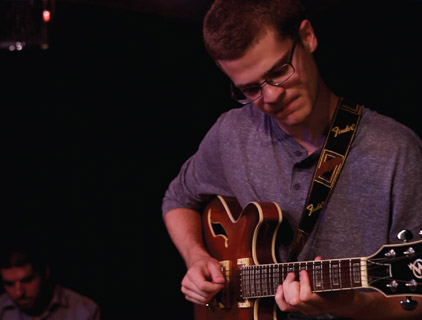 Student turns class project into business venture
"I wanted to have something that wasn't making an artistic statement, but instead showcased what I've learned."
When Matt Cohen, a senior majoring in Studio/Jazz Guitar, spent last summer working as a guitarist in a cruise ship's house band, he knew the gig wasn't just a way to improve his performing skills – it was also a glimpse into the life of a full-time musician.
"It was a corporate gig," Cohen recalled. "I was playing every day. It was very industry heavy, so it made you think about how to better prepare yourself to succeed in the business."
The experience inspired Cohen to figure out how best to combine his skills as a guitarist with the first-hand industry knowledge he gained over the summer. After considering classes and other resources available to him at USC Thornton, Cohen decided to pursue a directed research project aimed at creating an archive of videos specifically designed to advertise his musicianship.
"If you're trying to be a performer or sideman, sending a link to your Soundcloud account doesn't work anymore," he said. "People want to see you play, how you play, what you look like. I wanted to have something that wasn't making an artistic statement, but instead showcased what I've learned and what I can play as a sideman in a clear way."
For a majority of USC students, directed research involves working closely with a professor on an academically focused project, such as a publishable paper. But Cohen knew his project had no prior precedent, and devising a syllabus under the terms of directed research would be difficult.
"Directed research takes on a different meaning at Thornton," he said. "No one has the answers. Your professor isn't going to tell you how to get a gig with your project – so it's important to figure out ways to do that on your own."
Working with Studio/Jazz Guitar faculty Tim Kobza, Cohen decided to turn the directed research project into a multimedia portfolio featuring videos of Cohen performing a wide variety of musical styles. Once completed, the videos could be used as a type of audition reel for any gig Cohen would apply to in the future.
"Tim and I laid out groundwork for how I wanted the project to work," Cohen recalled. "He helped me decide what songs I should choose to best showcase the diverse styles of what I can play."
The final selection of videos covers a wide range of genres and artists, with Cohen playing everything from Guns N' Roses' "Sweet Child O Mine" to Steve Wonder's "Golden Lady."
"I enjoyed working with Matt on this multimedia project," Kobza said. "It brought together so many of the different areas we focus on in preparing students for a professional career. Matt is organized and his guitar skills allowed him to execute all of this on a high level."
While the finished videos are polished, the project wasn't without its pitfalls.
"Halfway through filming, we encountered some studio problems," Cohen explained. "That's when I realized preparation can only get you so far. It was a good learning experience that taught me how to organize a project and see things through until the end."
Since the video resume went live, Cohen has been hired for several gigs and asked to follow up with live auditions based on the performances shown in his videos. He was so inspired by the project that he recently launched TripSeven Entertainment Group – a company that seeks to offer the same type of video portfolio services to musicians and artists across Los Angeles – and has already attracted interest from Thornton students and members of the public alike.
The experience also demonstrated to Cohen the impact these types of portfolios can have on a young musician's career.
"Recitals are great to help hone your skills as a performer," he said. "But once that performance is finished, it's finished. People who didn't show up can't see it. I see this idea as having the same preparation steps as a recital, but it's something that can continually be accessed and shown to people interested in someone's skills as a musician."
Never miss a story
Subscribe to USC Thornton's e-newsletter
Subscribe