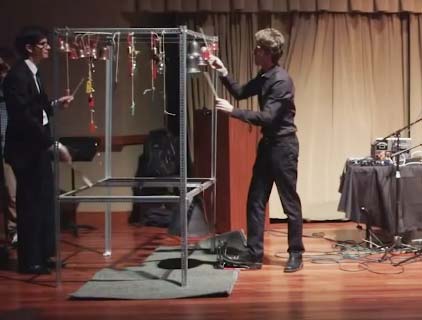 Students Turn Everyday Objects Into Something Musical
"I've never collaborated with actual artists playing on instruments that they've created."
Every two years, students from the USC Thornton School of Music and USC Roski School for Art and Design spend their free time digging through trash cans and scouring Craigslist — but it's not to earn extra cash or potentially find discarded valuables. Rather, these students are in search of a different kind of treasure: the perfect gadget or knick knack to turn ordinary household objects into one-of-a-kind musical instruments.
The students are a select group involved with Sound Art, a interdisciplinary collaborative effort led by USC Thornton Professor Veronika Krausas and USC Roski Professor Karen Koblitz that asks artists and musicians to think outside the boundaries of their respective art forms. Students work together to design and build instruments from found or modified objects, culminating in a performance of works composed specifically for the class' designs.
Students aren't usually exposed to cross-disciplinary collaboration, making Sound Art a unique component of their academic careers.
"Being a percussionist, most of my collaboration with non-musicians has been with dancers," explained USC Thornton student Huei-Yuan Pan. "But, I've never collaborated with actual artists playing on instruments that they've created."
"The idea of 'sound art' is not a new concept," said Krausas, who noted that Mozart had once designed an organ made of glass that relied on fire to produce sound. "But, it has always remained on the fringe of traditional or mainstream art and music."
Daniel Lemer, a USC Thornton student, credits the USC Roski students involved with Sound Art to changing the way he and his fellow musicians approached their instruments and performance styles.
"As music students, we focus more on things sound instead of how they look, but they brought the artistic side to that," he said. "We want this to be a beautiful piece of art, hopefully, as well as something that sounds nice."
– Katrina Bouza
Never miss a story
Subscribe to USC Thornton's e-newsletter
Subscribe