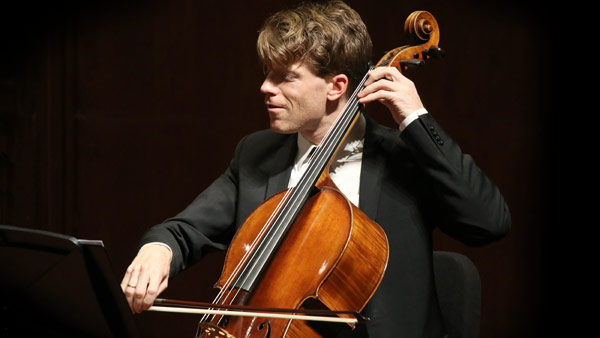 Subbing with the Symphony
It was both a musician's dream and nightmare: to be asked to be a soloist in a concerto with the Los Angeles Philharmonic… and to have less than three days to prepare a challenging piece of new music receiving its U.S. premiere.
When the L.A. Phil's principal cellist withdrew from a Jan. 19 performance of Bernd Alois Zimmermann's Concerto for Cello and Orchestra, en forme de pas de trois, calls went out to three local cellists, all with "exceptional new music chops" (LA Times) — and all with USC ties.
Calder Quartet cellist Eric Byers (BM '03) and Lyris Quartet cellist Timothy Loo were studio classmates for years with Ronald Leonard at USC Thornton, where the Calder Quartet was formed, and remain close friends. L.A. Phil associate principal cellist Ben Hong is a Thornton faculty member who studied under former faculty member Lynn Harrell.
That fateful Tuesday night, it took Loo and Byers a few minutes to realize this wasn't a practical joke. Loo became ecstatic: "I literally have been dreaming about this moment for my whole cello life: getting a call from a major orchestra asking me to play a concerto that weekend. I've always practiced like that could happen."
But then the other reality set in. The three performances started Friday, Jan. 19.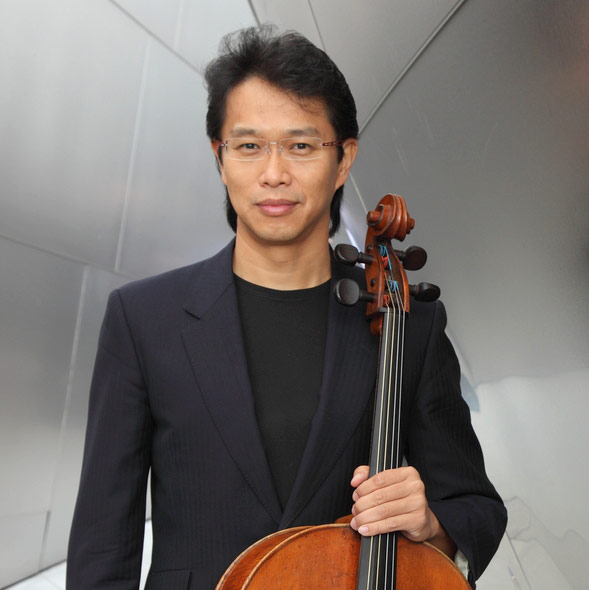 "It was the stereotypical nightmare situation for a musician," said Hong, who has performed his share of solos with the L.A. Phil as an orchestra member for 25 years. "You're standing in front of a major orchestra, naked, and have to play a concerto — now!"
Call it Trojan spirit, but the three cellists not only pulled off an unprecedented feat, they earned a glowing review from the L.A. Times.
"This was an amazing USC collaboration," said Loo. "The crazy thing about it was I think I've never felt so close to two other people in such a short amount of time. Eric, Ben and I were really a team, working as one cellist in a way."
36 hours to prepare
Under ordinary circumstances, most orchestras would change the program or find a new soloist when faced with a cancellation. But the L.A. Phil did not have that luxury. Guest Conductor Susanna Mälkki had been collaborating with Finnish choreographer-dancer Tero Saarinen and his ensemble to present Zimmermann's 1966 piece as it was written, complete with dancers, for the first time. Much time and work had already been invested and the only cellists who had played the piece before were in Europe and, it turns out, unavailable.
All of the musicians agreed: It is unheard of for a soloist to learn a new piece within days of performance — let alone a piece with the technical demands of Zimmermann's concerto.
Despite their initial fears, everyone said yes to the biggest challenge of their careers. Loo said, "It was like we were skydiving." Hong told his son, "It was almost like jumping onto a live grenade to save the orchestra. I didn't know if I was going to survive."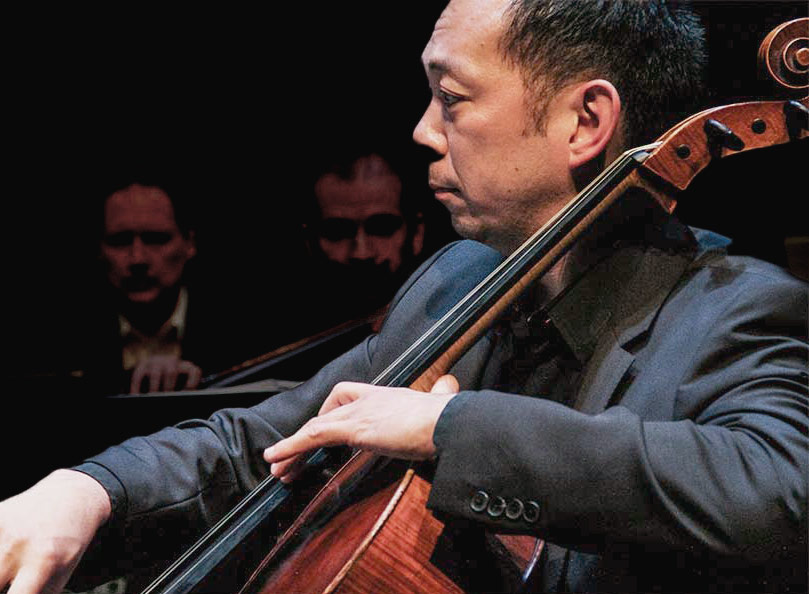 Because it was impossible for any one player to learn the entire piece in the time allotted, the three soloists had to divide and conquer. Hong took on the first and second movements, Byers, the third, and Loo, the fourth, cadenza and fifth. The work called on all of their skill and experience to pull the concert off.
Loo and Byers also tapped into the training they had received at USC Thornton with Leonard. "Nobody could train students better for this kind of situation than Ron," Loo said. "You never knew when he was going to throw a curve ball. He was amazing at teaching his students to be quick and flexible."
Byers, who had no prior subbing experience, got all his fast-learning practice at USC. "I remember bringing Mr. Leonard something new every week. Bring it in for a lesson, practice, perform it in cello class," he said. "I've played concerts all over the world, but I think playing in Mr. Leonard's cello class for him and my classmates was one of my more nerve-wracking experiences. It's amazing what a deadline can do!"
Wednesday included a technical rehearsal and half-hour one-on-one sessions with Mälkki. Rehearsals with the orchestra were Thursday and Friday. Byers recalled, "As I walked on stage for rehearsal, I was reminded of a recurring dream where I'm walking on stage in a crowded hall to play a concerto I don't know. That's basically what I was doing! It had been 36 hours since I started learning my part."
A lifetime of study
A lot of the usual preparation went out the window. "Normally, when you run a new piece, you would probably put in fingerings and bowings, study the score, listen to recordings and get a broad perspective, and then slowly work out the technical aspects and repeat it slowly," Hong said. "I didn't have time to do it that way."
But, Hong said, it was still important to set goals and deadlines to make sure he hit his target by Friday night. For Hong, a special kind of training played a major role. To deal with the emotional aspects, the fear of performing before his colleagues without sufficient preparation and the fact that his left hand began to hurt from so much practice, he used the Mental Management Systems developed by Olympic gold medalist in rifle shooting Lanny Bassham. These techniques were designed to help athletes and performers achieve mental control under pressure. Hong is, in fact, a certified trainer for his own students.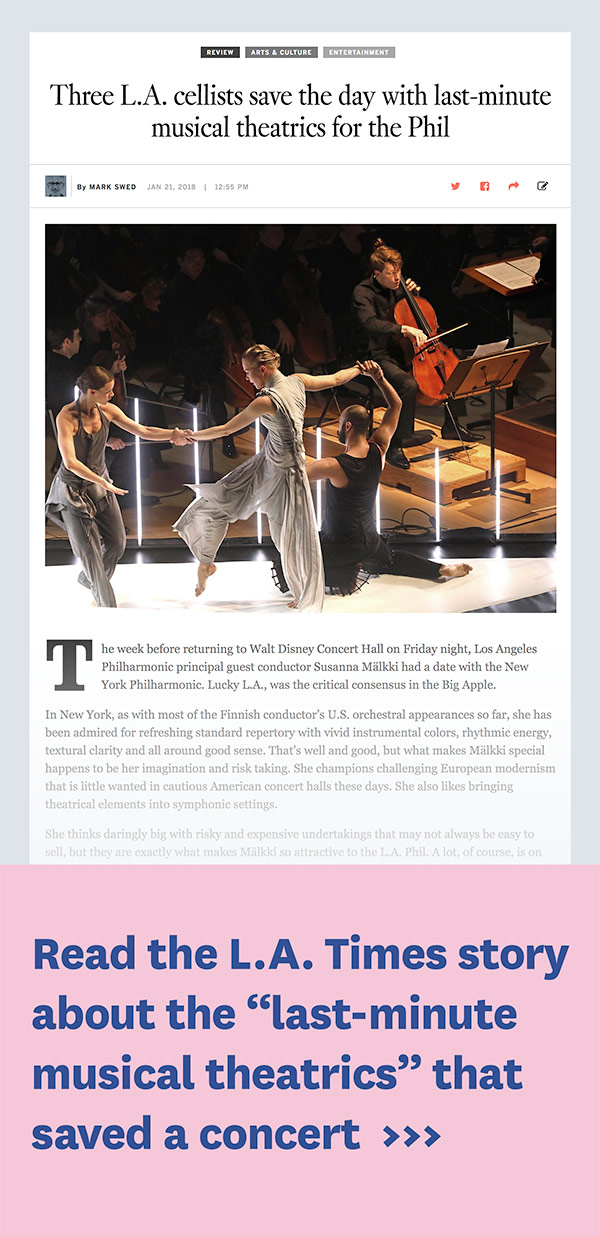 "I did work with my brain and my body to get the best results," he said. That meant taking one-hour naps between one-and-a-half-hour practices to give himself time for the learning to sink in.
By Friday evening, he felt "strangely ready." "Not at the unconsciously competent level Bruce Lee talked about, but a level below: consciously competent, sort of," Hong said, laughing.
The cellists proved themselves more than competent. The L.A. Times enthused: "Three L.A. cellists save the day with last-minute musical theatrics with the Phil." The performance was "utterly convincing." Hong showed his "customary eloquence," Byers played "rapturously," and Loo "excitingly led a frightful march."
It took a lifetime of study and performance to prepare these musicians for such an amazing opportunity.
"The last 25 years on the stage with the orchestra and having had the opportunity to solo with the L.A. Phil several times had prepared me for this moment," Hong said. "I was grateful for the support of my colleagues, as well as Eric and Tim. We were in this together."
And whether from practice with last-minute learning in the studio or mind management techniques, it's a vital skill to be prepared to face challenges calmly when they arise.
"Life is never just a straight shot. There's always something that's going to be thrown your way, and if you get knocked off your feet, you're going to fall down," Loo said. "Studying with Ron at USC taught me not to get knocked off my feet."
It's an experience that these musicians will certainly never forget.
"This was the kind of challenge that pushed my limits mentally and physically and required all of my focus," Byers said. "That sort of challenge is always uncomfortable, but results in personal growth."
Never miss a story
Subscribe to USC Thornton's e-newsletter
Subscribe