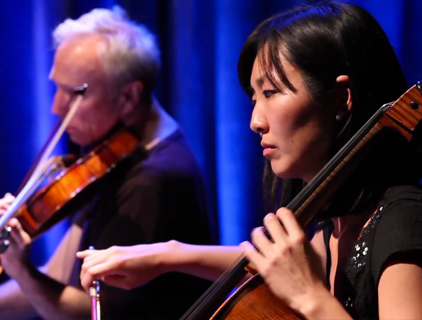 Sunny Yang, cellist of Kronos Quartet, reflects upon her USC Thornton experience
"It really feels like I have a loving cello family here."
Sunny Jungin Yang (MM '10, GCRT '12), current cellist for the world famous Kronos Quartet, returned to the USC Thornton School of Music in April 2014 to celebrate the launch of USC's revolutionary new Arts Leadership graduate program. While on campus, she also visited the studio of her former teacher, USC Thornton Gregor Piatigorsky Chair in Violoncello Ralph Kirshbaum, and shared her memories of her time as a USC student.
"At Thornton, I was able to do so many different kinds of things, like Early Music," said Yang. "Having the film industry here, and just being surrounding by so many different communities was really important for me to explore as a grad student."
Yang also credits Kirshbaum's teaching style as one of the most memorable, impactful experiences of her USC Thornton education.
"He just really changed the way I listen and the way play the cello," she said. "We have such close relationships with our teacher, and within the studio, the environment is so friendly and loving. It really feels like I have a loving cello family here."
Watch the video above to learn more about Yang's background and how she joined the Kronos Quartet.
Never miss a story
Subscribe to USC Thornton's e-newsletter
Subscribe