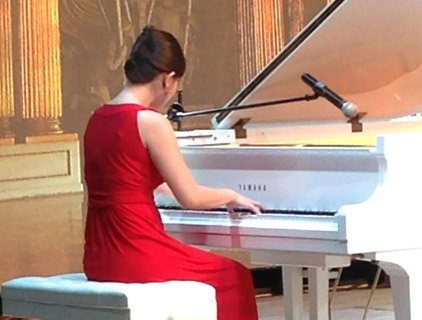 Television performance gives student a global audience
"For this performance, the audience was more physically involved. They not only listened, but they wanted to feel and see."
With an estimated 111 million viewers, the 2014 Super Bowl earned the distinction of being the most-watched television program in United States history. But for Zizhu Zhao, a first-year Keyboard Studies masters student, those numbers might not be as impressive. That's because Zhao recently performed for a television viewing audience six times that of the Super Bowl.
Zhao was a featured performer in January's CCTV Chinese New Year Gala. The Gala – which is broadcast internationally and features musical, dance, comedy and drama performances – consistently receives the largest television audience for any entertainment show in the world. More than 700 million people tuned in for this year's five-hour event, according to China's state television network.
While such a large audience would make some performers nervous, Zhao stated that she didn't have time to think about the event's scale when performing. Having the confidence to play the piano in front of millions of viewers is no small feat – but even more surprising is that, despite starting her piano training at age five and now pursuing  a masters degree at Thornton, Zhao stopped playing piano for several years as a child.
"I studied piano as a hobby and stopped playing in elementary school," Zhao said. "I got back into it around high school. In our culture, high school is very heavy on academics – so if you choose high school, then you don't have time to do anything else. You have to make a choice to choose academics or music."
Choosing music led Zhao from her native Southeast China to the San Francisco Conservatory of Music, where she graduated in 2012.
Zhao performed two pieces at the event: Brahms' G Minor Ballad, and a traditional Chinese song titled "Racing Horse" – which featured a soloist playing the erhu, or Chinese violin. The decidedly contemporary feel of the Chinese New Year Gala – popular music is performed more frequently than classical works – made the experience radically different from the recitals Zhao often performs.
"It's very different than a classical concert," Zhao said. "The audience's mood is very different. They listen carefully but they're also excited from celebrating."
Despite the more casual setting the television event offered, Zhao felt that her performance was well received due to the Brahms piece's exciting, catchy tone and shorter length.
"For classical performances, I tend to focus on the sound because audiences pay more attention to the details," she explained. "But for this performance, the audience was more physically involved. They not only listened, but they wanted to feel and see."
Now that Zhao has become more familiar with the United States, she hopes to perform more frequently during her time at USC Thornton – which has allowed her to explore more ways of performing the music she loves.
"I was not familiar with the environment and didn't know anyone," she said of her first few months in the U.S. "But right now, I'm more comfortable, so I'm happy to go out and perform more."
Never miss a story
Subscribe to USC Thornton's e-newsletter
Subscribe