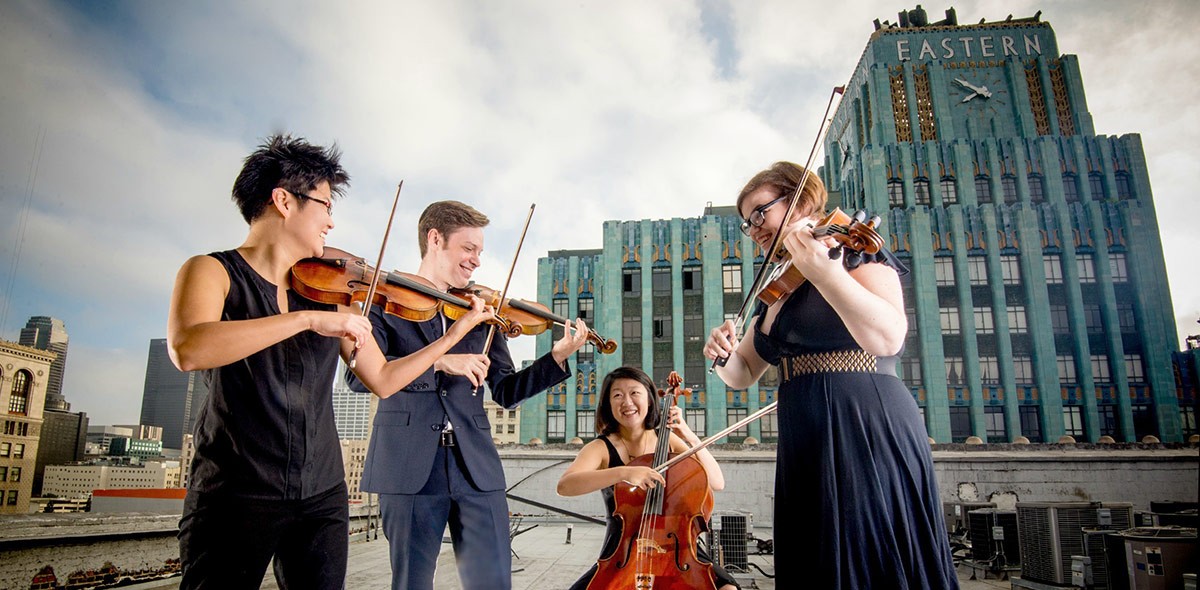 The Argus Quartet makes its mark coast-to-coast
On Friday, Oct. 2, the Argus Quartet launches an innovative new concert series at the USC Fisher Museum of Art. 2:00 p.m.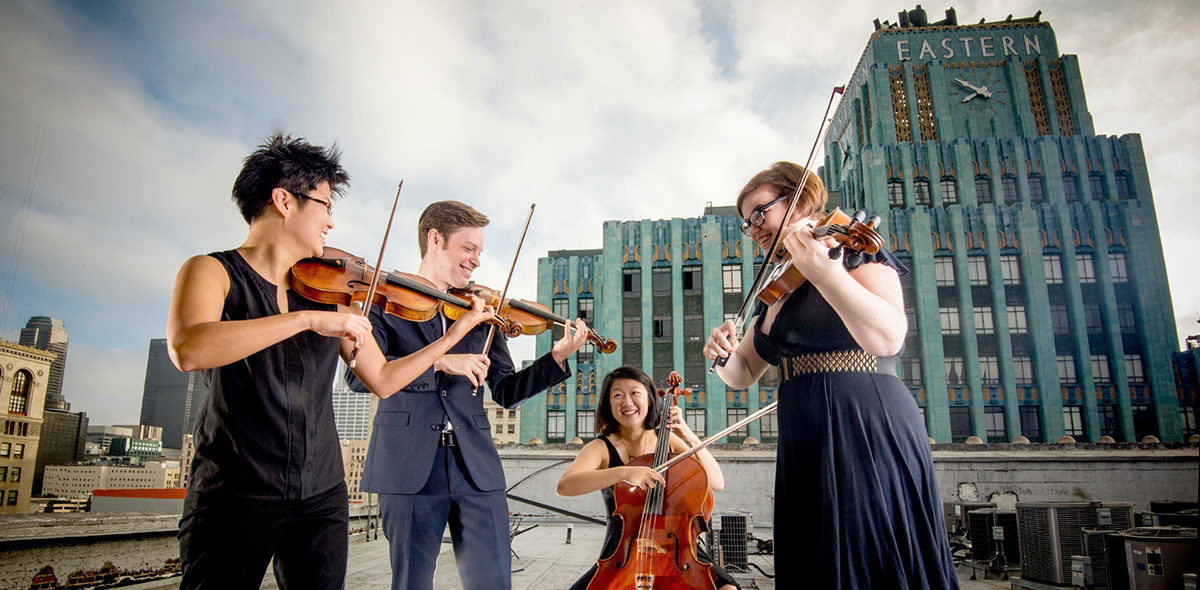 The Argus Quartet is set to launch the first leg of an innovative and highly anticipated new concert series this weekend. Founded in 2013, the quartet is comprised of three USC Thornton alums, violinists Jason Issokson (MM'10) and Clara Kim (DMA '15), violist Diana Wade (GCRT '13) as well as cellist Joann Whang.
The series is appropriately titled "Argus in LA" and features cutting edge and collaborative performances meant to enhance the communication and intimacy between the performers and audience members. Though they are currently pursuing further studies on the other side of the country, they feel rooted in Los Angeles and plan to return.
"I think we really wanted to keep our ties to the city and give back to the LA community that has given so much to us," said Kim. "We wanted to create our own concert series where we collaborated with a number of venues in different parts of town."
On Friday, Oct. 2, the quartet performs at USC's Fisher Museum under the funky name "Quartet Becomes Eclectic," a reflection on the Argus's plucky spirit and out-of-the-box approach to creating music. The inaugural performance will feature an explosive mash-up of Sibelius's work combined with the quartet's favorite short works and movements while incorporating media elements that point to the way in which music is consumed in a technological age. The group will perform this particular rendition again at Carnegie Hall later this month.
Go East, Young Quartet
In addition to their new series, the quartet recently embarked on a new chapter of their careers. This fall, they started a two-year String Quartet Fellowship at the Yale School of Music, which offers an exceptional young quartet the opportunity to work closely with the Brentano String Quartet.
"They're kind of like our hero quartet," said Kim. "We really admire what they do on stage, and as people they've really been incredible to us."
Their lives and careers have now become bi-coastal and the big move has strengthened their bond. "There's some kind of comfort in growing with the same group of people in an intense period of time," said Kim. "It's been a journey. We've all enjoyed one another's company and that's what makes it fun."
---
The Argus Quartet will perform at the USC Fisher Museum of Art on Friday, October 2 at 2:00 pm. The concert is free and open to the public.
Never miss a story
Subscribe to USC Thornton's e-newsletter
Subscribe