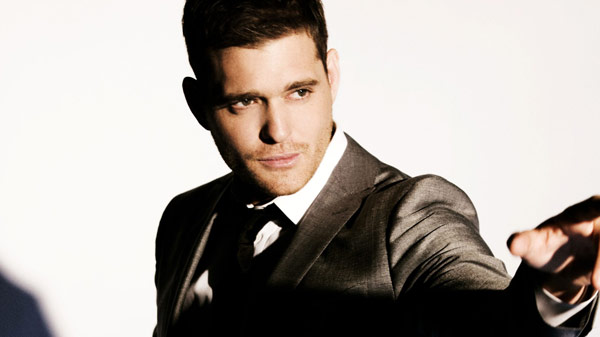 The Best Way to Write a Song? With Friends
In 2003, before he had won four GRAMMY Awards, Michael Bublé turned to USC Thornton School of Music alumni to help launch his career.
Now, the celebrated singer's new single showcases a host of talent from his longtime USC Thornton collaborators. The song, "Nobody But Me" from his upcoming album of the same name, was co-written by Alan Chang ('02), Jason Goldman (MM '02), Erik Kertes ('04) and trumpeter Bryan Lipps. All were in USC Thornton's Jazz Studies program.
The story behind the song goes back over a decade. Saxophonist Goldman and pianist Chang met as classmates. Within a year of graduating in 2002, they found themselves building a band around Bublé, then a relatively unknown singer.
"Alan and I are the original members of Michael's band," Goldman said. "After David Foster produced Michael's debut album in 2003, he hired us for that first tour and we filled out the rest of the band." To do so, Goldman and Chang called on friends from USC, a practice that continues to this day.
Chang has worked as Bublé's music director ever since, co-writing numerous songs with him over the past 13 years. And Bublé's bands have continued to be populated with USC Thornton alumni. "Nobody But Me" co-writer Kertes, a bassist who has performed with GRAMMY Award-winning artists such as Shakira and Roberto Carlos, will join Bublé on his upcoming tour.
Goldman left Bublé's band in 2005 to join the USC Thornton Jazz Studies faculty, but Goldman and Bublé music director Chang have continued to work together, which was how "Nobody But Me" came about.
"We're all friends and we like to work together," Goldman said. "The first song we wrote, 'Take You Away,' is on the deluxe version of Michael's upcoming album. Then we wrote 'Nobody But Me' and played it for Michael."
When Bublé heard the song, he got involved to make it his own. "He is very hands-on," said Goldman. "He likes to be a part of everything, and he took the song and reworked the melody a bit before we cut it."
The result is a jazzy paean to jealousy with additional vocals by Black Thought, co-founder of The Roots.
The album features an impressive group of Thornton musicians assembled by Goldman, including Erik Hughes (BM '13), Walt Simonsen (MM '06, DMA '10), master's candidate Michael LeBrun, non-degreed alumnus Lemar Guillary and Garrett Smith, a musician who played in the school's jazz ensembles. The band for the album also included trumpeter Bijon Watson, a former Trojan drum major.
The USC Thornton family is a broad network of musicians that seems to grow each year as players graduate and begin working in Los Angeles. The most recent USC Thornton alum to play on Bublé's new album is Alex Hahn (MM '16). "Alex was my TA when he was at Thornton, and he's studied with me for the last two years," said Goldman. "When I put the big band together for the album, I thought he deserved a shot."
Unsurprisingly, Hahn impressed his former teacher. "He did an excellent job," Goldman said.
"Nobody But Me," Bublé's ninth studio album, will be released Oct. 21.
Never miss a story
Subscribe to USC Thornton's e-newsletter
Subscribe