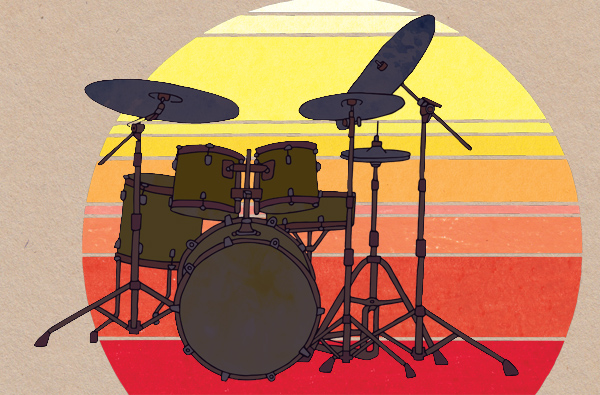 The Magnificent Seven

Leon "Ndugu" Chancler left some big shoes to fill. The world-renowned drummer, widely celebrated for his performances on Michael Jackson's 1982 Thriller album, had been a beloved instructor in the Jazz Studies and Popular Music programs at the USC Thornton School of Music since 1995. When he passed away in February after a battle with cancer, students lost more than an accomplished teacher and mentor; many lost a role model and a father figure.
Patrice Rushen lost a longtime friend and collaborator. As chair of the Popular Music program, she faced the daunting task of filling Ndugu's shoes.
"One of the things that was so heartbreaking, in addition of course to losing an amazing member of the faculty and my best friend, is that I saw the students really struggling to deal with the loss," said Rushen, a four-time GRAMMY-nominated pianist and composer. "Ndugu was completely involved and vibrant until the end, so it caught them by surprise."
With seven weeks left in the spring semester, Rushen made a list of about 40 world-class drummers who knew and respected Ndugu and whom she knew Ndugu revered. She started with the first seven on the list, inviting each to step in for a one-week residency. They all said, "Yes."
Rushen called them "The Magnificent Seven": Legendary drummers Bernard Purdie and James Gadson are among the most recorded in jazz and R&B. Vinny Colaiuta is an acclaimed multi-genre session drummer and 15-time Drummer of the Year in Modern Drummer magazine's reader's polls. Sonny Emory has performed with Earth, Wind & Fire, Steely Dan, Bruce Hornsby and the B-52s. Harvey Mason is one of the famous Wrecking Crew 1970s studio musicians. John Robinson worked with Quincy Jones on many albums, including Michael Jackson's Off The Wall. And Will Kennedy, member of the 17-time GRAMMY-nominated Yellowjackets jazz quartet, was named best drummer (electric jazz category) in Modern Drummer's reader's poll three consecutive years.  
 
"I don't know that this would happen anywhere else," Rushen said. "While the circumstances were tragic, it created an opportunity that all of the young drummers will remember for the rest of their lives.
"It takes a lifetime to have that many people listen to you — let alone to teach you or mentor you. Our students had seven weeks of that — with drummers who, up to then, were just names on recordings. Now they have relationships with these guys, and now they too are part of this drum fraternity."
The Drum Community Steps In
Though Rushen is not a drummer, she knew the drum community through Ndugu. "Drummers, I don't know what it is, but they have a different kind of feeling of fraternity that is really obvious. My entire professional life I have seen that among the drummers," she said. "Ndugu definitely learned and picked up things from his predecessors; he was like their little brother. And then he offered that same mentorship to people who sought him out. He stayed on top of who's who — who was playing, who was coming along — and it was just always this idea that the drummers took care of each other."
Rushen, the first female director for many of the entertainment industry's top award shows, including the GRAMMYS, Emmys, People's Choice and NAACP Image awards, was prepared to contact the entire list of 40, but she didn't have to. "These are among some of the most well-known drummers in the industry, and they just happened to be people that really loved Ndugu are were willing to do this for him and for me," she said. "I'm forever indebted to the Magnificent Seven because they set the tone for being able to turn around a very difficult time into something fantastic based on their brotherhood. And the students really resonated with that."
Cameron Lee BM '21 chose to study at USC because of Chancler. "As soon as I got to the school, I clicked with Ndugu immediately," he said. "He had such a brilliant way of saying a lot with only a few words, and he could make you a better musician and human being with just one sentence or one small correction." 
Lee wished he had had more than a semester to study under Chancler. "But in the worst of times, I couldn't have been more grateful for how the school handled this tragedy," he said. "Bringing in seven of the best drummers in the world to teach us all private lessons was one of the most incredible experiences ever. The amount of knowledge that each and every one of the seven brought through their own experiences was priceless."
"Some of the seven, like Vinnie Colaiuta, Bernard Purdie and Will Kennedy, had been heroes of mine since I was a toddler," Lee added. "When I was growing up, my dad had me watch videos of those drummers instead of cartoons, so to have them sitting in a room with just me for an hour was absolutely mind boggling."  
Will Kennedy Keeps the Beat Going
When the semester was over, Rushen still faced the challenge of permanently replacing Chancler. She talked to the students as a group, trying to get a sense of what impressed them about their instructors. She asked them to name their favorite two moments of the semester, and one person stood out. "The common denominator in most of those moments," she said, "was Will Kennedy."
"I've always been impressed with his musicality; he has the perfect balance of precision and looseness and spontaneity because he is so skilled," Rushen said. "I think he also balances a certain gentleness. He can definitely ratchet up the challenge, but it's always imparted in a way that resonates with the students."
Giving back to young, aspiring musicians has always been a high priority for Kennedy, who has conducted drum clinics worldwide and produced online, educational videos.
"It was unfortunate circumstances that I was asked to do a three-day residency with the passing of Professor Ndugu, but I certainly didn't hesitate to say yes to that — just to be in his presence," Kennedy said. "When I got here, it was a very inspiring environment with wonderful faculty, and the facility here is state-of-the-art. I just loved it."
"As a professional musician," he added, "you gain so much wisdom and experience that, if you're smart, you want to pass it on. And what better place to do that than a place like Thornton — a place where great minds come together and create pathways for up-and-coming musicians to flourish."
Kennedy joins two of his Yellowjackets bandmates at USC Thornton: Bob Mintzer, Bowen H. "Buzz" and Barbara M. McCoy Endowed Chair in Jazz and chair of the Jazz Studies program, and Russell Ferrante, assistant professor of practice who teaches piano in the Jazz Studies program.
Working in Chancler's teaching studio this fall, Kennedy is surrounded by photos of his predecessor with Miles Davis, Quincy Jones and Michael Jackson. Instead of trying to fill his shoes, Kennedy said he'll follow in his footsteps and try to help the students and the program move forward. He said of Chancler, "It's just like, 'Wow, thank you for setting the mark. And it's an honor to follow behind and try to keep up.'"
Rushen knew that Kennedy had tremendous respect for Chancler's contribution to the Popular Music program and the drumset curriculum he created. That was another important qualification.
"We wanted someone who could not only execute that legacy but add to and enhance that, and Will brought that to the table," Rushen said. "In his professional life, Will has walked his talk, and that allows for students and parents to feel good that somebody whose reputation that was so massive in so many areas of contemporary music was being replaced by somebody who was equally of that kind of reverence and notoriety.
"Certainly I think our drummers are in good hands, and I think that Ndugu would be pleased."
Never miss a story
Subscribe to USC Thornton's e-newsletter
Subscribe