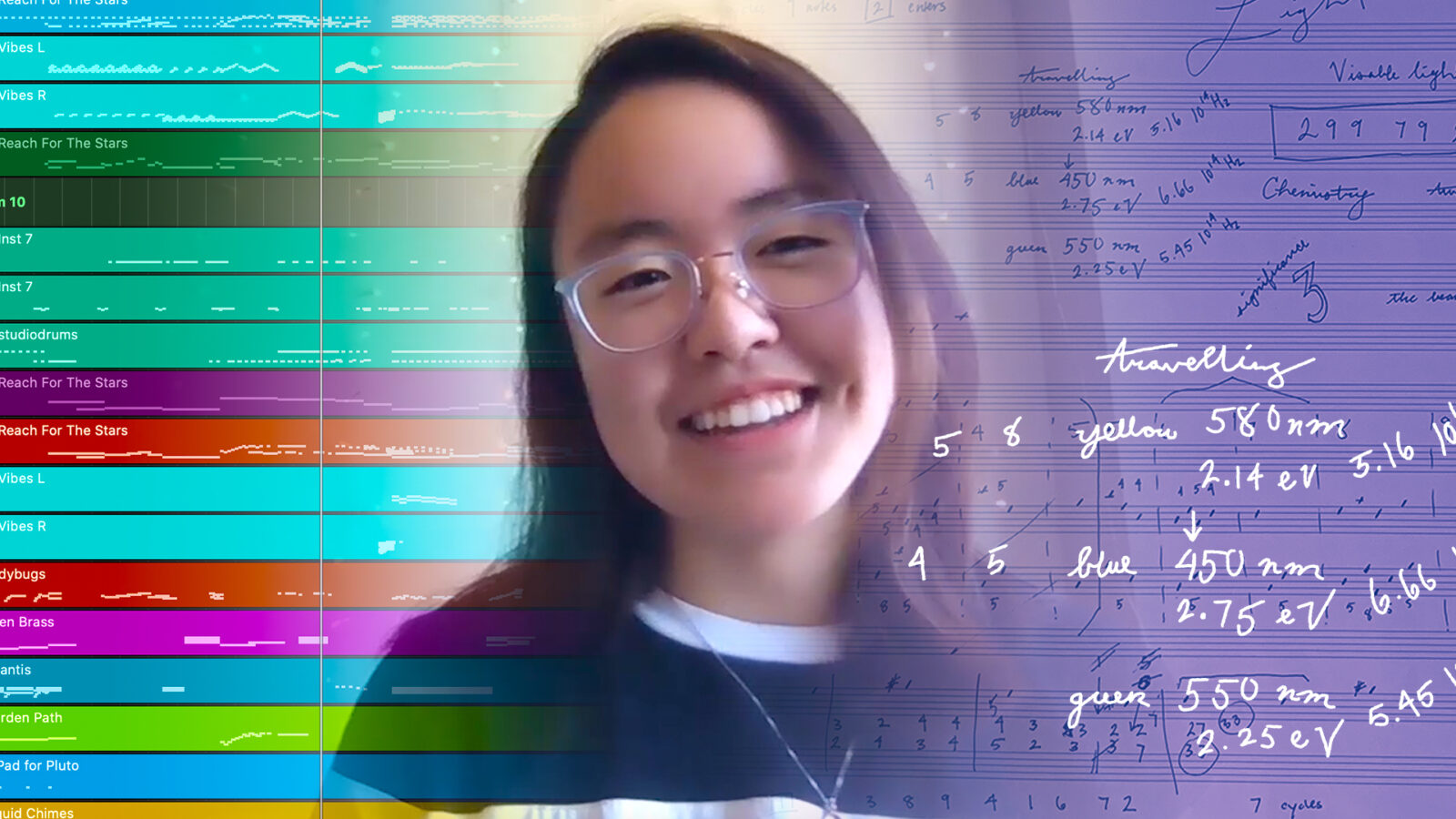 The Process: Linda Insook Díaz
By Tyler Francischine & Sean David Christensen
The composition major and video game audio minor collaborated with classmates to present her original composition, "299792458."
---
To produce this visual and sonic interpretation of the mathematical wavelength of light, USC Thornton senior composition major Linda Insook Díaz mastered new audio software, utilizing the skills she's been acquiring in her music technology classes at Thornton.
299792458 was produced as part of the Thornton composition program's Virtual Performer-Composer Collaboration series. Díaz, who minors in video game music, was initially inspired to create this piece by studying the speed of light in meters pers second. She enlisted the help of two Thornton violinists, Olena Kaspersky and Elizabeth Wei, to bring this composition to life. She credits Thornton's hands-on yet flexible approach to curriculum for helping her master the technical skills required to fully produce this composition.
"Especially with the curriculum having that room and flexibility for myself adding a minor in game audio, [I was able] to take some of the music technology classes I had been interested in to get my own recording project started," she says. "I was taking a class for using Pro Tools, and that gave me the confidence to get an interface, to buy microphones, to get my own recording setup."
During her sophomore year at Thornton, Díaz received mentorship from composition faculty member Ted Hearne, who encouraged Díaz and her classmates to try new approaches to composition. Díaz took the opportunity to delve into learning Logic Pro software, a digital audio sequencing program that became a key component of her composition process.
"That year, my compositions merged with the skills I was learning in Logic," she says. "Reflecting back, I'm very surprised. I have picked up so much [compared to] where I was coming into USC. It's really exciting that these sorts of opportunities come up to learn these skills."
Never miss a story
Subscribe to USC Thornton's e-newsletter
Subscribe