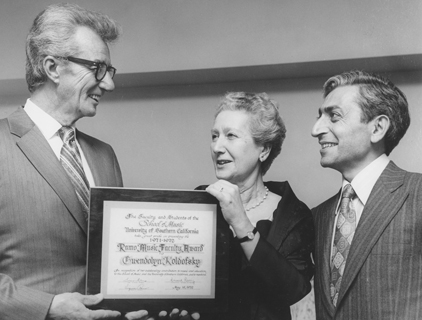 Throwback Thursday: Celebrating Gwendolyn Koldofsky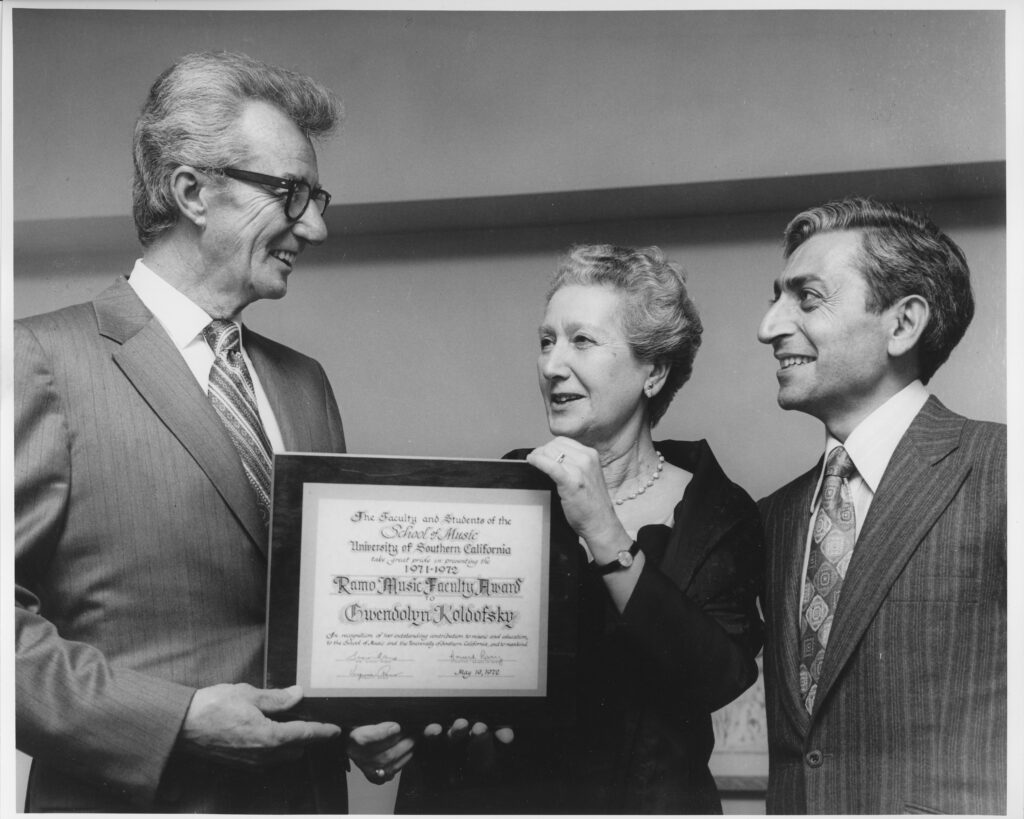 Above: Former USC School of Music faculty Gwendolyn Koldofsky receives the Ramo Music Faculty Award from Howard Rarig (L), Dean of the USC Thornton School of Music, and Grant Belgarian (R), dean of the USC School of Performing Arts, May, 1972
Gwendolyn Koldofsky, distinguished professor emerita at the USC Thornton School of Music, founded the school's Department of Keyboard Collaborative Arts and both designed and established the world's first degree-granting program in accompanying, first offered in 1947.
The Keyboard Collaborative Arts Program at the USC Thornton remains one of the leading programs in the field of accompanying. With an internationally acclaimed faculty, and graduates who rank among the most notable leaders and innovators in the field of collaboration, the program has remained an influential force for over half a century. Keyboard Collaborative Arts students also are granted the rare opportunity of interacting with many of the stellar faculty of the USC Thornton School of Music in other performance areas, including keyboard studies, strings, woodwinds, brass, percussion and vocal arts.
Koldofsky taught accompanying, song literature and chamber music at USC from 1947 to 1988. She was also a longtime member of the faculty of the Santa Barbara Music Academy of the West, where she served as director of vocal accompanying from 1951 to 1989. She judged competitions, lectured and taught master classes for accompanists, singers and ensembles throughout the United States and Canada. Among her many students were mezzo-soprano Marilyn Horne, pianist Martin Katz and soprano Carol Neblett.
For more than 40 years, Koldofsky appeared as an accompanist throughout the world, working with such distinguished artists as Rose Bampton, Suzanne Danco, Herta Glaz, Mack Harrell, Marilyn Horne (her former student), Jan Peerce, Hermann Prey, Peter Schreier, Martial Singher and Eleanor Steber. She accompanied the legendary soprano Lotte Lehmann for eight years, as well as her own husband, the British-Russian violinist Adolph Koldofsky, a student of Ysaye and Sevcik.
Koldofsky received five of the highest honors given at the USC School of Music for excellence in performance and teaching, and received a certificate of honor from the International Congress of Women in Music.
After her husband Adolph died in 1951, she founded in his memory an annual scholarship, the Koldofsky Fellowship in Accompanying, at the USC music school.
Koldofsky died on November 12, 1998 at the age of 92.
Never miss a story
Subscribe to USC Thornton's e-newsletter
Subscribe