Tom Carpenter: Dorm Room DJ
Each day, USC Thornton student Tom Carpenter spends hours sequestered in his dorm room, immersed in his schoolwork. But, unlike the many students with their noses buried in textbooks, Carpenter's assignments entail writing and recording songs—and his dorm room doubles as a makeshift studio.
Carpenter is part of the inaugural class of Music Production majors at Thornton and double-majors in Popular Music with an emphasis on the electric bass. The Music Production program, a part of the school's Contemporary Music division, combines intensive musical study with computer and studio-based music production and currently enrolls just seven students.
"It's the best of both worlds, in my eyes," Carpenter said of the opportunity to immerse himself in both composition and production.
The Music Production program tasks students like Carpenter with an "ongoing assignment to keep on producing and building," he notes. The major was crafted to reflect a renaissance approach to contemporary music-making, in which artists must incorporate a variety of tools and techniques, both analogue and digital.
Twice a month, the program's seven students meet with professors for a listening party at which they share and critique each other's latest creations. In general, Carpenter says that the program's homework assignments are often loose and flexible guidelines rather than stringent duties to inspire maximum creativity and exploration of individual style in its students.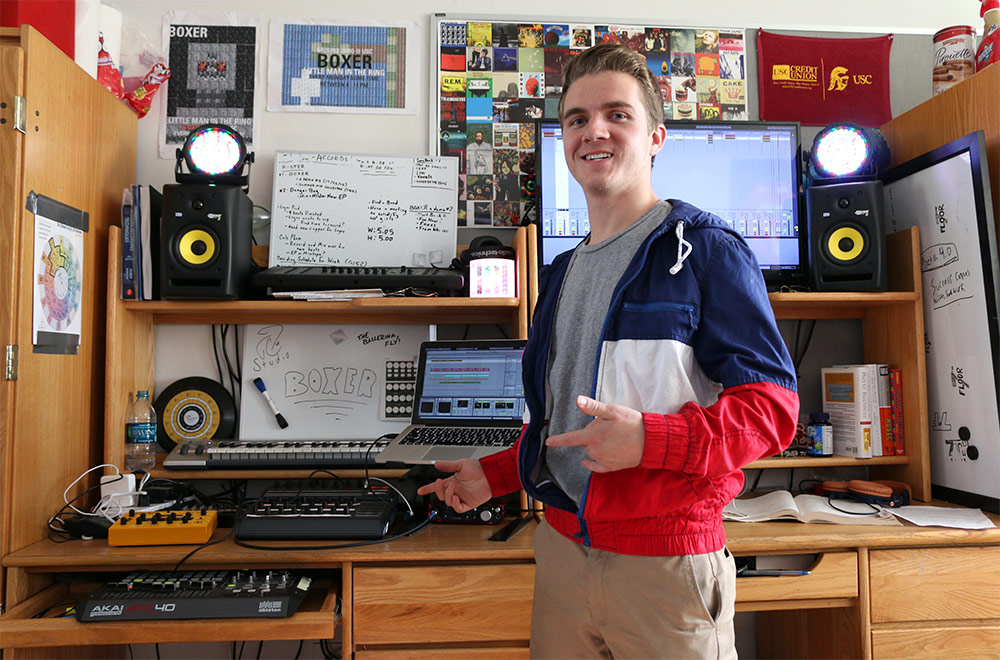 "That's really what the production kids are here for," he said. "We have the room to explore new techniques and new styles."
When these abstract assignments call for long hours of creative output, Carpenter's dorm-room-turned-studio becomes an appealing alternative to using Thornton's facilities into the wee hours. The swanky studio features a custom set up, with an extensive array of equipment that he brought from home.
Carpenter is also expected to meet foundation requirements for music majors, taking classes to learn part-writing, scale identification and basic theory. As he balances the adjacent worlds of Popular Music and Production, Carpenter has stumbled upon many opportunities to collaborate with other musicians.
"That's what's cool about Thornton," Carpenter said. "You're brought into this very collaborative environment where it's not only encouraged, but kind of expected."
Carpenter doesn't have to look very far for keen collaborators – he and his roommate, guitarist Alex Lennatrz, a freshman Music Industry student, were band-mates together for several years in Saint Louis. Nowadays, they write music in between dorm-room jam sessions and collaborate with other musicians majoring in production, popular music, music industry, theater, and even students enrolled in the Iovine Young Academy.
When asked if he does anything besides music, Carpenter said, "I eat."
He hopes to continue pursuing musical collaborations, producing music and expanding his portfolio.
---
In this ongoing series, Noah Phillips Reardon, a first-year student in the Music Industry program at USC Thornton, profiles her classmates in the Contemporary Music Division.
Never miss a story
Subscribe to USC Thornton's e-newsletter
Subscribe