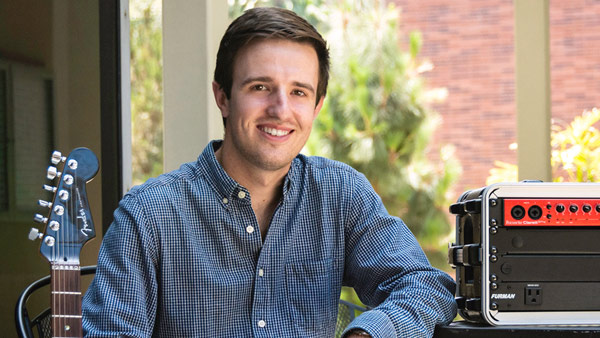 Trojan Finds Perfect Mix of Music and Math at USC
What to study — science or music? Like many teens, Paul Chyz couldn't decide on his college major.
Chyz loved music since he first picked up a guitar at age 6. But as he got older, he also developed a knack for math and science. Then it dawned on him: The tools he used to record and process his tunes — microphones, computer software and other gadgets — mixed the creative world with the technical one.
The high school student had found his way. "I could go to a music school or an engineering school," he said, "or I could try to find a place where I could bring those two together."
That led Chyz to USC, which boasts strong programs in both engineering and music. He enrolled at the USC Viterbi School of Engineering, specializing in circuits, signals and systems. And he maintained his foothold in the music world by studying acoustics and earning a minor in music recording at USC Thornton.
Chyz starts a new job in cloud computing with Oracle this fall. In the meantime, he has been applying his engineering and production knowledge — and guitar chops — to Last Flight Out, a band he formed with two other USC students. All three graduated this spring, but they are sticking around Los Angeles and lining up gigs.
"In the same way the music initially led me to engineering, the engineering has led back to the music," he said.
Building a bridge between song and science
Chyz caught the music bug early. Guitar lessons as a kid gave way to jazz band in middle school and high school. By 16, the Seattle native was learning how to record and process songs on his computer.
Although he wanted to stay involved in music after graduating, he wasn't ready for the uncertainty of hitting the road as a touring musician. Pursuing an electrical engineering degree at USC Viterbi promised more stability and would satisfy his desire to explore how things worked, including recording software and equipment.
"Rather than learning what buttons to push, I wanted to learn how to build the buttons," he said.
His musical upbringing helped Chyz apply abstract theories related to electrical signals and circuitry to the real world. When classmates struggled to understand how a filter might affect a certain sound, he could pull up his music editing software and give them a concrete example.
It also helped him become a better musician. Now he had a better idea of how to create a clean signal path from his guitar to his recording equipment. He could set up gear based on the acoustics of a room, a valuable skill when putting together concerts and other shows as assistant director of productions for USC Undergraduate Student Government. He also found it easier to achieve his vision for a particular song.
"The engineering and technical side kind of lets the artistic side be more intentional," Chyz said. "It takes some of the guesswork out of it."
Scholarship helps keeps music alive
Keeping up with his demanding engineering course load while still pursuing music proved challenging. Chyz credits his Stamps Scholarship for helping him stay focused in both arenas. The prestigious merit-based award covered his tuition and provided $20,000 in additional cash to put toward his personal passions.
"It would have been easy to lose track of the music side without that funding," he said. "I came in here with this crazy idea of bringing all these things together, and the Stamps support allowed it to not all fall apart."
He poured part of that money into a research project with fellow USC Stamps Scholar Eric Deng on psychoacoustics, a field of science that explores how people perceive sound. The duo built a wooden arch rigged with five speakers. By raising or lowering the arch around a blindfolded test subject, they could emit sounds from various locations and measure how well the listener could determine the source of the noise.
They used the resulting data to study how the human brain unscrambles various clues — when a sound reaches each ear, its volume and frequency, and so on — to pinpoint its location. Understanding that process has applications in virtual reality, Chyz said, such as allowing creative sound designers to "place" noises in certain positions.
"Say the user is in a jungle and there's a tiger in the bush," he said. "They want the person in that experience to know, oh, it's behind me. Or maybe they want a really ambiguous sound — they don't want the user to know where it's coming from."
Psychoacoustics also applies to music technology. Companies are developing smart speakers that tune themselves to their surroundings, adjusting for the shape of the room. That is one potential career path Chyz plans to explore in the coming years, possibly by seeking more specialized training in acoustical engineering or another music-related field.
Engineering training helps group hit the right chord
For now, Chyz is content to apply his acoustical know-how to summer gigs with Last Flight Out. The band features fellow USC Viterbi electrical engineering grad Joey Hall on drums and USC Dornsife biological sciences alum Christopher Meyer on keyboard and lead vocals. Chyz said their genre is hard to pin down, but he described the group as a mix of alternative rock and pop.
His skills in music production are evident. Last Flight Out has a polished and professional sound on its first five-song EP, Baggage, released earlier this year and available on platforms like Spotify and Apple Music. The trio is working hard on the next album, scheduling shows around town and building a fanbase through social media like Facebook and Instagram.
Life promises to get busy for Chyz this August, when he starts his new job as a solutions engineer. But he plans to replicate the approach he took at USC — pursuing his dual passions and letting them inform each other.
"Going into a career plus music, with the potential for bringing them back together down the line, feels like a good spot to be in," he said.
Never miss a story
Subscribe to USC Thornton's e-newsletter
Subscribe