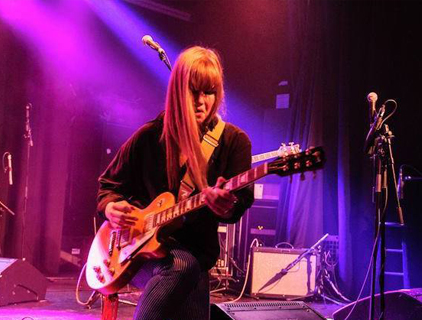 USC Thornton bands, artists celebrate female musicians at Fem Fest
"If you bring attention to an event like Fem Fest, it'll start bringing the issue of how female musicians are overlooked to people's minds."
While music fans across Southern California gear up for the second weekend of the popular Coachella Valley Music and Arts Festival in Indio, a group of USC Thornton students are preparing for a radically different music event — the second-annual Fem Fest.
Sponsored by the Women's Student Assembly, USC Spectrum and the Queer and Ally Student Assembly, Fem Fest seeks to bring awareness to the exclusion of female performers in events both on and off campus.
In addition to the event's headliners — electropop outfit The Blow, and local punk duo Girlpool — Fem Fest features a handful of USC Thornton students and bands, all either fronted by or composed entirely of women.
The event, founded in 2013 by USC senior and Women's Student Assembly president Kaya Masler, was created in response to the lack of female performers booked for the university's annual Springfest concert.
"The Springfest organizers said it was too difficult to draw a crowd with a female performer," said Maureen Silva, a senior in the Music Industry Program and a performer at this year's Fem Fest with her band, Maureen. "To me, that's ridiculous. It's crazy that there's still a stigma against female acts, or that people think a female act can't be popular. So, having Fem Fest as a way to showcase just some of the many female-fronted bands we have on campus is incredibly important — not only for exposure, but maybe also to change the mindset of people who have misconceptions about women in music."
In addition to creating a diverse lineup entirely comprised of female-fronted acts, a large percentage of the event's performers are students from USC Thornton's Popular Music and Music Industry programs.
Katie Gavin, a junior in the Popular Music program and the lead singer in MUNA, attributes the visibility and success of these programs' female performers to the supportive, nurturing environment created by USC Thornton faculty. She pointed to Vice Dean of Thornton's Contemporary Music Division, Chris Sampson, and Popular Music Program director Patrice Rushen as exemplary examples.
"There are so many female voices in the pop program," she said. "Girls that are telling their own stories and reaching out to audiences — and that's because of Chris and Patrice. They're both really responsible for the environment of empowerment I see in the program."
While some argue that Fem Fest appeals to a niche group of individuals, rather than the student body as a whole, the event's organizers believe that the visibility and dialogue Fem Fest create is necessary to change the culture surrounding how female musicians are perceived on campus and in the local music community.
"There's merit in representing the female experience as different from the male experience," explained Rosie Tucker, a sophomore in the Popular Music Program. "That's not to say they're unequal. There are songs that I would write that a guy wouldn't write. Music is about sharing experiences. If I have a song about something personal that happened to me, the message might not affect men in the same way it affects women — and that's OK! Fem Fest is a cool opportunity for the audience and the musicians to connect over shared experiences that, perhaps in a wider musical setting, wouldn't transfer in a meaningful way."
"There's definitely a movement to bring more women together to play music," said freshman Studio/Jazz Guitar major Annalise Arboles, who will become Fem Fest's director starting next year. "As long as there's that movement, that's enough evidence to show changes needs to happen. If you bring attention to an event like Fem Fest, it'll start bringing the issue of how female musicians are overlooked to people's minds."
In seeking to educate their peers about the disparities faced by women in the music industry and the world at-large, the event's organizers and performers stressed that Fem Fest is not meant to be hostile or alienating, but rather a safe space focused on inclusiveness and education.
"Feminism is for men, too," explained Gavin. "Fem Fest is really radical in that it creates a space where people's minds can actually be opened. It's not something that's meant to be separatist. At the end of the day, the music and the art is the most important thing to everyone involved. We've committed our lives to this. I hope people discover that, maybe, their assumptions about female performers were wrong."
Fem Fest takes place Friday, April 18 beginning at 5:30 p.m. in EF Hutton Park. A list of student performers is below:
STUDENT PERFORMERS
Dolly Spectra
MUNA
Livia Slingerland
Anna Dellaria
MAUREEN
Rosie Tucker
Ren and Katie
Becca Marlee
– Kat Bouza
Never miss a story
Subscribe to USC Thornton's e-newsletter
Subscribe