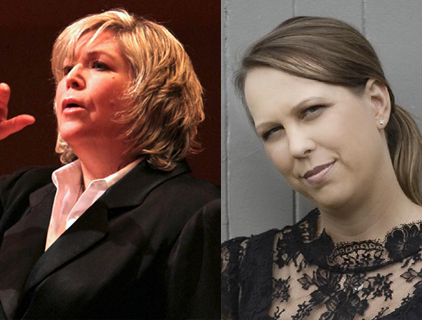 USC Thornton Choral and Sacred Music department alumni go above and beyond, post-grad
"We instill this constant idea that the students need to know where they are going and what will happen with them, post-Thornton."
For many USC Thornton graduates, an advanced degree represents more than several extra years of schooling. Rather, it represents the culmination of a life's passion, as well as a vital launching pad into a successful career.
It's become a common career trajectory for many USC Thornton grads: Receive your degree, and hit the ground running in a new position somewhere around the world. No place is this more apparent than in USC Thornton's Choral and Sacred Music department, where graduates are known as leaders and visionaries within their respective fields.
"Our students are wonderful examples of dedication and excellence," said Jo-Michael Scheibe, USC Thornton faculty and Chair of the Choral and Sacred Music department.
Lesley Leighton (MM '91, DMA '12), a seasoned musician and longtime associate conductor of the Los Angeles Master Chorale, recently joined the UCLA Department of Music as Lecturer and Director of the UCLA Chorale and UCLA Chamber Singers for the 2014-2015 academic year.
"Lesley is highly organized," said Scheibe. "She understands people, and embraces the concept that conducting and teaching is much more than a job."
Another recent USC Thornton Choral and Sacred Music graduate has also stepped into a new position at a local college. Ariel Quintana (DMA, '09) was recently named Director of Choral Activities at La Sierra University in Riverside.
Quintana, an Argentinian native, has led choirs at the Hollywood Bowl and Walt Disney Concert Hall — the latter of which will host a Christmas concert this season featuring some of Quintana's work performed by the Los Angeles Master Chorale. He also currently serves as Minister of Music at Loma Linda University Adventist Church and Associate Director of Music at First Presbyterian Church of Hollywood.
"There's a tradition of excellence within the department," Scheibe explained. "We instill this constant idea that the students need to know where they are going and what will happen with them, post-Thornton."
Kym Scott (DMA, '15) met Scheibe at a New Zealand Chorale Association workshop in July 2012, and earned a DMA last year. When Scheibe received an email regarding an unexpected opening at West Virginia University, he turned to Scott. She now holds the position of Visiting Assistant Professor and Director of Choral Activities at West Virginia University in Morgantown, West Virginia.
"Kym was my first thought," Scheibe said. "She's an outstanding musician, scholar and teacher, and she is highly organized — the type of person who can come in, assess a situation immediately and know what to do."
Placing that amount of trust in former USC Thornton students is a testament to the strong relationships that develop between professors, students and classmates.
Approaching new situations with a comprehensive mindset is key for these graduates. Whether it's Kate Belshé (MM, '13), the new conductor of the Jerusalem Oratorio Chamber Choir in Israel; Lauren Buckley-Schaer (DMA, '13), the new interim director of the University of California, Irvine Chamber Singers; or John Russell (DMA '13) taking over for Gary McKercher (DMA, '87) as conductor of the San Diego Master Chorale, Choral Music alumni understand what Scheibe described as "how to see the landscape."
"We prepare students to be able to walk into a program, in an everyday situation and be successful in a position," explained Scheibe. "But more importantly, it's up to them to know that it's not just about the music. It's about the students they teach, and every other little detail needed to operate in today's fast-paced and changing choral organizations."
– Jenevieve Ting
Never miss a story
Subscribe to USC Thornton's e-newsletter
Subscribe