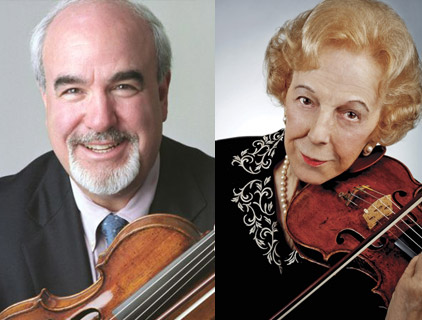 USC Thornton Strings faculty to be recognized by YMF
The USC Thornton Strings Department will see two significant milestones this Spring.
When a student decides to study strings at USC Thornton, he or she can attribute aspects of their education to composers as famous as Johannes Brahms and Felix Mendelssohn. That's because the Strings Department – like many of the school's instrumental programs – can trace its linage of mentoring and teaching back hundreds of years to a variety of acclaimed composers and performers.
The legacy of Thornton's String Department will be further augmented via two exciting upcoming events: The arrival of incoming Robert Mann Chair in Strings and Chamber Music, Glenn Dicterow, and the bestowment of the Young Musicians Foundation's (YMF) Humanitarian Award to internationally renowned violinist and USC Professor Emerita Alice Schoenfeld.
The YMF Humanitarian Award, which will be presented at YMF's 59th Annual Benefit Gala on March 8, recognizes Schoenfeld's decades-long career as both a performer and as a mentor to scores of talented young musicians. Alice and her sister, the late cellist Eleonore Schoenfeld, began teaching at Thornton in 1959 shortly after immigrating to the United States from Germany.
Early on in their musical careers, the Schoenfelds were mentored by German musician Karl Klinger, who was taught by famous 19th century violinist Joseph Joachim. In a February 2013 profile of Alice Schoenfeld, the Los Angeles Times noted that "Joachim was a friend and leading interpreter of composers Robert Schumann and Johannes Brahms, and his own beloved teacher and mentor was Felix Mendelssohn," thus tying the Schoenfeld's USC Thornton teaching careers to the beloved composers.
The sisters, who together performed in the Schoenfeld Duo, are one of the school's most celebrated and well-loved professors. Their students have been top prizewinners in both national and international competitions, and many perform with the likes of the New York Philharmonic, Los Angeles Philharmonic, Vienna Symphony and the Los Angeles Chamber Orchestra. Alice now serves as the Alice and Eleonore Schoenfeld Endowed Chair in String Instruction.
The YMF gala welcomes Dicterow, who is also a YMF alumnus, as a featured performer. Dicterow, who begins teaching at Thornton in the Fall 2015, returns to Los Angeles after spending over thirty years as concertmaster for the New York Philharmonic.
A native of Los Angeles, Dicterow made his debut with the Los Angeles Philharmonic at age 11, where his father served in the violin section for more than 50 years. Prior to joining the New York Philharmonic, Dicterow served as associate concertmaster and concertmaster of the Los Angeles Philharmonic.
Dicterow will become the first holder of the Robert Mann Chair in Strings and Chamber Music, a recently established position honoring the life and work of Robert Mann, founder and first violinist of the Juilliard String Quartet. Endowed by Alfred Mann to celebrate the musical accomplishments of his brother, Dicterow's formal nomination resulted from a two-year international search to find the perfect person to both complement the faculty at USC and to honor Mann.
"Glenn Dicterow will undoubtedly make an invaluable contribution to the legacy of our department," said Midori Goto, holder of the Jascha Heifetz Chair in Violin and Chair of the Strings department at Thornton. "He has had an illustrious career, and his expertise will benefit both our students and the entire community."
The arrival of Dicterow to USC Thornton and the continued celebration of Alice Shoenfeld's contributions to the school will undoubtedly be remembered as two more significant milestones for the USC Thornton Strings Department. With such a rich and vibrant history that includes some of the greatest names in classical music, it's undeniable that the achievements of the department will inspire students for many more decades to come.
Never miss a story
Subscribe to USC Thornton's e-newsletter
Subscribe