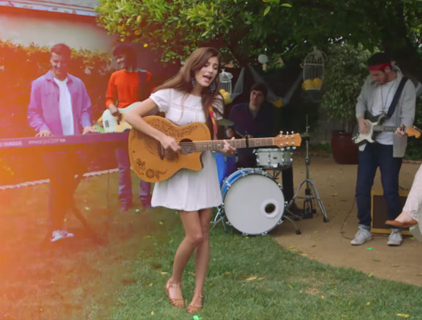 USC Thornton students own the stage at Los Angeles Times Festival of Books
The USC Stage will feature live sets from USC Thornton student solo artists and bands.
The 18th annual Los Angeles Times Festival of Books will take place April 12 and 13 on the USC campus. The festival, which initially sought to give literature enthusiasts access to popular authors and writers, has evolved to also include live bands, poetry readings, chef demos, cultural entertainment and artists creating their work on-site. There's also a photography exhibit, film screenings and discussion panels on hot topics in contemporary literature.
Just as the festival has evolved over the years, so has its relationship with USC. The university will have its own 'USC Stage,' which will be used a platform to showcase the overwhelming amount of musical talent on USC's campus. In addition to performances by the Trojan Marching Band, Saved by Grace Gospel Choir and LA Opera, the USC Stage will feature live sets from USC Thornton student solo artists and bands.
Performing first on the USC stage will be popular music student, Catherine Rose Smith, who fronts the all-USC Thornton band, Ghost in the Canyon. Smith's song, "Learn From You," was the winner of a songwriting contest sponsored by USC Thornton and the Festival of Books' to create a theme song for this year's festival.
The Skariginals, a Los Angeles-based pop-rock group featuring Music Industry students Ryan Mowrey and Josh Jurkosky, were selected by Los Angeles Times readers as the winners of the festival's 'Inspire Your Fire' contest. The win gives the band the opportunity to open the festival's 'Pop & Hiss' stage on Sunday.
Popular music students Brett Fromson, Malia Civetz and Aaron Childs will also perform throughout the course of the weekend. Fromson recently released his debut EP, Heartbeat Like a Train, and became the first recipient of the Glenn Frey Scholarship, while Malia has performed with Barry Manilow and sung the National Anthem for President Barack Obama.
The USC stage will also feature two more bands comprised of USC Thornton students: Idesia, an R&B outfit featuring students Sophie Dimitroff, Colton Toy, Brandon Combs and Daniel Oldham; and House Fire, which features Aman Alem, Luke Schunk, Nick Chuba and James Brownstein ,will both perform on Saturday.
USC Thornton students involved with the popular on-campus acapella group, the SoCal VoCals, will also perform on Sunday. Founded in 1996, this award-winning group comprises between 13 and 19 male and female studentswho perform songs from multiple genres, including pop, rock, and jazz. The group has also performed at the Staples Center, Walt Disney Concert Hall, the Rose Bowl, House of Blues and the Getty Center.
A complete schedule of performances on the USC Stage can be found below:
SATURDAY
10:00 a.m. Festival Kickoff with LA Times CEO Eddy Hartenstein, USC Provost Elizabeth Garrett, the Trojan Marching Band and music by Catherine Rose Smith
11:40 a.m. Saved by Grace Gospel Choir (Gospel)
12:50 p.m. Brett Fromson (Folk, Blues, Americana and Pop)
2:00 p.m. Idesia (R&B)
3:10 p.m. Malia Civetz (Popular Music)
4:20 p.m. House Fire (Pop/Rock)
5:30 p.m. Asli Baat and Trojan Bhangra (South Asian A Cappella and South Asian Dance)
SUNDAY
10:00 a.m. The Trojan Marching Band
11:40 a.m. SoCal VoCals
12:50 p.m. Fight on Figaro! Presented by LA Opera
2:00 p.m. Exploding Flowers (Pop/Rock)
3:10 p.m. Aaron Childs (R&B/Soul, Funk & Dance)
4:20 p.m. Carlton (Pop/Rock)
Never miss a story
Subscribe to USC Thornton's e-newsletter
Subscribe