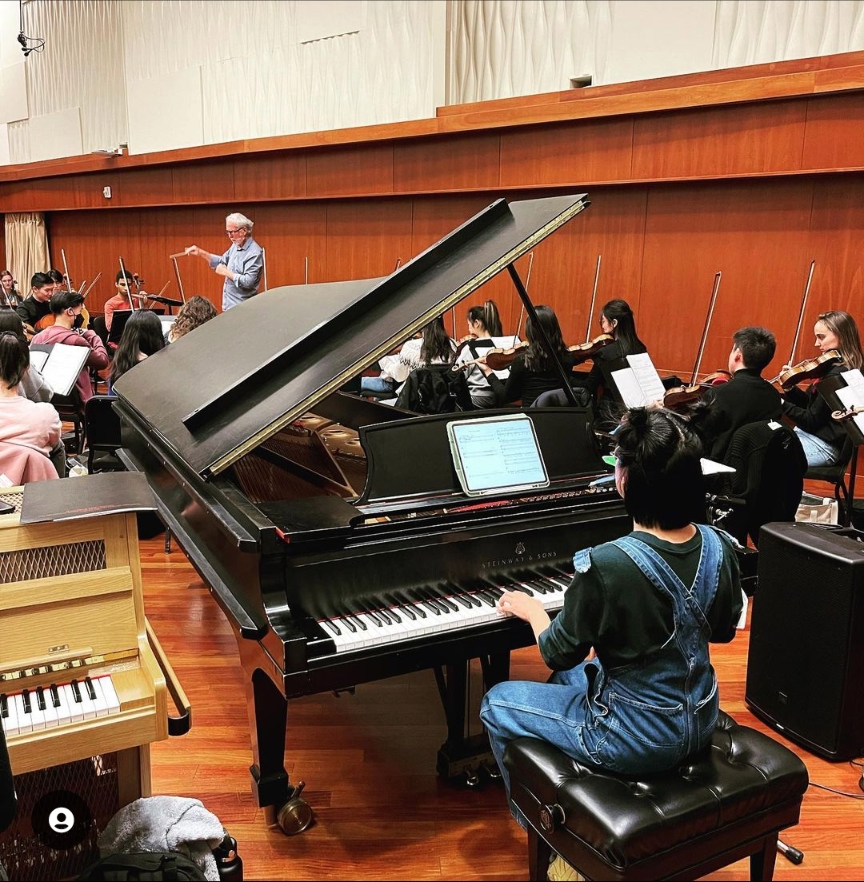 Moment of Possibilities
The USC Thornton Symphony's annual "New Music for Orchestra" concert features original work from Thornton's acclaimed Composition program.
---
On Friday, Feb. 24, the USC Thornton Symphony will present its annual New Music for Orchestra concert at Bovard Auditorium. While the symphony's calendar often consists of iconic music from the orchestral repertoire, this event is different. The composers are the musician's peers, accomplished students in Thornton's Composition program.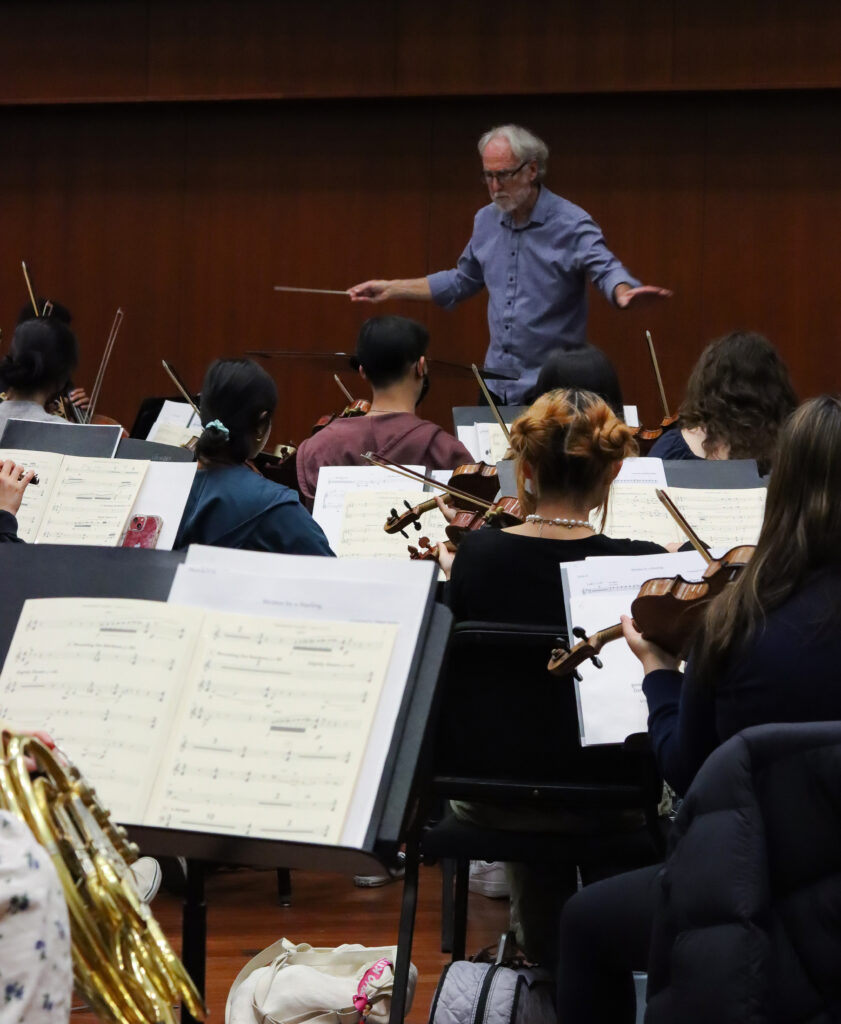 "All of these pieces that we chose have exhibited a high level of technical accomplishment, technical skill in writing for the orchestra and artistry—and they're quite varied in style, which is something we like about our composition program in general," said USC Thornton Composition program chair Donald Crockett, who will lead the symphony from the podium for the concert.
This annual concert is a key aspect of the Composition program for prospective students because few universities provide an opportunity for student works to be performed by a tremendous student ensemble like the USC Thornton Symphony.
The event is a launching pad as well. Original work premiered in this concert often leads to commissions with professional orchestras. The New York Philharmonic chose Composition program alumna, Julia Adolphe's (MM '12) "Dark Sand, Sifting Light" as a finalist in the Earshot New Music competition and performed the work. A commission for a new composition followed. Nina Shekhar's (MM '20) "Lumina" was featured in subscription performances of the New York Philharmonic's 2021-22 season.
"Bringing these pieces to performance, the event has been a springboard for a number of our students where the pieces have won awards and advanced careers," Crockett said. "It's difficult to get, as a student, your orchestral music done. To have it be done at this level and have students come to USC, in part, to explore that—that medium all comes together to make it a really special opportunity for the students."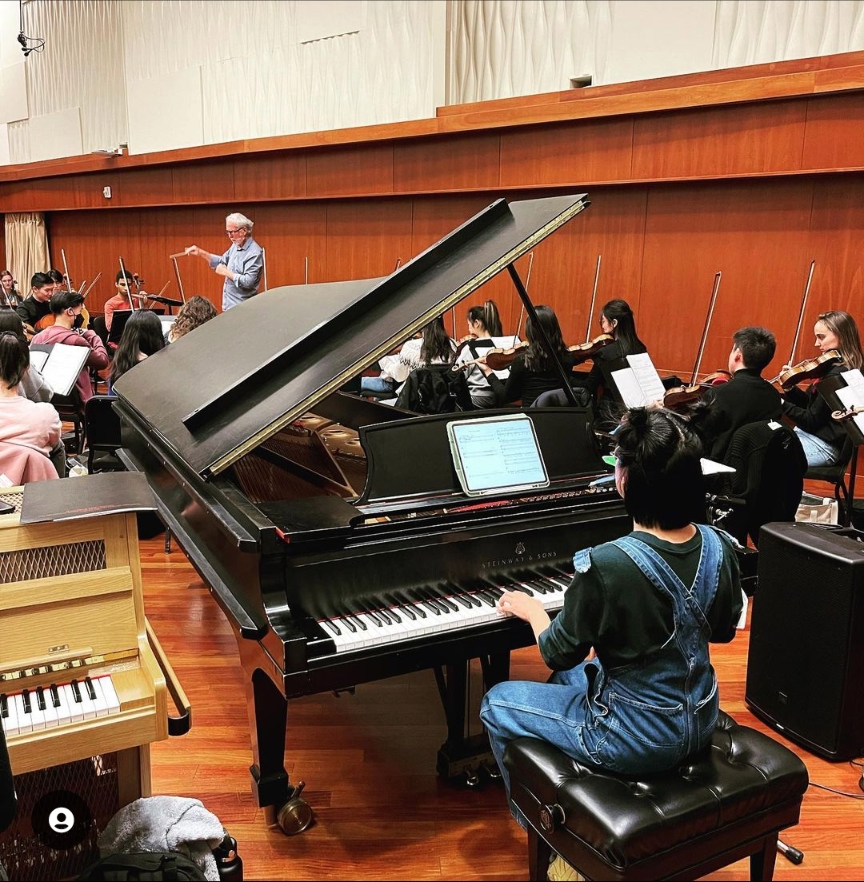 For Composition master's student Mingjia Chen, the New Music for Orchestra concert marks a special milestone in her music career. As a vocalist, pianist and composer, the piece she is premiering at the concert, titled, "Come on now, Narcissist," is her first orchestral composition.
"This feels like a really special concert," Chen said. "It's such a privilege to have this opportunity, and it's also the first time that my music will be performed by an orchestra."
Coming from a multi-genre background in both jazz and classically-trained composition, Chen describes her piece as a genre-flowing mechanism investigating indecision and homesickness through morphed and fused scale patterns. For the performance, Chen will accompany herself on the piano with the USC Thornton Symphony.
"It made sense. I didn't think twice about it," Chen said about planning her performance. "I really wanted the piano to feel connected and in step with the voice because the tempo of the song has a lot of tone shifts that I wrote organically. I just really wanted it to have this personal center around it."
Chen related that writing for an orchestra is a milestone. A symphony contains textures and layers, thus many possibilities. Learning to balance them while remaining firm in stylistic decisions was a rewarding and challenging experience.
"Now, having written for an orchestra, I feel like I carry this new confidence with me. Regardless of how this piece goes, regardless of any outcome, I feel like I can make anything I want now," Chen said. "So that feels really important. And I think I'm just excited for people to hear the music. I feel really proud of it."
---
Danielle Jones is an undergraduate student in the USC Dornsife College of Letters, Arts and Sciences.
Never miss a story
Subscribe to USC Thornton's e-newsletter
Subscribe