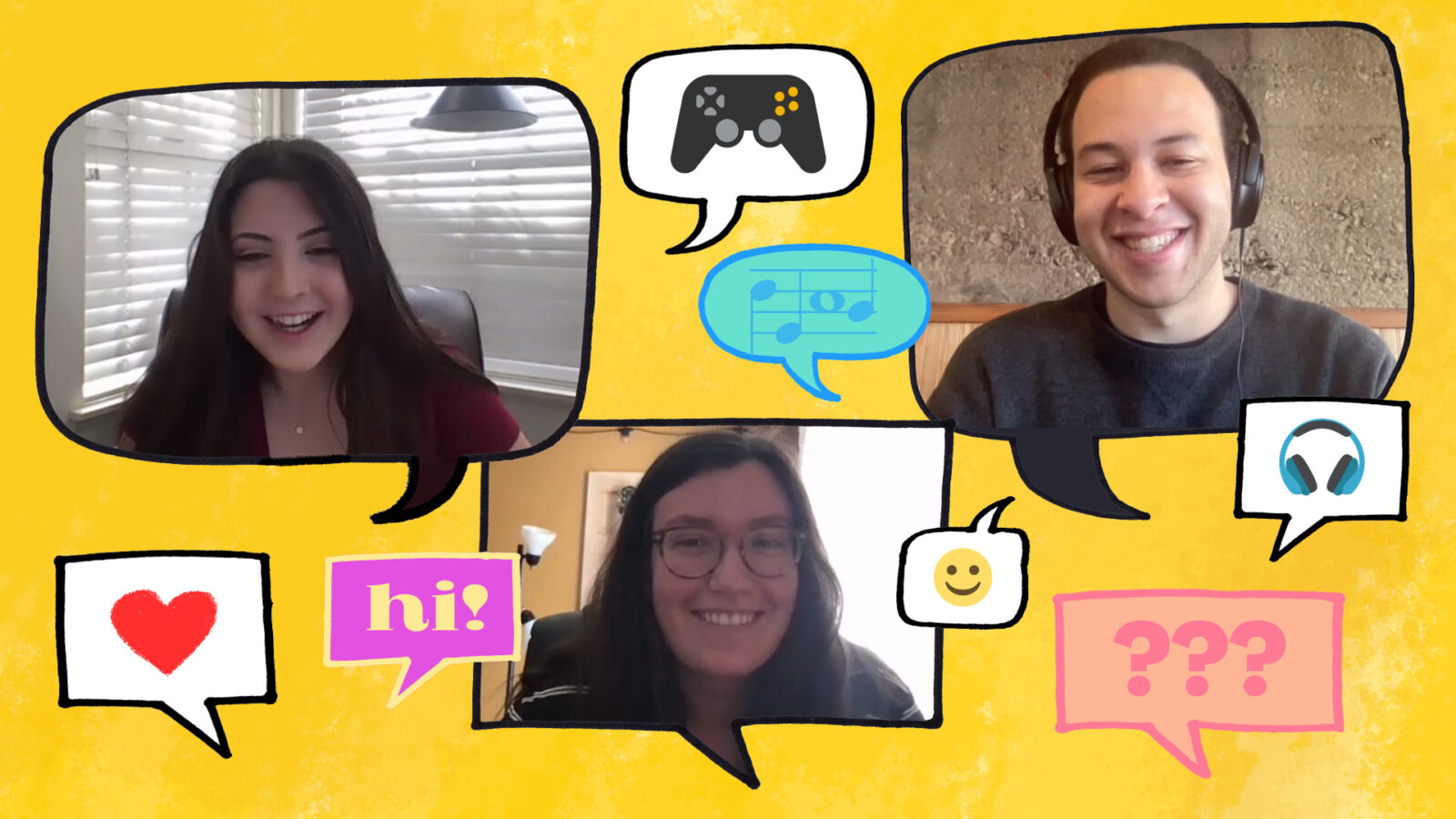 We Are Family
Popular Music students organized a game night to welcome freshmen into the program.
---
When Dominic Anzalone (BM '22) and Maria McMillan (BM '23) came to USC Thornton as Popular Music majors, they felt the typical butterflies—that exhilarating mix of jitters and eagerness that comes with being a freshman in college.
"Coming into my first semester, I was a little worried because I knew that some other music schools I had looked at were pretty competitive and the atmosphere among the students themselves was not very friendly. So, I was really worried that that might happen when I got to USC," said McMillan, now a sophomore. "Instead, I had the complete opposite experience."
Two seniors visited her Performance class the first day it met and invited all the freshmen to a Pop gathering that weekend. "That was the first time I really experienced the community at Thornton," McMillan said. "It was really nice to get to know all the seniors and really nice that they wanted to get to know us."
Every fall the senior class has organized a gathering as a way to welcome freshmen to the program. Anzalone remembers his experience two years ago. "The Pop party my freshman year was just one of the greatest experiences," he said. "I met a lot of seniors who were already doing big things in the industry. Those connections ended up benefiting us because some of us eventually played some gigs together through that."
This year, as a result of COVID-19 and remote learning, there was not a party. Anzalone regretted that freshmen would not have the same experience that was so meaningful to him and so many others. "The Pop family — as cheesy as it sounds — is so important to us all," he said. So, he suggested that they organize some way for everyone to meet the new class and reconnect. McMillan proposed a game night and offered to help organize it.
McMillan and Anzalone have been friends since her first semester at Thornton. "I met Dominic once and then every time he saw me after that he remembered my name," she said.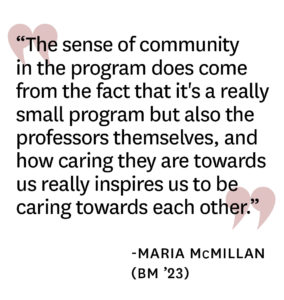 It's a poignant memory now. No students will run into each other on campus this year. They see each other in boxes on Zoom.
"As soon as we went online in the spring, I really found myself missing the Thornton community," McMillan said, "and I especially felt bad thinking about the freshmen starting college and not knowing what that community feels like."
Patrice Rushen, chair of the Popular Music program, was impressed by the students' initiative. "Dominic and Maria took it upon themselves to invite all the Pop kids," she said. "These kinds of things are noteworthy, and in these difficult times, seeing young people reach out to make others feel important, empowered and included is a big deal. That they share the goals of becoming professional music makers is one thing, but that they share the understanding and willingness to look out for each other as citizens of the same community is also huge."
Real Conversations
Game night started with an introduction by Anzalone and McMillan. Then students were separated by instrument into break rooms to chat. Afterward, they came together to play games, like Cahoots and Among Us. Someone suggested that everyone introduce themselves.
Maddi Lasker (BM '24), a vocalist, was one of the appreciative freshmen at game night. She said the smaller group setting allowed for real conversations, which helped her overcome one of this year's unique difficulties. "I think the most pressing challenge is just feeling disconnected from people," she said. "Missing the opportunity to be social, that's one of the biggest things that I think freshman year of college is supposed to be about. You miss those individual interactions with people that you normally have just walking around and passing by somebody."
Game night filled a little bit of that gap, and Lasker expressed thanks for her new peers' thoughtfulness. "I thought it was so generous, the fact that they thought about the freshmen and what we're going through." She also mentioned that the faculty and the School have been doing a "phenomenal job" of making the best of the remote semester. Little things, like the School's sending her a Thornton sweatshirt, have meant a lot. Lasker said, "Personally, I was like, okay, now I actually feel like I'm part of it."
The upperclassmen got just as much out of game night. McMillan said there are some freshmen in her classes, but no opportunity to get to know them during class time. "It was really good to be able to see their faces, get to know them, where they're from, what instrument they play, what they're passionate about," she said. "And I think it was really a testament to the sense of community that everyone feels that so many people showed up."
Pop Parents
Anzalone and McMillan said that the Popular Music faculty inspired them to reach out to the new members of the program.
"You have these legends on the faculty that have done absolutely everything you can think of, and from the moment you get here they ask what they can do for you. They become family," Anzalone said. "Patrice Rushen is like a mother to all of us. Honestly, she is someone that really encourages us and gives us so much love and support. I'm a drum emphasis, and Will Kennedy and Paul Jackson Jr. are like fathers to me."
McMillan used the same word to describe the faculty: family. "The sense of community does come from the fact that it's a really small program but also the professors themselves, and how caring they are towards us really inspires us to be caring towards each other," she said.
McMillan said that the Popular Music showcases that were part of the Performance class — which had to be cancelled this semester — were also important in bringing everyone together. "My first freshman showcase was on a Wednesday night at Tommy's Place. I thought, what junior or senior is going to come? Sure enough, there were so many sophomore, juniors and seniors. They were all supporting the freshmen."
McMillan attended the sophomore and junior showcases as well. She said a majority of students showed up at every showcase and even showed their support at off-campus gigs in Hollywood clubs.
"We're all here to support each other," Anzalone said. "And that's something very special about Thornton. We have friends at other schools that do not have that experience; there isn't a family there.
"Here everybody wants to work together and collaborate," Anzalone said. "Especially now during the pandemic, there have been so many people working together, across majors and across divisions, and collaborating on videos or other projects. Thornton is honestly like a think tank in that sense."
Plans this Spring
More plans to bring students together have resulted—all organized by the students themselves. This week, the third-year students in the Popular Music and Music Production programs are reaching out to first-year students in a student-led mentorship/partnership. Freshman who signed up to participate will be paired with a junior "buddy" for a more personal interaction outside of online classes.
"Having at least one person to reach out to, whether that be with questions about classes, getting feedback on a song, or just to get to know someone who's been in your position, makes such a huge difference in feeling connected to our musical community," said Sophie Feldman (BM '22), a junior in the Popular Music program.
There are also plans for meet-ups on Zoom later this semester.
Feldman added: "Even though we haven't gotten together in person, we are family and want to make sure everyone feels as welcomed and supported as we did a couple short years ago."
Never miss a story
Subscribe to USC Thornton's e-newsletter
Subscribe