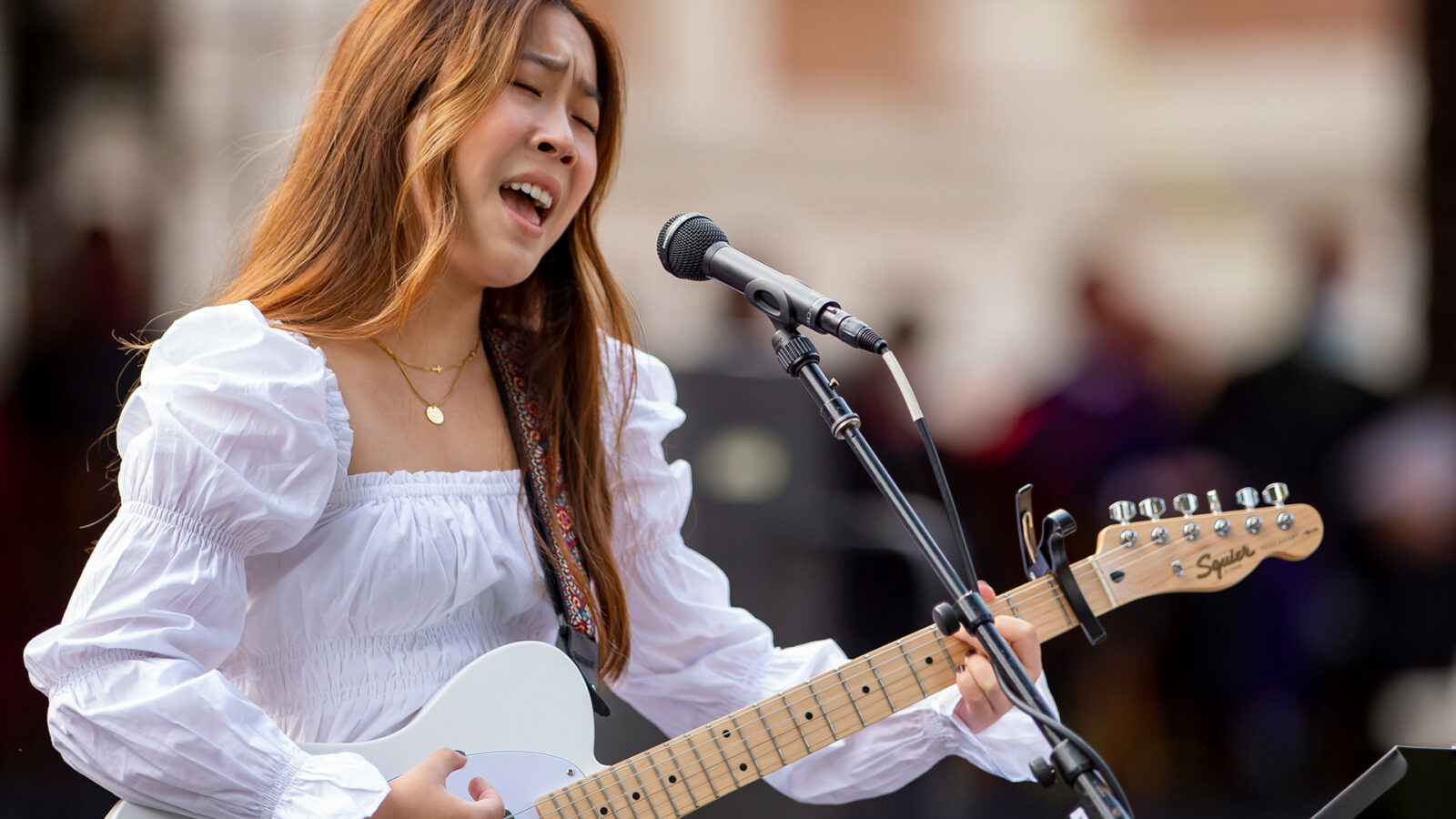 Welcomed By Your Peers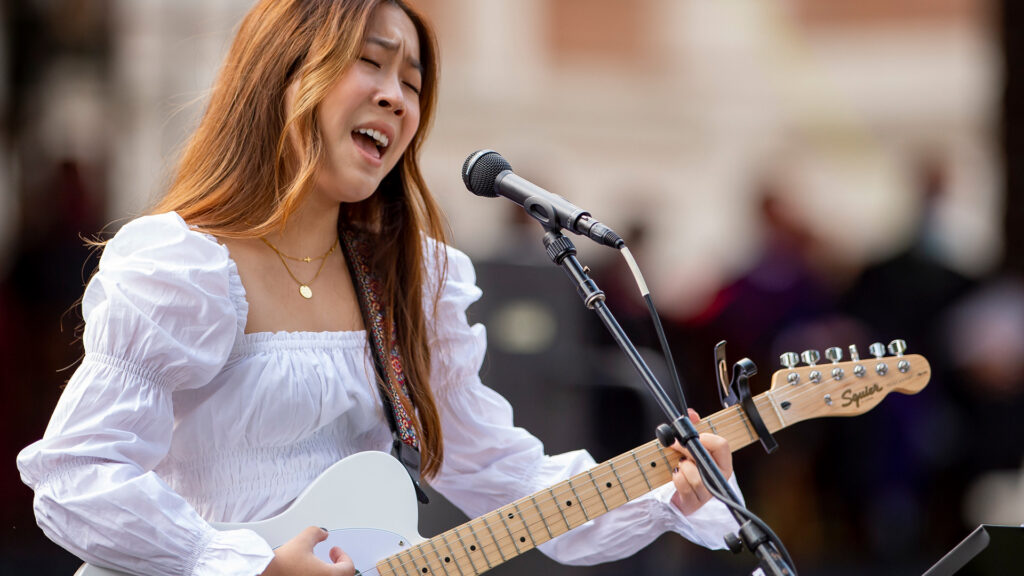 First-year student Michele Lu helps open the school year with a performance at the USC New Student Convocation.
---
While most college freshmen are sorting out their dorm rooms and locating the nearest dining halls, first-year USC Thornton Popular Music student Michele Lu faced a much more demanding assignment during her first days on campus, and with aplomb: performing for 14,000 of her new peers and faculty members at the USC New Student Convocation ceremony on Thursday, August 19.
"As soon as I started playing and singing, I just slipped into a zen mode. It sounds so cliché, but the world and the 14,000 people in front of me really just melted away. In that moment, it felt like it was just me, my voice, my guitar and nothing else," says Lu, a graduate of the Orange County School of the Arts who performed The Cure's "Friday I'm In Love" at convocation.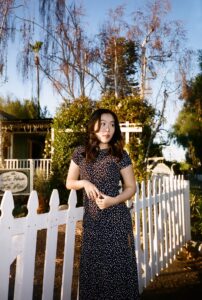 Lu is one of dozens of USC Thornton students who have arrived on campus this month after its shutdown in March 2020 due to the COVID-19 global pandemic. In addition to the many students returning to the University Park campus, there are two classes—the Classes of 2024 and 2025—who are arriving for the first time.
Though the performances and speeches of last week's convocation ceremony might share similarities with past years' events, the ceremony was marked by new health considerations and guidelines including masking and social distancing. No matter how COVID-19 shapes the face of higher education, one thing remains certain: USC Thornton students are happy to be back.
Musical performance has been Lu's driving passion since she was a child growing up in Irvine, California. The finalist for the YoungArts Foundation's voice awards says she has always been naturally drawn to stages, as well as any other large, raised surfaces she can perform on, for that matter.
"From the strong urges I had to jump on tables at dinner parties and perform a Hannah Montana song in front of all of my parents' guests when I was little, it was definitely clear that I liked showcasing what made me happiest, which is music," she says. "I think performing on stage is such a rush. The feeling of adrenaline running through your body while you're doing something potentially out of your comfort zone is actually really enjoyable to me."
USC Thornton was always on Lu's radar thanks to its prestigious history and proximity to home, but it wasn't until Chris Sampson, founding director of USC Thornton's Popular Music Program, gave a presentation at her high school that she became convinced of her potential future as a member of the Trojan family.
"After that masterclass, I felt like I really connected with the way that he was teaching and the content that was taught. Thornton basically lived rent-free in my mind, and I fell in love with everything about the school," Lu says.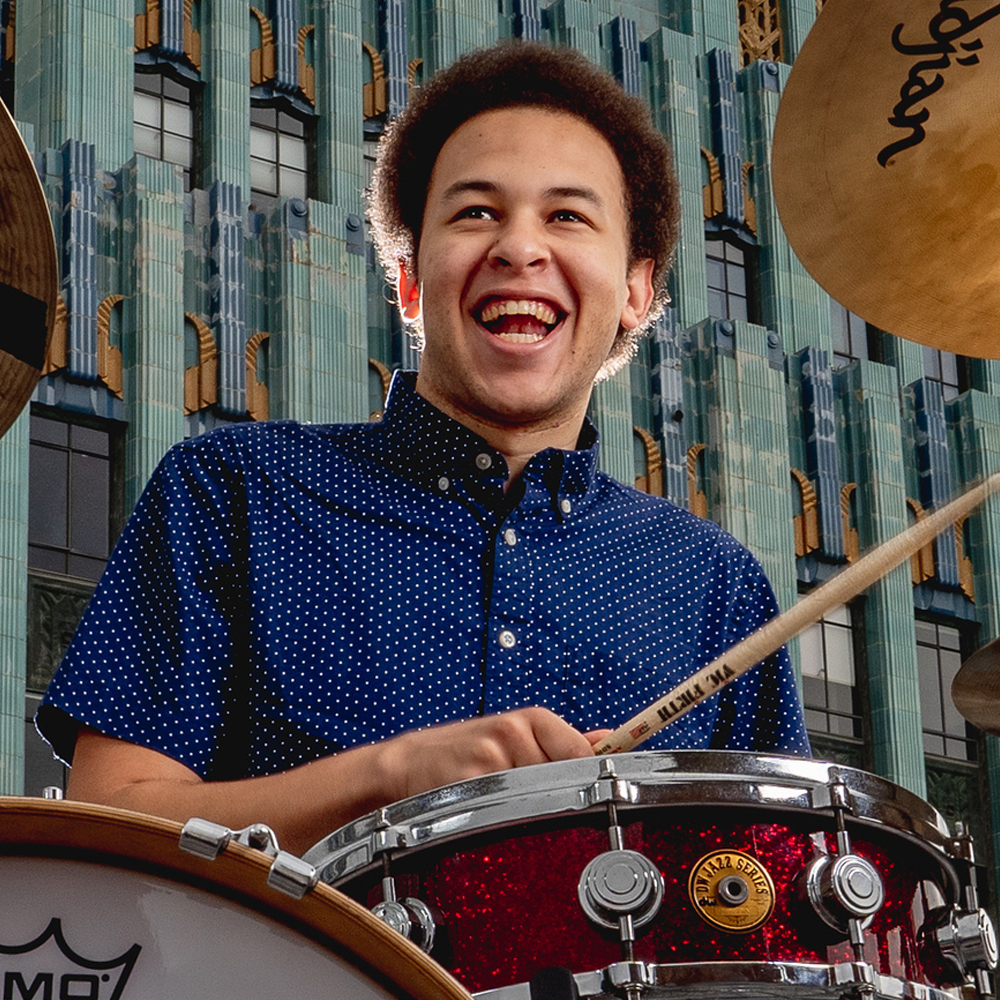 In addition to expert instruction from renowned faculty, Lu can rely on the guidance of Thornton upperclassmen like Dominic Anzalone, a fourth-year Popular Music student, who says he hopes he can answer any questions new students may have as they navigate this next chapter of their education.
"I know it can be a lot the first day to figure out how everything operates and where to go. We're here to help them and be the big siblings we had when we were freshmen," he says. "Everyone kind of took us in. I'm really excited to have people that are like family."
Lu dreams of a future in which she writes and tours with her own music and collaborates with talented musicians who believe in her sound and vision. She says beginning her education at USC Thornton this month brings her one step closer to making these dreams a reality.
"There is so much room for me to grow as a person and a musician, and I believe that Thornton will be so beneficial for that," Lu says. "College as a whole really matures a person and trains them for the real world, so Thornton will definitely prepare me for diving into the music industry as a profession after graduating."
Never miss a story
Subscribe to USC Thornton's e-newsletter
Subscribe