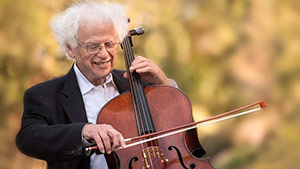 PICF '16: When Lesser met Benny
Few people realize that the Second World War turned Los Angeles into something of a hotbed of classical music. Composers, conductors, and performing artists fleeing Nazi-occupied Europe arrived in the city to work with the prosperous Hollywood studio orchestras, giving rise to a striking cultural transformation.
A city that was once a cultural desert was suddenly thriving with some of the greatest musical figures of the 20th century. In those halcyon days, musicians like Gregor Piatigorsky, Jascha Heifetz, Arnold Schoenberg and Igor Stravinsky rubbed elbows with celebrated writers and Hollywood film stars – and music students of the period felt the benefits of having mentors with powerful friends.
One such student was a young cellist, Laurence Lesser, who would go on to become an acclaimed soloist, a laureate of the 1966 Tchaikovsky Competition, and president emeritus of the New England Conservatory. Born in Los Angeles, his cello playing caught the attention of USC Thornton faculty member Gregor Piatigorsky.
As he advanced in Piatigorsky's studio, Lesser had the honor of socializing with some of early Hollywood's great artistic and cinematic icons. Here, Lesser recounts the story in which he, Piatigorsky, Itzhak Perlman and Jack Benny, the famous radio and television personality, enjoyed an evening of music together.
---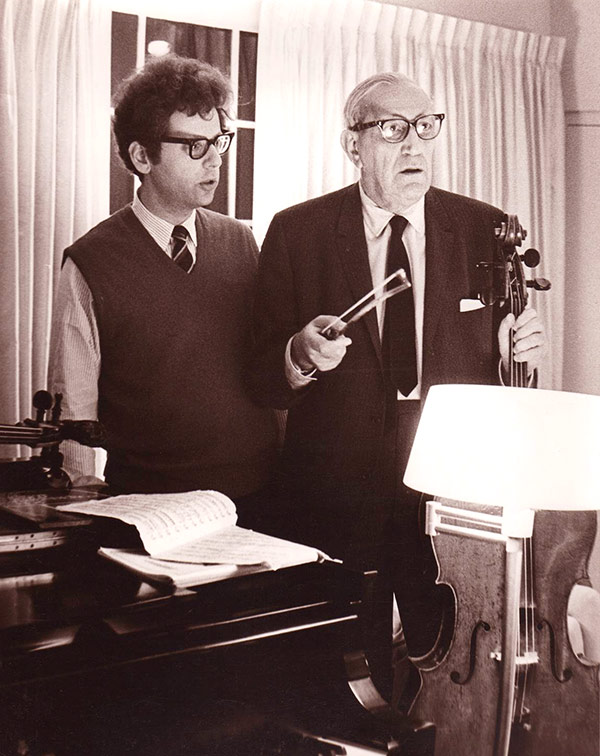 Sometime in the late 1960's, when I was studying with Piatigorsky and teaching as his assistant and with my own class at USC, Itzhak Perlman came to town to play with the L.A. Phil. We were very friendly in those days and had spoken about having an evening of chamber music just for fun at my parent's small home in Beverly Hills. The date was set and I went that morning to visit with him at the Beverly Wilshire Hotel, where he was staying. As we sat and talked in his room, there was a knock at the door. I opened it and there was… Jack Benny.
Benny, of course, was known as a mediocre violin player who used that as part of his act and very generously helped raise money for orchestras. He knew Itzhak, and was obviously in awe of his playing. After they chatted for a few moments, Itzhak asked me, "Can we invite him tonight?" I said of course. Benny asked what that was about. I explained that the evening would be with me and Itzhak as well as some wonderful players, including Piatigorsky and the violist Milton Thomas. He said he would love to come. I told him the address, said that it was a small house with the entrance off the driveway, up three steps directly into the living room where we would be playing. I also said if he heard music, just to wait until it stopped before ringing the doorbell. He was enthusiastic about it and said he would be there.
When I went back to my parents' place to rearrange the furniture with the help of my brother, Joe, I asked him if he could guess whom I had just met. He couldn't. When I told him about Benny and that he was coming that night, he wouldn't believe me, saying I was just making a joke about it.
The evening came and after a movement of some piece the doorbell rang. Joe went to open it, looked down and there was Jack Benny. Joe's jaw must have dropped, because then Benny, in that iconic voice and tone, with his right hand to his face said, "WELL. I was invited you know!"
—Laurence Lesser
---
To learn more about the post-war migration of European musicians to Los Angeles, consider Dorothy Lamb Crawford's "A Windfall of Musicians," which contains interviews with Lesser, among others.
Laurence Lesser will perform Bach's Suite No. 5 for solo cello at the Piatigorsky International Cello Festival on May 18. The festival, which is co-presented by USC Thornton and the LA Phil, runs May 13-22.
Never miss a story
Subscribe to USC Thornton's e-newsletter
Subscribe