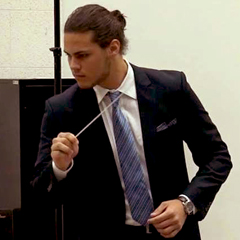 Student Jacob Broussard wins Mays Undergraduate Fellowship
USC Thornton Choral & Sacred Music undergraduate Jacob Broussard (BA '18, choral music) is the recipient of a Mellon Mays Undergraduate Fellowship. The program is the centerpiece of the Andrew W. Mellon Foundation's effort to increase diversity in the faculties of colleges and universities by assisting promising undergraduates in their academic endeavors. The fellowship identifies underrepresented sophomores and juniors and encourages them to pursue a doctorate in fields that are lacking in diversity. Recipients are expected to serve as mentors and teachers to other students and to demonstrate a commitment to increasing opportunities for minorities.
Broussard is one of only a handful of music majors to receive the fellowship. His research through the fellowship will be focused in ethnomusicology, the study of music in its cultural context.