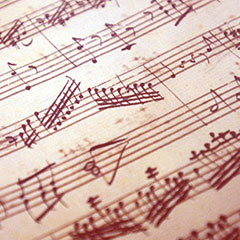 Students and faculty to present papers at Musicology conferences this summer
The USC Thornton Musicology department will be well-represented at scholarly conferences this summer, with students and faculty making several presentations.
Doctoral student Meagan Mason will deliver a paper at the Loci in Musicology: Epicenters, Parallels, and Unity conference at Brandeis University on May 1-2, 2015.
Alison Maggart (PhD '15) will deliver a paper at the AMS Pacific Southwest Chapter Meeting at Cal Poly San Luis Obispo on May 2-3, 2015.
Director of the USC Thornton Early Music Program, Adam Knight Gilbert, will deliver a paper at the Twentieth Biennial Conference of the International Society for the History of Rhetoric (ISHR) in Tübingen, Germany, on July 28- 31, 2015. Three USC Thornton students will also deliver a paper at the conference.