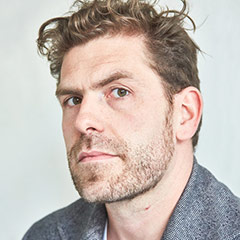 Ted Hearne earns strong NY Times review
The Crossing, a Philadelphia-based choral ensemble focusing on contemporary music, recently premiered a new work by composer and USC Thornon faculty member Ted Hearne, at the Park Avenue Armory. Hearne's Animals, which incorporated a brief text by President Donald Trump about illegal immigrants, was one of ten works on patriotism and war, environmental depredation, and anti-immigrant rhetoric.
From a review in the New York Times:
The most powerful statement, and the only work exploiting the full, astonishing range of vocal techniques of the Crossing's singers, was Ted Hearne's "Animals," which closed the first act. Its text consists of six words drawn from a speech by Mr. Trump about illegal immigrants: "These aren't people. These are animals."
The Crossing recorded an album of music by Hearne, Sound from the Bench, in 2017, under conductor Donald Nally. Hearne will premiere his newest work, Place, an 80-minute oratorio scored for 18 instrumentalists and 6 singers, at the Brooklyn Academy of Music, on October 11th.