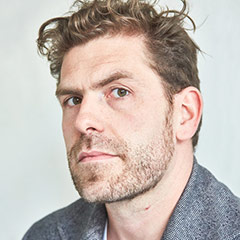 Ted Herne's Farming awarded Pew Center for Arts & Heritage grant
The Pew Center for Arts & Heritage recently announced a $360,000 project grant for Farming, a forthcoming new work by Composition faculty member Ted Hearne produced with The Crossing chamber choir. The concert-length work will premiere in the summer of 2023 with a performance at Kings Oaks Farm, a sustainable farm located in Bucks County, Pennsylvania — a reflection of the work's central theme exploring contemporary food production and its impacts on the environment and our communities.
Hearne will work with director Kaneza Schaal and The Crossing conductor Donald Nally to develop a libretto that draws on original source material and personal stories from farmers and others involved in, and impacted by, the farming industry. In addition to the site-specific performance, Farming will be produced as a studio recording and a film of the live performance.