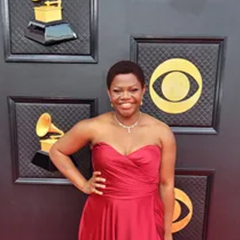 Tehillah Alphonso interviewed by Broadway World
USC Thornton alumna Tehillah Alphonso ('20) was recently interviewed by Broadway World, where she discussed her first GRAMMY nomination, some of her favorite projects that she's worked on and her process for arranging songs. She also shared some advice for people of color and women looking to break into the music industry.
"Whatever you're passionate about, just go at it at 150% and know that regardless of how successful or unsuccessful you are, if you are driven, there are going to be so many doors that will open. There's going to be some woman or POC out there seeing you crushing it and they will want to know how you did it! Once you get into important rooms, you can open the door for other people!" said Alphonso.