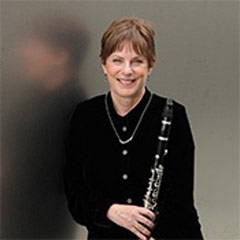 The L.A. Times and L.A. Phil celebrate clarinetist Michele Zukovsky
Michele Zukovsky, a member of the USC Thornton Winds and Percussion faculty, will retire from her position as principal clarinetist with the Los Angeles Philharmonic after 54 years with the orchestra. The Los Angeles Times celebrated Zukovsky's incredible career with a special profile, affectionately noting that she joined the orchestra at 18 – apparently, she lied and said that she was 19 – and has worked under five different music directors.
Zukovsky took over the role of principal clarinetist with the L.A. Phil from her father, Kalman Bloch, who retired from the ensemble in 1981. She is who is also related to famed violinist and USC Thornton faculty luminary Jascha Heifetz. Highlights of her career include a performance of John Corigliano's Concerto for Clarinet and Orchestra, which Zukovsky recalls was "the hardest piece I've ever played," as well as a concerto written specially for her by Oscar-winner John Williams.
Although Zukovsky is known within the orchestra for her mischievous personality and delightful sense of humor, Deborah Borda, president and CEO of the L.A. Phil, spoke of her musicality as "the most beautiful sound I have heard emanate from the clarinet. No question. Her tenure is historic, a contribution I don't believe that can ever be matched."
Zukovsky is looking ahead to a renewed focus on chamber music – and will continue her teaching work with the Thornton Winds and Percussion department.