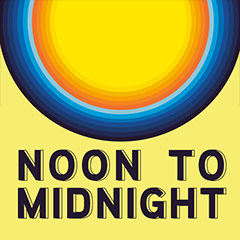 This Saturday, Thornton celebrates new music from "Noon to Midnight" with the LA Phil
On Saturday, November 18th, the Los Angeles Philharmonic will welcome the city's most adventurous music audiences to Walt Disney Concert Hall for a day-long celebration of contemporary composition, Noon to Midnight. In addition to performances by Steven Schick, Rage Thormbones, LA Signal Lab, Los Angeles Electric 8, wild Up, red fish blue fish, gnarwhallaby, SASSAS, Monday Evening Concerts, and the wulf, six cutting-edge ensembles will feature USC Thornton student, faculty, and alumni musicians or performances of their works.
The afternoon's many pop-up performances will take place alongside the LA Phil New Music Group's world premiere production of War of the Worlds by Annie Gosfield (Noon and 2PM), featuring an all-star cast that includes Thornton Vocal Arts alumnus David Castillo (MM '13). Audiences will enjoy a festive and friendly atmosphere, including food trucks, drinks, and art installations.
---
The following performances will include USC Thornton musicians. Be sure to check the official schedule for the complete list of events.
At 1PM, the HOCKET piano duo, which includes USC Thornton faculty member Sarah Gibson (MM '10, DMA '15) and DMA candidate Thomas Kotcheff (MM '12), will get things started in BP Hall with a performance of two-piano works by Andy Akiho, Tristan Perich, and Thomas Kotcheff, including the world premiere of Tête-à-Tête by Nina C Young.
The USC Thornton Percussion Group takes to the Keck Ampitheatre at 3:15PM, under the leadership of faculty member Joseph Pereira, principal timpani of the LA Phil. Graduate students Jieun Chung, Thomas Kolakowski, Amy Ksandr (MM '17), Bernadette Manalo, David Riccobono, Wesley Strasser (MM '17), Wesley Sumpter, and Jonathan Wisner will perform works by Panayiotis Kokoras, Michel van der Aa, and Ondreij Adamek.
Cellist Nick Photinos and pianist Vicki Ray (DMA '88) will take the stage of BP Hall at precisely 4:10PM for a program of works by Bryce Dessner, David Lang, David T. Little, Molly Joyce, Florent Ghys, and Thornton Composition faculty member, Andrew Norman.
At 5:30PM, Thornton Composition chair Donald Crockett and Andreas Levisianos lead the Jacaranda new music ensemble in a program on the main stage of Disney Hall, including the world premiere of a new work by composer Mark Grey.
Finally, the Kaleidoscope Chamber Orchestra, which was founded by alumnus Benjamin Mitchell (GCRT '17, arts leadership) and features a number of Thornton musicians, will close the evening on the main stage with works by Kristis Auznieks, Pamela Z, Gabriella Smith, and a West Coast premiere by Composition alumnus Peter Shin (MM '17).
---
General admission to all of the Noon to Midnight events at WDCH is $10. Patrons with tickets to the LA Phil's War of the Worlds performances will also receive complimentary admission to the Noon to Midnight programming.