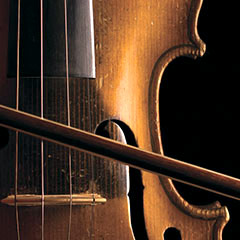 Thornton alumni form the Delirium Musicum Chamber Orchestra
Violinist and USC Thornton alumnus Etienne Gara has recently teamed with a number of Thornton alumni to form the Delirium Musicum Chamber Orchestra, a conductorless ensemble focused on music from the Baroque through the contemporary. The group's roster includes violinists Mishkar Núñez-Fredell (MM '09, DMA '17), Yu-Eun Kim (GCRT '17), and Sun Jung Lee (DMA '12); violinist/violists Alex Granger (MM '15) and Mann-Wen Lo (GCRT '16); cellist Joo Lee (DMA '13); bassist Ryan Emerson Baird (MM '13, GCRT '15), and harpsichordist/organist Arthur Omura (BM '10, MA '12), among other Los Angeles artists.
On Saturday, April 14th, the ensemble will present a free concert at Glendale City Church, featuring works by Max Richter, J.F. Rebel, Vivaldi, Bersanetti, Shostakovich, Barber, Khatchaturian, and Thornton faculty composer Andrew Norman. A second program will follow on Saturday, April 21st at the Pasadena Presbyterian Church.
As part of its mission to inspire "excitement and ecstasy by engaging audiences with unapologetic and fresh approaches to wide-ranging musical repertoire," Delirium Musicum has announced a call for scores, open to composers of any age and nationality, with a submission deadline of October 15, 2018.