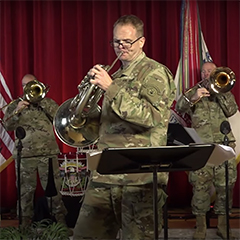 Thornton alumni musicians host and perform online concerts with U.S. Army Field Band
The United States Army Field Band, featuring many alumni of USC Thornton, has launched We Stand Ready, a series of daily concerts streamed live on the band's YouTube channel.
The full-length, interactive concerts are hosted by the band's members, such as USC Thornton alums Kevin Pick (MM '01) and J.G. Miller (DMA '13). While the band is unable to continue their concerts in person for the time-being, Miller sees the series as an opportunity to continue their mission of uniting audiences through music, online.
"It is not lost on me that many face significant challenges in the foreseeable future," says Miller. "We will strive to give those a respite from the daily stresses through the communal experience that is live music."
The band will stream their concerts daily, Sunday through Thursday at 1:00 p.m. EST, and Fridays and Saturdays at 7:00 p.m. EST.