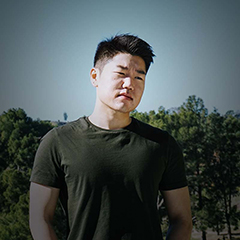 Thornton artists feature prominently in LACO's recently announced 2020-21 season
The Los Angeles Chamber Orchestra (LACO) has announced its 2020-21 season, the "Season of the Violin," which prominently features a number of USC Thornton artists, many of whom have enjoyed long relationships with the orchestra.
Nov. 14 and 15, Keyboard Studies faculty member and LACO'S Conductor Laureate Jeffrey Kahane, who previously served for 20 years as LACO's conductor, will make his first joint appearance with current conductor Jamie Martín in a performance of Beethoven's "Emperor."
Kahane will return March 11 and 12, 2021 for a performance of Beethoven's Piano Trio in E-flat major. The concert is the second installment of the three-part In Focus concert series curated by Strings faculty member and LACO Concertmaster Margaret Batjer.
In 2021, LACO will premiere two new works by USC Thornton alums. Jan. 30 and 31, 2021, the orchestra will premiere a LACO-commissioned piece by Composition faculty member and alum Andrew Norman (BM '02, MM '04), who recently concluded his seven-year tenure as LACO's Composer-in-Residence. May 15 and 16, 2021, the orchestra will also premiere a new piece by Composition alum Peter Shin (MM '17).