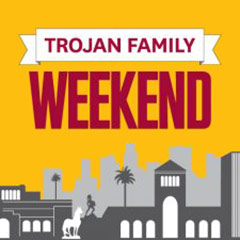 Thornton welcomes Trojan families for Trojan Family Weekend
Through this Sunday, October 15th, USC Thornton welcomes Trojan parents and families to our campus for the annual Trojan Family Weekend. Catch a football game, see the B-52's live, or sit in on a class – You can find the full list of exciting events, including concerts, a football game, mixers, lectures, and open houses on the official schedule.
USC Thornton is hosting the following events for Trojan Family Weekend, some of which may require registration. Download a PDF version of the Thornton events schedule here.
---
USC THORNTON: THE INSIDE SCOOP
Thursday, October 12 from 1:30-2:20PM • Tutor Campus Center (TCC), Room 227
Get the inside scoop from USC Thornton School of Music Dean Robert Cutietta as he outlines creative initiatives and market-driven reforms that have turned USC Thornton into a world leader among conservatories and music schools. Whether it's transformative professional experiences, eye-opening study-abroad opportunities, cutting-edge musician-wellness programs or five new non-performance master's degrees tailor-made for musicians, USC Thornton embodies a new, forward-looking approach to preparing artists for life.
---
DEAN'S RECEPTION
Friday, October 13th from 8:30-10:00AM • USC University Club, Main Dining Room & Patio
Join Dean Robert A. Cutietta at a reception for USC Thornton School of Music students and their families. Don't miss this opportunity to interact with the dean, faculty, staff and other Thornton School families. Since Cutietta's appointment in 2002, the school has introduced innovative new degrees in music education, arts journalism, visual and performing arts studies, choral music, vocal jazz, and the groundbreaking Popular Music Performance program. An expert in music education and psychology, Cutietta has authored five books, most recently Raising Musical Kids: A Parent's Guide (2013), and Who Knew? Answers To Questions About Classical Music You Never Thought To Ask (2016), both published by Oxford University Press.
RSVP required. Please call 213-740-6474 or email music.rsvp@usc.edu
BEYOND THE STAGE: OUTSIDE-THE-BOX CAREER OPTIONS FOR MUSICIANS
Friday, October 13th from 11:30AM-12:20PM • Tutor Campus Center (TCC), Room 450
In today's dynamic arts scene, a career in music doesn't have to be limited to the next performance or the next recording session. Opportunities abound in the music business and with major arts organizations—in scoring for film, television and videotapes, in festival and concert planning, and in a fast-expanding universe of innovative music education settings and community-based music programming. In step with the changing times, USC Thornton School of Music has revamped its existing graduate programs and is rolling out pioneering new non-performance master's degrees tailor-made for musicians moving beyond the stage. Hear from Dean Robert Cutietta and an expert faculty panel as they discuss outside-the-box avenues for musicians to achieve successful, deeply fulfilling careers.
POPULAR MUSIC FORUM
Friday, October 13th from 2:00-3:50PM • Alfred Newman Recital Hall
Join this weekly Popular Music class, which welcomes guest musicians for talks and demonstrations. This week's class features Barry Mann and Cynthia Weil, Songwriters Hall of Fame duo and recipients of the Johnny Mercer Award. This event is exclusive to Thornton Parents.
USC THORNTON SYMPHONY: CONCERTO NIGHT
Friday, October 13th from 7:30-9:30PM • Bovard Auditorium
Guest conductor Uriel Segal leads the USC Thornton Symphony in the annual Concerto Night performance, showcasing outstanding student soloists. Erik Abramovitz performs Copland's Clarinet Concert, cellist Benjamin Lash performs Haydn's Violoncello Concerto in C major, Hob.VIIb:1, and pianist Soyeon An performs Brahms' Piano Concerto in D minor, No.1, Op.15. Parents are also invited to attend an open rehearsal at 2PM.
POPULAR MUSIC SECOND-YEAR SHOWCASE
Friday, October 13th from 8:00-9:00PM • Carson Center
Join Thornton's second-year Popular Music program students as they perform in this spectacular showcase event.
Please note that this event is currently at capacity. Only audience members with a wristband will be guaranteed entrance. Standing-room places may be available after 8PM, but admission is not guaranteed.
---
Be sure to check our full events schedule for other concerts and masterclasses coinciding with Trojan Family Weekend.